From his warm, tear-stained hands…
Obama's plan to Do Something about guns threatens ordinary Americans.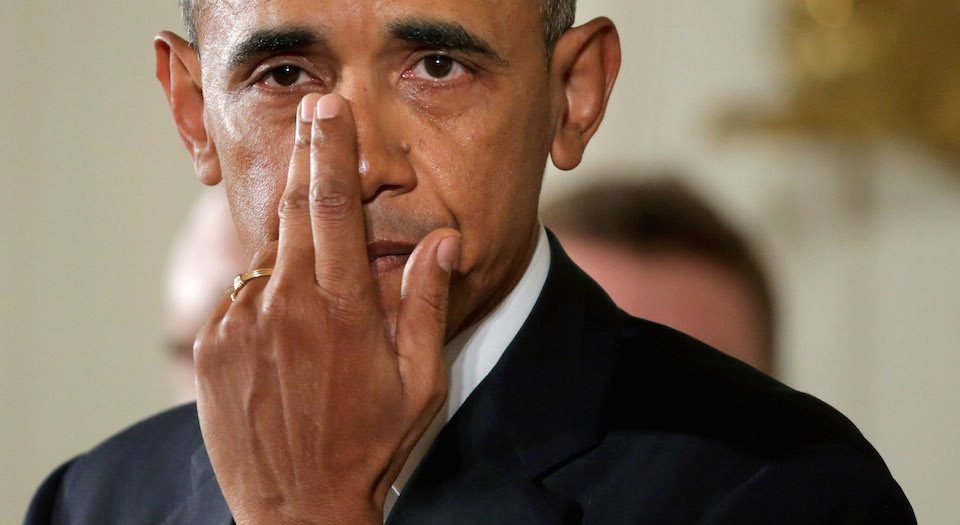 'The gun lobby may be holding Congress hostage right now, but they cannot hold America hostage. We do not have to accept this carnage as the price of freedom.' So said US President Barack Obama, at a press conference this week announcing new plans for gun control. He was introduced by the father of one of the victims of the Sandy Hook Elementary School massacre, and, after recalling the massacre in his speech, he shed rather theatrical tears. Obama announced his intention to use an executive order (EO) to circumvent the Republican-dominated Congress, which is unwilling to pass new gun-control legislation. However, it is now unclear if he will issue the EO.
The tears streaming down Obama's face were less signs of emotion and more those of a child who cannot get his way, as Republican presidential hopeful and governor of New Jersey Chris Christie noted. Rather than the inaction on gun-control being, as Obama suggested, down to a massive majority being held back by an unbelievably powerful gun lobby, the reality is the opposite – the embittered, anti-gun elite is frustrated at its inability to convince Congress and most Americans that guns are bad.
Breaking with precedent, in that his press conferences was not immediately preceded by a tragic massacre, Obama made several concrete proposals. However, his main aim seemed to be defining his legacy. With the impeccable logic that we must Do Something about gun massacres, and that these proposals were clearly Something, the president pushed his agenda forward.
A presidential EO is a written instruction to the executive branch of the federal government, informing it of the manner in which the president wants federal laws or regulations enforced. Obama clearly intended the order to circumvent Congress, which creates laws but has refused to pass further gun-control legislation. By interpreting the Second Amendment as allowing such a move, Obama also threatened to usurp the role of the Supreme Court, which was set up to interpret the Constitution. But the negative effects of Obama's proposals are unlikely to end there.
'If it saves one life…'
'Each time this comes up, we are fed the excuse that commonsense reforms like background checks might not have stopped the last massacre, or the one before that, or the one before that, so why bother trying', said Obama. 'I reject that thinking. We know we can't stop every act of violence, every act of evil in the world. But maybe we could try to stop one act of evil, one act of violence.' What this ignores is that the first-graders killed at Sandy Hook by Adam Lanza would not have been saved by any of his proposals. Lanza used weapons that were legally acquired. When these massacres occur, those who knew the killers, not surprisingly, say that they could never have predicted such behaviour.
Most of Obama's proposals involve extending the already ineffectual background checks on gun-buyers by closing a 'loophole' to ensure more gun-buyers are vetted. Obama has boasted that existing checks have prevented, in 14 years of operating, 1.5million of the wrong sort of people getting their hands on a gun. But these were almost all 'false positives'. The 1.5million Obama refers to were initial denials, which simply delayed legitimate purchases by law-abiding citizens with names similar to felons and others on the prohibited list. In 2010, there were 76,142 initial denials, but after a preliminary review by the Bureau of Alcohol, Tobacco, and Firearms (ATF), there were only 4,732 cases left. Further reviews by the ATF's field offices and the Department of Justice left only 62 cases to be referred to prosecutors, and only 13 were strong enough to produce a conviction.
What is less noted about Obama's proposals, and perhaps more disturbing than the tyrannical implications for Congress and the Constitution, are the tyrannical implications for ordinary American citizens – those whose rights were meant to be protected by the Constitution. Background checks imply a whole bureaucratic system of snooping, including the inspection of medical and other records for signs of a person's unsuitability to own a weapon. Obama wants to hire more FBI and ATF officers, proposing that the Department of Health and Human Services remove barriers to states providing mental-health records to the background-check system, and enlisting the Department of Veterans Affairs and the Social Security Administration to report anyone who appears unable to take care of their affairs. Roping in medical personnel has also been mentioned.
Few consider the effect that more stringent efforts to 'detect' mental illness in this way will have. If divining mental illness or other factors that make gun ownership unsuitable is accepted, how long will it be before other potentially deadly possessions – such as cars, knives or axes – are removed? Questioning Americans' Second Amendment rights will inevitably have a knock-on effect on other liberties and rights. The Fourth Amendment – freedom from unreasonable search and seizure – will stand on less-solid ground if guns become contraband, as will any right to privacy.
Is this necessary?
Obama's crusade might be understandable if there were any real need for further controls. Hysterical phrases are employed by gun-control enthusiasts, like 'epidemic of gun violence', 'increasing number of mass shootings' and 'school massacres'. But beyond the shallow emotionalism lies the stubborn fact that gun violence is decreasing. Indeed, both homicides and violence involving a firearm have decreased dramatically over the past two decades. As an intelligent piece in Reason noted, there has been no real increase in mass shootings recently, only media hyperbole.
But this fact should also obviate the reason most Americans buy guns – personal security. One unintended consequence of Obama's attacks on guns is an increase in gun sales, as Americans rush to beat future restrictions. The fact that gun-ownership increases as the fetish for gun control expands speaks to the perceived failure of means of collective protection. Only a gun – or the lack of all guns – seems to guarantee the safety of the individual. The ideal for many Americans, it seems, would be that they possess weapons, but no one else does.
The truth is that with every passing day there is less reason for us to protect ourselves either with guns or from guns. Instead of fetishising them, lending them magical powers of either evil or good, we should see them as tools that extend human power to act on our environment. And we should refuse to overreact to individual tragedies and place the elite's wild claims about 'gun violence' in context.
Kevin Yuill teaches American studies at the University of Sunderland. His latest book, Assisted Suicide: The Liberal, Humanist Case Against Legalisation, is published by Palgrave Macmillan. (Buy this book from Amazon (UK).)
Picture by: Chip Somodevilla / Getty Images.
To enquire about republishing spiked's content, a right to reply or to request a correction, please contact the managing editor, Viv Regan.