Trump debate: treating free speech like a disease
The UK 'Ban Trump' lobby is on a moral par with The Donald.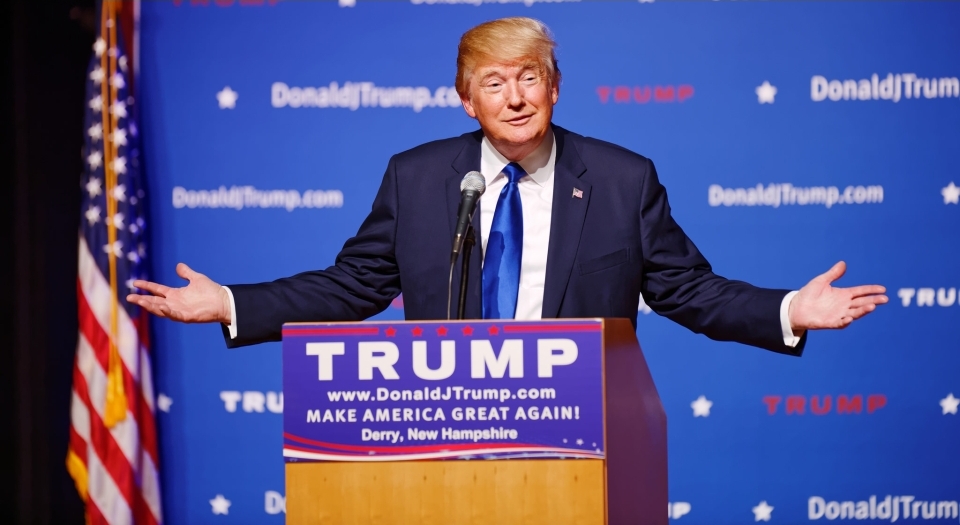 The debate about whether Donald Trump should be barred from entering the UK looked like one of the more surreal events seen in that theatre of the absurd, the British parliament. Here were leading politicians, responding to a half-million-strong petition, demanding that a US presidential contender be banned from Britain – because he called for a ban on Muslims entering America. In the name of British tolerance, they made clear, we cannot tolerate his presence on these shores.
The truth is that the 'Ban Trump' lobby and The Donald himself have far more in common than they might like to admit. They are simply two different strains of intolerance.
Both sides of this row seek to ban, rather than debate, ideas they find offensive: in Trump's case, Islamism; for the Trump-banners, 'Islamophobia'. Both see an entire section of the community with which they cannot engage, so want to silence and keep at arm's length: for Trump it's Muslims; for the Trump-haters it's the white working class. In essence, both treat unfettered free speech as if it were a disease, which needs to be quarantined to protect their societies from infection.
In the wake of the Paris massacres in December, Trump had called for 'a total and complete shutdown of Muslims entering the United States until our country's representatives can figure out what is going on'. This was not simply about catching a few terrorist bombers. It was aimed at shutting down the opinions of a far wider section of the Muslim community; Trump's campaign cited polls which claimed that 25 per cent of American Muslims believe 'violence against Americans here in the US is justified as a part of the global jihad', while 51 per cent agreed that Muslims in America should have the choice of being governed by Sharia law.
For Trump, this was proof that 'the hatred is beyond comprehension'. And certainly beyond debate. Rather than seeking to engage with these issues, he wanted simply to cut off the flow of Islamist ideas and stop them spreading by banning Muslims. It was in exactly the same intolerant spirit that he called for 'closing that internet up in some ways' as a solution to the problem that 'we're losing a lot of people [to Islamic radicalism] because of the internet'.
Trump's statement outraged those half-million petitioners in the UK and the Labour MPs who led the call for the Republican contender to be banned this week. Yet they are really Trump's moral equivalents, acting in the same spirit of intolerance towards ideas they fear and loathe.
As those Labour MPs variously put it, they want Trump banned from Britain because 'hate crime is being inflamed and stoked by the words that Donald Trump is using', and because his words 'legitimise and encourage violence'. Like The Donald, they fear that unbridled free speech is too dangerous and will only spark trouble among a wooden-headed section of the population with which they cannot engage.
As one Tory MP pointed out during the parliamentary debate, polls suggest that 24 per cent of UK voters support Trump's idea, rising to 35 per cent in the north. So, did the Ban Trump lobby think those people should be excluded from the UK? To which the honest answer would be, yes – or at least they believe such people should be excluded from UK political debate.
Like the despised Trump, Britain's own ban-happy lobby prefers to censor rather than challenge opposing ideas, and so demand the 'total and complete shutdown' of opinions they believe are beyond comprehension and debate. They might even quietly echo his retort that 'somebody will say, "oh, freedom of speech, freedom of speech". These are foolish people.'
This is not new or peculiar to the Trump debacle, of course. The attempt to close him down, at least symbolically, is simply the latest example of the powerful culture of You-Can't-Say-That, which views free speech as a menace to be caged and released only on licence.
Indeed, as supporters of barring Trump from the UK observed, recent British governments have made a habit of banning those accused of 'hate speech' or other speech/thought crimes, so why not The Donald? More than 80 people have been barred because their hateful speech was not considered 'conducive to the public good', ranging from anti-Islamic US bloggers and a Dutch MP to an American rapper accused of promoting rape culture.
In 2014, the British government even saw fit to ban one Julien Blanc, who was neither an Islamic extremist nor a racist demagogue, but merely a professional pick-up artist aiming to offer men in the UK some no doubt stupid and sexist advice on how to seduce women. So much for the Home Office's claim, in turning down the request to bar Trump, that 'exclusion powers are very serious and are not used lightly'.
No wonder all those petitioners and some MPs think it should be straightforward to bar a US presidential hopeful from the UK. It would be entirely in step with a conformist political culture where the offensive is not tolerated and free speech is out of fashion.
Even most of the MPs who opposed the call to ban Trump did so on largely pragmatic grounds, arguing that it might make him 'a martyr' and only increase his support as an outsider. The notion that there might also be a principle involved in defending free speech did not appear to have entered their heads, never mind their speeches. You were left with the distinct impression that if they thought The Donald could have somehow been bound and gagged without any fuss or publicity, they would have been sorely tempted to agree.
What the rival strains of intolerance in this affair have most in common is the fearful view of free speech as equivalent to a potentially dangerous disease. If it is not contained, it can spread and infect 'vulnerable' sections of the community with ideas for which the mainstream apparently has no antidote. Better then to immunise our societies against the danger, by barricading the door and quarantining Islamists and 'Islamophobes' alike.
The real danger is forgetting that the spread of fear is the far bigger threat to our civilisation, and that free speech and open debate are the only possible antidotes. As Justice Louis Brandeis of the US Supreme Court said almost 90 years ago, 'Men feared women and burnt witches. It is the function of speech to free men from the bondage of irrational fears.' That even goes for Donald 'intolerance' Trump and those intolerant Labour MPs.
Mick Hume is spiked's editor-at-large. His book, Trigger Warning: Is the Fear of Being Offensive Killing Free Speech?, is published by Harper Collins. (Order this book from Amazon(USA) and Amazon(UK).)
To enquire about republishing spiked's content, a right to reply or to request a correction, please contact the managing editor, Viv Regan.