It was right to acquit Doug Richard
The case of the ex-Dragons' Den star exposes the necessary complexity of the law.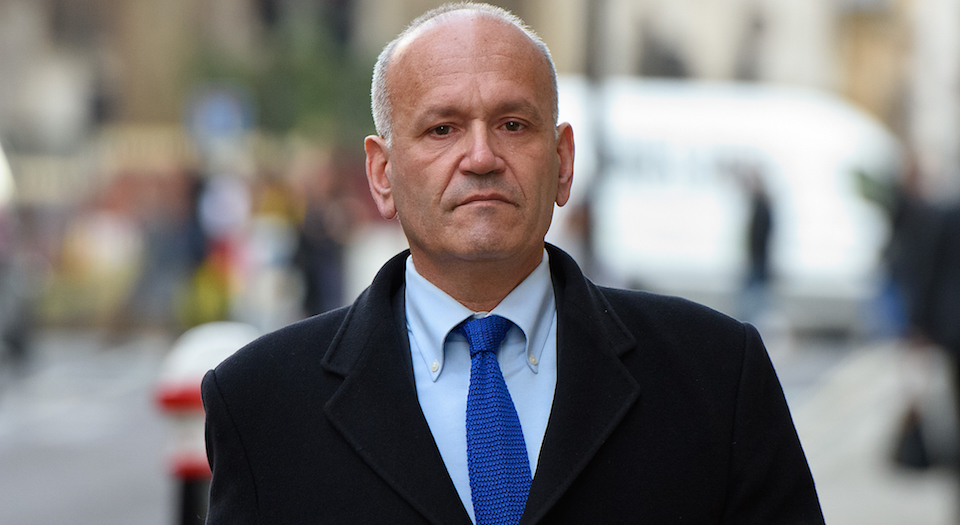 Doug Richard made headlines last week after he was acquitted of child-sex offences. Richard made his name on the BBC TV show for budding entrepreneurs, Dragons' Den. He was cleared of three charges of sexual activity with a child, one charge of causing or inciting a child to engage in sexual activity, and one charge of paying for sexual services.
His acquittal led to vituperation on social media, and the rescue industry also sprang into action. Gavin Shuker, MP for Luton South and chair of the All-Party Group on Prostitution and the Global Sex Trade, wrote an indignant op-ed for the New Statesman. 'There is a loophole in our legislation that allows men to purchase girls as young as 13 each and every day', he thundered.
So what exactly happened? Richard had signed up to SeekingArrangement, a so-called sugar-daddy website which offers to put men – and women – in touch with 'sugar babies'. The site is popular with university students. According to Cambridge News, student 'babies' can expect to receive an average of £2,000 in monthly allowances from men they meet online, with 225,000 students in the UK currently enrolled on its database.
Daddy/momma perks include finding 'babies' with no strings attached. Baby perks include mentoring, pampering and dating experienced adults. As the SeekingArrangement website puts it: 'At SeekingArrangement, users are on the same page. Forget reading in between the lines, our members know what they want. Users approach one another without worrying about false pretences.'
Let's face it, this site does sound pretty mercenary. But it is clearly aimed at adults and is not unlawful. As Muriel Spark's Miss Jean Brodie observed: 'For people who like that sort of thing, that is the sort of thing they like.'
Aspirant 'baby' Ms B (aged 13) decided to register with the site, and find a 'sugar daddy'. She hooked Richard, ironically under precisely the false pretences the site claims to avoid. He was a regular user of the site, meeting on average two women a month. Ms B sent him nude pictures of herself, as well as intimate messages about Fifty Shades of Grey. He arranged to meet up with her and her friend Ms A, who was actually 15. He put £240 into a Paypal account for their travel.
The girls took a train to meet Richard, and the threesome repaired to an apartment after having coffee. Ms B was sporting a Hello Kitty hairband, but insisted she was 17, and that Ms A was 16. In the hotel room, a certain amount of spanking and sexual activity took place between Richard and Ms B. Afterwards, Richard gave the girls £60 each in cash, which he said was a gift for them to go shopping. Later, Ms A's mother noticed her expenditure on train fares, and started to ask questions.
A person who reasonably believes that someone whom he (or she) had sex with was aged 16 or over has a defence to a charge of unlawful sex with a minor, provided, however, that the other party is aged between 13 and 15. If a minor is 12 or younger, this defence cannot apply, so the offence is one of strict liability. When the Sexual Offences Bill 2003 was being mooted, the Home Office considered whether the longstop age of 13 should be changed, but decided against it (see Home Office consultation paper, Setting the Boundaries).
Similarly, although prostitution is unlawful where the person selling sex is under 18, the law provides a defence where a purchaser reasonably believes the person was 18 or over. Again, the law provides a longstop age of 13, so buying sex from a person aged 12 or younger is a strict liability offence.
Richard was not charged with rape of Ms B, and their activity was consensual. Since the Criminal Law Amendment Act 1885, the law has recognised that men may be genuinely mistaken about a sexual partner's age, and provides some leeway in cases of teenage partners aged between 13 and 15. Under an amendment passed in 1922, this was framed as a 'young man's' defence, only available to men aged between 16 and 24. The Home Office said that this defence was arbitrary, confusing and did not necessarily provide justice, given that older men can be mistaken as well.
The present law reflects the reality that a compromise has to be struck between protecting minors from premature sexual activity on the one hand, and recognising that some teenagers will choose to engage in sexual activity, even when they are underage, on the other hand. The House of Lords' decision in the case of Gillick in 1986, which concerned whether GPs could lawfully prescribe the Pill to underage girls, took a similarly pragmatic approach. Lord Fraser said:
'After all, a minor under the age of 16 can, within certain limits, enter into a contract. He or she can also sue and be sued, and can give evidence on oath. I am not disposed to hold now, for the first time, that a girl aged less than 16 lacks the power to give valid consent to contraceptive advice or treatment, merely on account of her age.'
The issue of deception also has to be acknowledged. The criminal law now penalises those who conceal their gender identity, or an HIV-positive status, from their sexual partners. Consider a scenario where a teenager deliberately misrepresents her age, as Ms B did. It seems unjust and unfair that the victim of such deception should find himself or herself at risk of imprisonment.
Indeed, it is probable that if it were not for the present hysteria about child abuse, and the pressure on police and the Crown Prosecution Service to atone for earlier failures in relation to scandals like Rotherham and Rochdale, Richard might never have been charged in the first place.
Barbara Hewson is a barrister. Her views here are personal.
Picture by: Ben Pruchnie / Getty Images.
To enquire about republishing spiked's content, a right to reply or to request a correction, please contact the managing editor, Viv Regan.