London's mayoral contest: the Great British bland-off
Goldsmith and Khan seem to have nothing to offer but their personalities.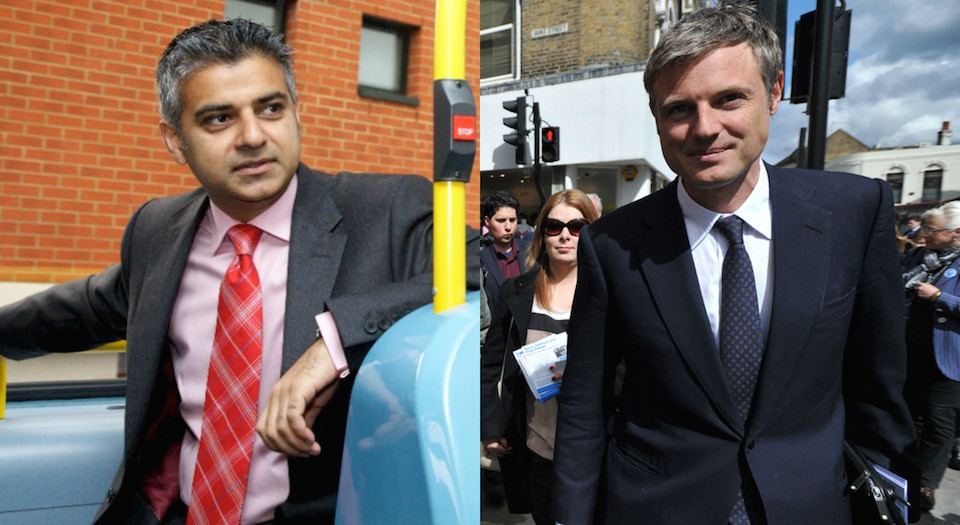 Personality politics has long been a feature of Western public life. One thinks of the flamboyant showman, or the look-into-my-eyes purveyor of trustworthiness, or the achingly likeable I'm-just-like-you everyman. The particular manifestations are many, but the function has largely remained the same: to establish an intimate connection with the public, a non-political, almost informal relationship between privatised individuals. What matters is not what is being said, but who is saying it.
Yet incredibly the London mayoral election, which is now only a couple of months away, has taken personality politics to a new low. The two frontrunners, Tory boy Zac Goldsmith and Labour man Sadiq Khan, are not trying to woo the electorate with flamboyance, or charm, or even old-fashioned charisma. No, they're trying to seduce people with their inoffensiveness. They're trying to show how well versed they are in PC etiquette, how willing they are to conform to the strictures of the age.
We've already seen the pair of them desperate to prove themselves in that great test of modern man's virtue: the tax return. 'Of course I will [publish my tax returns] and I think all candidates should in this election', said Goldsmith a couple of weeks ago. He was true to his word, too, revealing that since becoming an MP in 2010, he has made more than £10million in income and capital gains, and paid something in the region of £4million in tax. Khan followed suit, albeit with the rather less astounding annual sum of £20,000 in tax and national insurance — most of it paid on his MP's salary of £63,000.
Yet what does this tell us exactly? That they're good, virtuous men? Hardly. If a tax receipt is what passes for virtue these days, we've clearly lost our moral compass. But then, the focus on the tax returns of public figures isn't really about morality in any strong sense of individuals acting according to what they believe is right or their moral duty. No, it derives its impetus from a rather more narrow and mean-spirited source, envy, and its mobilisation today, in these economically stagnant times, as part of a shallow rich-bashing crusade. Goldsmith knows this. He knows that, by virtue of being eye-wateringly posh, his life sustained by a fathomless trust fund bequeathed by his father Sir Jimmy Goldsmith, he will be attacked, presented as a toff, called spoilt. This is the line of Khan's team, and large sections of the media: Goldsmith is just too rich. And so Goldsmith, almost as if paying tax is some form of contemporary penance, is desperately trying to disavow his wealth, distance himself from it, attribute it to the sins of his father.
But if Khan, who ceaselessly tells us that he's the son of a bus driver and a seamstress, is playing a shallow game of bash the rich, a parody of class politics of yore, then Goldsmith's side, backed by a coterie of media cheerleaders, is playing an even more depressing game of bash the Muslim. Because that is what Khan is being reduced to: his ethnicity, and, by default, the whiff of Islamist extremism.
So over the past few weeks there have been scores of stories, faithfully reported on the Goldsmith-backed website 'Sadiq Watch', about Khan's supposed links to extremism. There was the story about Khan's association with the Nation of Islam's white-baiting, Jew-hating leader Louis Farrakhan (Khan, a human-rights lawyer, represented Farrakhan in the early 2000s, when Farrakhan was trying to overturn a ban on coming to Britain). There was the story about Khan's performance at the Global Peace and Unity festival in 2008, organised by the Islam Channel, where he spoke a bit of Arabic, and a few members of the audience waved black flags adorned with Arabic script. (Khan was hardly alone in doing this — other supporters of global jihad included Boris Johnson, Nick Clegg, Lord Falconer and notorious Islamist firebrand, Stephen Timms.) And there was the story, as the London Evening Standard put it, of 'Khan's family links to extremist organisation' (Khan's sister's estranged husband, who he's not seen in over a decade, once spoke at events organised by the now-banned Al-Muhajiroun). It's desperate, shallow, guilt-by-tangential-association stuff. But it's been relentless, presumably because Goldsmith's supporters believe if you spout enough bollocks, some of it will be overheard.
Khan's response has been revealing. Such is the contemporary politician's fear of being seen as a bit outré, a bit off-message, he has been busy trying pre-emptively to un-offend what he believes to be the constituent blocs of the electorate. Hence, as the Khan-is-an-Islamist stories proliferated, he gave an interview to the Jewish News, to reveal himself as a friend of Israel and an opponent of the Boycott, Divestment and Sanctions movement. Having retweeted the interview, his team then 'accidentally' deleted the tweet, but not before Khan's opponents accused him of being insensitive towards the 'victims' of Israel, namely Palestinians, and, by default, Muslims across the world. The un-offend game wasn't over yet, though. In response to criticism about the deleted retweet, it magically reappeared on Monday this week.
It's a depressing snapshot of contemporary politics: while the electorate is increasingly seen through the prism of identity politics, and divided up into ethnic, religious and no doubt gendered segments, politicians increasingly attempt to appeal to the electorate on the grounds of identity politics, presenting the correct face to the correct voting bloc. The personality of the politician (and therefore the Twitter account) changes with the identity profile of the voter. The public are no longer addressed in terms of ideas and visions, but in terms of who the politician thinks they are. It is as patronising as it is divisive.
So there you have the London mayoral election thus far: a battle between two people determined to present the most inoffensive personality to the public, one telling us he is not a cruel, avaricious rich fellow, the other swearing he is not a militant Islamist. London's voters deserve better than this Great British Bland-Off — they need politicians willing to tell us what they want to do, not show us who they are.
To enquire about republishing spiked's content, a right to reply or to request a correction, please contact the managing editor, Viv Regan.