Stop treating football fans like second-class citzens
Discriminatory laws are ruining the beautiful game.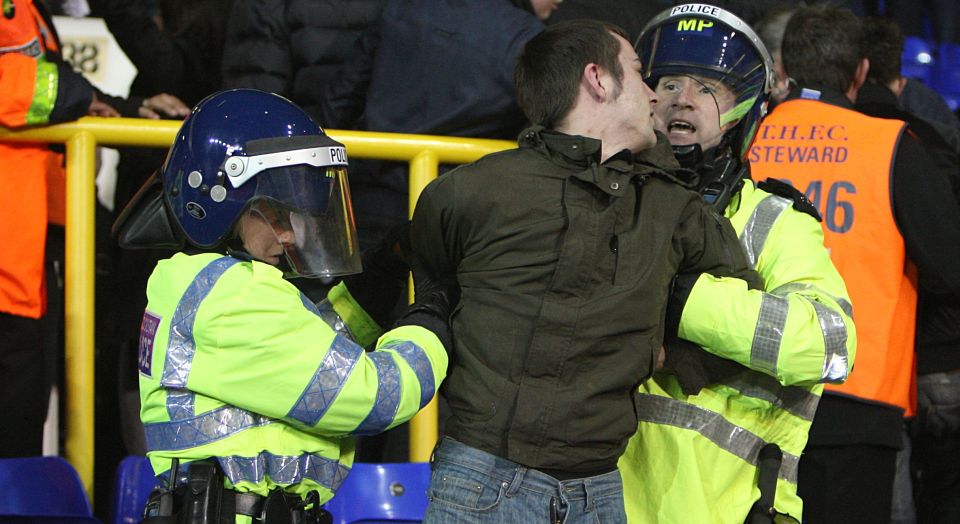 Football fans are second-class citizens under UK law. There are nine football-specific crimes, stemming from 11 pieces of legislation, which affect what supporters can say; where they can go and when; and what and where they can drink. What would be considered minor misbehaviour in any other context can land football fans with a criminal record if it happens in or around a football ground.
These special laws have created a culture of hostility towards football fans among the police, stewards and football clubs themselves. This has allowed discriminatory, unjustified and unnecessary interventions by the authorities. At no other sports grounds would you find routine filming of law-abiding fans, body searching on entry or the presence of police dogs.
The Crown Prosecution Service (CPS) has even created a special low bar in the prosecution guidelines specifically for misbehaving football fans. It states: 'Although of course each case will depend on its own facts, once the evidential test has been passed, the director of public prosecutions has decided that for offences which are prima facie football related, there will be a strong presumption in favour of prosecution.' The guidelines go on to say that '"Simple Cautions" or "Penalty notices for disorder" will hardly ever be appropriate for football-related offences'.
These restrictions are entirely needless. Behaviour that causes actual harm and genuinely threatens the public is already covered by existing laws, such as those penalising drunk and disorderly behaviour. To commit an alcohol-related offence at a football match, you merely need to be drinking within sight of the pitch, or trying to enter the ground when someone in authority deems you to be drunk. Judging by the state of many of the spectators at your average Test match, Lord's would always be half empty if they banned those who were slightly drunk or worse.
So-called offensive chanting at football matches is also illegal. This is despite the fact that even the most offensive football chants today are little more than pantomime This kneejerk legislation means you could face a stiffer punishment for harmlessly goading the opposition than verbally abusing an individual on the street. What's more, rushing the pitch is no longer just a matter of breaking ground regulations, it's a criminal offence.
The criminalisation of football fans spreads a great deal further than the match itself. It is illegal for fans to drink alcohol on coaches travelling to games, or at motorway service stations unless taken with a full meal (whatever that might be). It is common for train companies to designate whole trains as 'dry', meaning no one, not just the travelling football supporters, is allowed to take alcohol onboard or buy it on the train.
This culture of hostility has led to football clubs sharing information with the police and banning on the basis of little evidence. If you've never been to a football match you could be forgiven for thinking that the authorities were tackling a serious crime wave. But, in fact, football-related arrests are 40 per cent lower than four years ago.
In all, 38million spectators attended major domestic and international football matches in England and Wales last season, but there were just 1,873 football-related arrests. Out of those arrests, only 356 were for violent conduct. This is not football hooliganism. Most incidents are isolated, concern relatively few people, and are similar to those found all over the country on any given Saturday night.
On Easter Saturday, England played Germany in Berlin. Around 2,000 football supporters across England and Wales had to surrender their passports to the police ahead of that game. This is because they are each subject to a Football Banning Order (FBO). The minimum time a banning order can be imposed for is three years, but it can stay in place for up to 10 years.
Prosecutors are also able to apply for a 'civil' banning order following little more than a 'complaint' by the police. Even people accused and then acquitted of an offence, or who have simply been pushed on to the pitch during a goal celebration, have found themselves banned.
Football fans must be treated as members of the public, not as problems to be dealt with. It's time to start repealing these petty laws.
Peter Lloyd is the co-producer of The Manifesto Club campaign 'Football Fans Not Criminals', and is the author of Criminalising Football Fans: The Case Against Bubble Matches.
Watch spiked's report on the silencing of Spurs fans:
To enquire about republishing spiked's content, a right to reply or to request a correction, please contact the managing editor, Viv Regan.