How the EU strangles scholarship
A Brexit would help us fight the bureaucratisation of universities.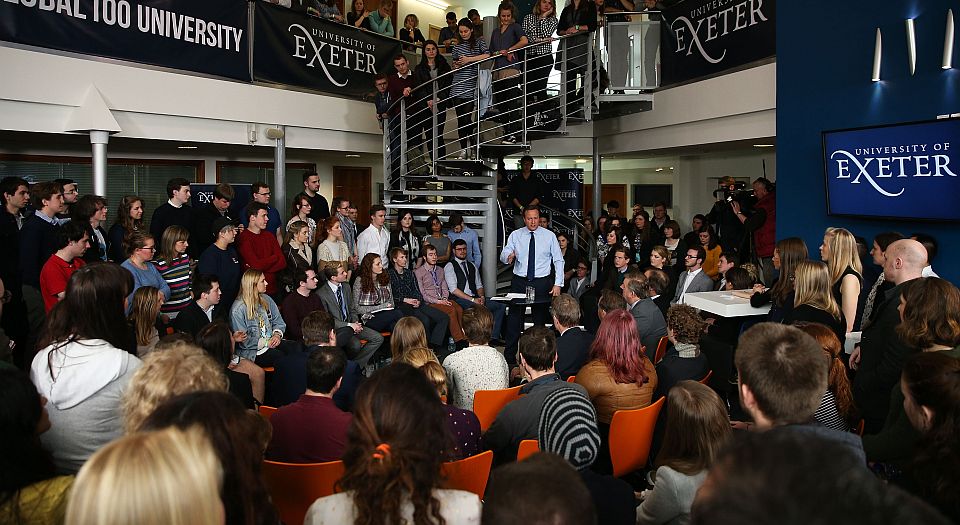 David Cameron's choice of a university for last week's launch of his government's pro-EU propaganda booklet should come as little surprise: many academics and vice-chancellors are at the forefront of campaigns to keep Britain in the EU. Cameron used his platform to give universities a shout-out: 'We think it would be a bad decision to leave – for the economy, jobs, investment, family finances and universities.' Few from within the higher-education sector seem prepared to challenge the doctrine that EU membership is good for universities.
The project of rallying academics and students to the Remain cause has been led by Universities UK (UUK), a group of vice-chancellors and university leaders, which claims to be 'the definitive voice for universities in the UK'. UUK argues that:
'There are 125,000 EU students at British universities, generating more than £2.2 billion for the economy and creating 19,000 jobs, while 14 per cent of academic staff come from other EU nations. Research funding from Brussels is worth £1 billion a year, boosting the quality of research, benefiting the economy and helping British academics to tap into a continent-wide pool of knowledge.'
The frequent incantation of these primarily economic benefits has overshadowed questions about how EU membership has, over a period of several decades, fundamentally altered the nature of higher education and what it means to be a student.
In July 2015, UUK launched its Universities for Europe campaign with the stated aim of demonstrating how 'the EU strengthens our already world-class higher-education system'. The campaign aims to 'promote powerful evidence and highlight compelling stories about the benefits of European Union membership'. Did any of the 133 members of UUK question whether it was appropriate for British academia to hold a collective political position on EU membership? Or, indeed, what this stance might mean for the academic freedom of individual scholars who take an opposing view? The idea that 'powerful evidence' should be sought and promoted in order to prove an already determined political position is hardly a shining example of good academic practice.
This same pattern of paying lip service to academic values while pushing through an expressly political objective can be seen in Universities for Europe's approach to debate. Having already made absolutely clear its intention to extol the benefits of EU membership, the Universities for Europe website then declares:
'We also want to promote the role of universities as places of debate and sources of academic expertise. Universities will open their lecture halls to host public debates to give people opportunities to hear from all sides, to discuss the pros and cons of EU membership and discover more about its impact on universities and, in turn, how this affects them.'
The intention to debate is laudable. But in a context where the 'definitive voice for universities in the UK' has already made its view on Brexit abundantly clear, the proposed discussions can only ever be a charade designed to justify its own particular position. The professed support for debate is followed by a list of 'common myths and misconceptions' where selective arguments for Brexit are derided.
Apparently, one 'myth' is that 'European students and researchers will still come to the UK even if we are not in the EU'. Instead of exploring whether or not EU students will still want to study in a post-Brexit UK, those who think they will are simply chastised: 'This is a careless, risky assumption to make.' This closes down criticism. And Universities for Europe's arguments warrant criticism. For example, the over-reliance on economic justifications for remaining in the EU presents universities as businesses rather than places concerned with the pursuit, preservation and transmission of knowledge. If universities are not primarily concerned with knowledge then it does not matter how much money they receive from the EU – they are no longer universities. Yet, stretching back decades, every EU directive on education has further contributed to eroding the significance of disciplinary knowledge.
The European Higher Education Area (EHEA) came into existence in March 2010. It comprises 47 countries and represents the culmination of the Bologna Process, a political project designed to 'strengthen the competitiveness and attractiveness of European higher education, and to foster student mobility and employability through the introduction of a system based on undergraduate and postgraduate studies with easily readable programmes and degrees'. Although the Bologna Process was not directly overseen by the EU, and not all participating countries are EU members, it received substantial EU funding and direction via consultative members such as the European Commission, the Council of Europe, the European Students' Union, the European University Association and the European Association of Institutions of Higher Education. The EHEA's emphasis on economic competitiveness and employability changes the role of universities from education to training and contributes to the transformation of students into consumers.
Furthermore, the need to make each nation's qualifications equivalent has increased the bureaucratisation of higher education. The EHEA acknowledges that 'quality assurance has played an important role from the outset'. 'Harmonisation', or the erosion of national differences in approach, required the introduction of a European qualifications framework so that a degree in any EHEA country signifies a student has studied for the same length of time and to the same standard. This ignores the different prior educational experiences of students as well as different cultural traditions and expectations of what a university is for. Worse, it ignores the distinctive nature of different subjects. In practice, it means that discussion of what students should know has been replaced with learning outcomes, instrumental goals a student can demonstrate having met, and credits, 'a quantified means of expressing the volume of learning based on the achievement of learning outcomes and their associated workloads'. Inevitably, as with all attempts at standardisation, the danger is a race to the bottom – in this case other European countries have had to come in line with England's shorter degree programmes.
The need to quantify and measure learning outcomes and credits means the pursuit of knowledge, for students and lecturers alike, becomes relativised and robbed of all significance. It becomes just one goal among many to be ticked off over the course of an academic year. Knowledge is presented as just as important as a range of other outcomes, relating to employability, sustainability and lifelong learning. Rather than knowledge, the EHEA is most committed to promoting 'the social dimension of higher education'. For the most part, this seems to be about widening participation and the need to ensure people from disadvantaged backgrounds can access university. However, it also embodies a distinct body of values such as the promotion of social justice, inclusion, global citizenship and sustainability. Individual academics have not been consulted on these values but, just like credits and learning outcomes, they are expected to make cursory reference to them in module and programme-specification documents. It should be for lecturers, not EU-funded bureaucrats, to determine what students are taught.
The replacement of knowledge with values is reflected in many of the arguments being put forward by the EHEA, UUK and others. The presence of EU students in UK universities and the existence of exchange programmes such as Erasmus are praised for providing students with an international university experience and opportunities to gain intercultural competence. There is indeed much to celebrate in having a diverse group of students, but university has to be about more than just bringing people into contact with each other. This should be a byproduct of going to university, not the main event.
UUK's argument, that EU membership allows British universities to 'tap into a continent-wide pool of knowledge', suggests a very narrow and instrumental view of knowledge. Brexit will not stop scholars from being able to read books, attend conferences or communicate with academics from the rest of Europe. However a vote to remain in the EU may see the pursuit of knowledge further relegated behind numerous other political, economic and social goals. Brexit will not solve all the problems currently facing the British higher-education sector, but at least it will allow those working in UK universities more control over changing direction.
Joanna Williams is education editor at spiked. Her new book, Academic Freedom in an Age of Conformity: Confronting the Fear of Knowledge, is published by Palgrave Macmillan UK. (Order this book from Amazon (USA).
To enquire about republishing spiked's content, a right to reply or to request a correction, please contact the managing editor, Viv Regan.