The union that students need
It's time to smash the NUS and start anew.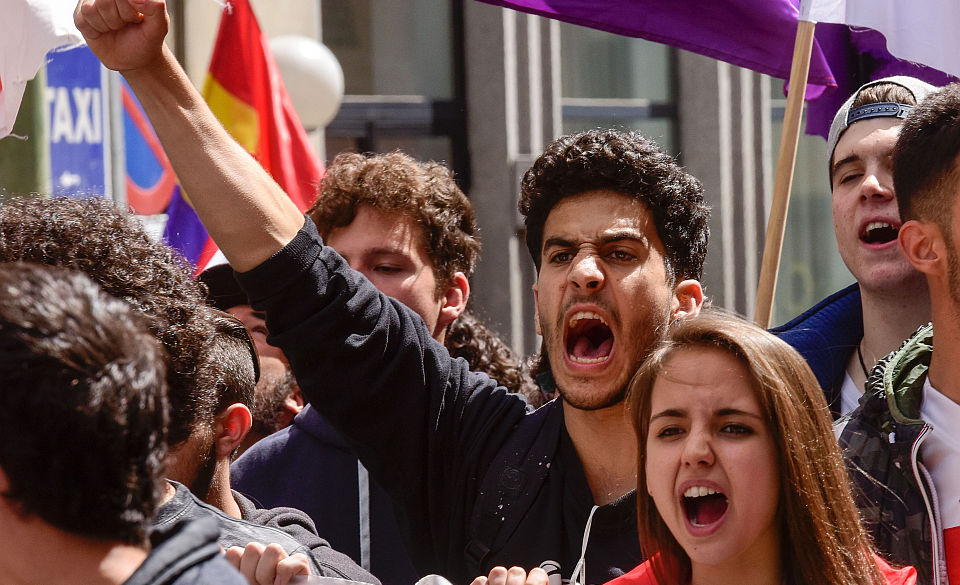 The National Union of Students conference is over. But we'll still have the memories – the jazz hands, the whingeing and the casual anti-Semitism. For this was the year when this tyranny of crybabies, this politburo of plonkers, truly outdid itself. Not only did delegates call for social-media apps to be banned (people are saying nasty things on them) and for Holocaust Memorial Day to be scrapped (apparently it's not 'inclusive') — they also elected as the new NUS president Malia Bouattia, someone who thinks condemning ISIS might 'send the wrong message' and is wont to wax lyrical about the 'Zionist-led media'.
This year's shitshow has led to students around the country calling for their unions to disaffiliate from the NUS. About time. The NUS is a censorious, anti-democratic husk, propped up by right-on middle-class cliques. Though it claims to fight for students' rights, it doesn't have much truck with their right to speak freely, their right to conduct their sexual lives as they see fit, or even their right to party. In 2013, the NUS signed up to minimum pricing: this is a students' union that thinks beer is too cheap.
It's time to smash the NUS and start anew. Students need a union that truly looks out for them, that allows them to make common cause on the issues that matter. But, above all, they need a union that treats them as morally autonomous adults, that takes them seriously, that believes students can change the world rather than just be triggered by it. Here are my ideas for some core principles that the new union of students should abide by:
No censorship – ever
No Platform, Safe Spaces, microaggressions, trigger warnings – whatever form it comes in, campus censorship is borne of a barely veiled contempt for students. The NUS's byzantine regime of speech codes, blacklists and disciplinary policies is fuelled by a view of students as either easily upset babies or goose-steppers in-waiting. Worse still, censorship makes you dumb. Spend half an hour in the NUS echo chamber and you'll see what I mean. To hone your ideas, you need to be free to argue and test them. To find out about new ones, you need to be free to listen.
Get out of the bedroom
In the 1960s and 70s, student activists agitated against in loco parentis, the doctrine that meant universities had to play parent and protect students from the influence of nasty words, dissident politics and, above all, sex. But where that generation ordered the university out of the bedroom, the NUS is now inviting itself in. The NUS's obsession with students' sex lives has hit ultra-creepy levels. The phoney 'rape culture' panic has paved the way for consent classes and lad re-education programmes. The killjoys of the 60s wanted to stop you having sex; these creeps want to give you pointers. Hands off.
End the mental-health obsession
On university campuses today, if you're not being told you're 'problematic' you're probably being told you're mentally ill. The NUS has created a campus cottage industry of wellbeing services, therapeutic petting zoos and classes on overcoming home sickness, stress and run-of-the-mill angst. This isn't about catering to the few who suffer genuine problems — it's about painting all students as basket cases. We used to think of young people as robust, as having the vim and vigour to take whatever life throws at them. The NUS think you're all one bad grade away from a mental breakdown. Reject it.
One member, one vote
This year's NUS conference was hailed by outgoing president Megan Dunn as 'the world's largest democratic student gathering'. I don't know how she kept a straight face. Malia Bouattia was elected by a few hundred delegates, who in turn were chosen by a tiny percentage of their respective student bodies. This isn't a democratic mandate, it's a testament to how closed-off, irrelevant and anti-democratic the NUS really is. At the conference, a motion for a 'one member, one vote' system, put forward by a reformist slate, was defeated. That tells you everything you need to know. All students' voices must be heard. The new union should debate with and engage as broad a body of students as possible.
Change the world
NUS politicos like to pose as radicals. Nothing could be further from the truth. Aside from passing the odd motion condemning Israel (I'm sure that made Netanyahu blink), the NUS's stock-in-trade is micromanaging campus life. It believes students are too delicate to deal with the world, let alone try to change it. Student politics has never been perfect. But in the past it at least provided an outlet for students' radical ambitions. Insisting on being treated like adults is the first step toward making history. A union that harnesses that spirit, is the union that students need.
The new union, a union of free students, should reverse all the rot set in motion by the NUS by cultivating an environment in which students can think freely, discuss things openly, feel democratically engaged, and develop the tools and the aspiration to be full, morally autonomous grown-ups.
To enquire about republishing spiked's content, a right to reply or to request a correction, please contact the managing editor, Viv Regan.