Abortion wars: women fight back
Women are fighting for their bodily autonomy.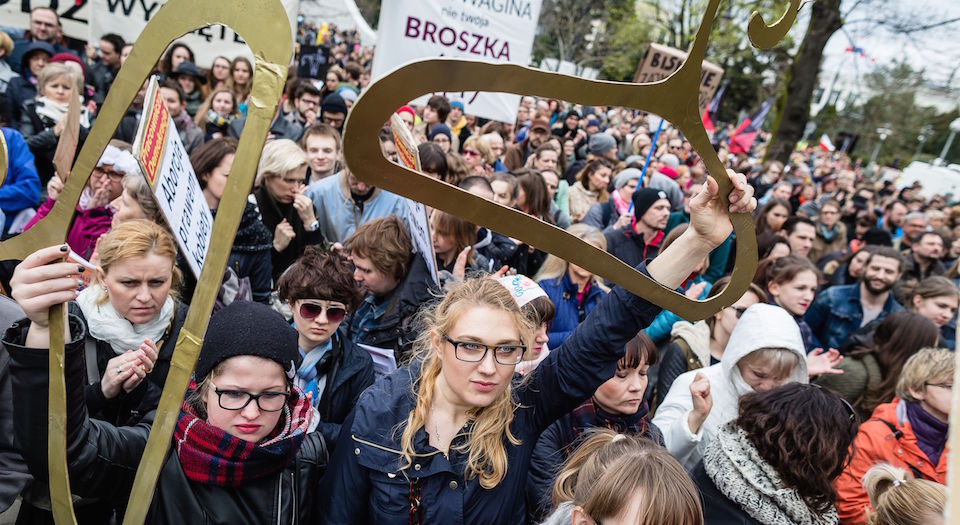 A new controversial revision to the current abortion law in Poland has been put forward. 'Stop abortion', proposed by conservative anti-choice association Ordo Iuris and quickly taken up by the Polish government's Law and Justice Party, seeks to make abortion illegal without condition.
Abortion law in Poland has had a complicated history. Until 1932, abortion was completely banned, after which, it was allowed for medical reasons and Poland became the first country in Europe to allow abortion if the woman has been raped. In 1956, a new revision allowed access to abortion for women who were experiencing 'difficult living conditions', which essentially gave women access to abortion on request during the Sixties and Seventies. But following the fall of Communism and the reintroduction of the Catholic Church to power in the early Nineties, the lax enforcement of the abortion law was curtailed, meaning that access would only be legal in cases of fetal abnormality, rape, incest or serious risk to the health of the mother.
After already experiencing a reactionary turn, the Polish government now seeks to restrict women's freedom even further. To say this is disastrous is an understatement. Speaking to Jacobin magazine this week, Polish feminist Ewa Majewska explained the gruesome reality of the newly proposed law: '[The new law] bans abortion in cases of terminal diseases and deformations of the fetus. In cases where the woman must carry a dead fetus or birth a terminally ill infant, she will have to continue the pregnancy.' Majewska also pointed out that working-class Polish women will suffer most if the proposed legislation is passed, so 'it heaps more poverty on already poor women'. Having an illegal abortion costs €600 and over.
Many are shocked at the latest developments in Poland, yet the same restrictions on women have been going on a lot closer to home. Northern Ireland has one of the most restrictive abortion laws in Europe – the maximum penalty for an illegal abortion is life imprisonment. In 2014, an immigrant in Northern Ireland legally requested an abortion under the Protection of Life During Pregnancy Act (which allows abortion under certain circumstances, including if the woman is suicidal). But her request was denied, and, after threatening to go on hunger strike, a court order forced her to have a caesarean section at roughly 25 weeks and the child was taken into care.
In the US, women were being jailed for procuring illegal abortions long before presidential candidate Donald Trump suggested they should be. Taking abortion pills outside of a clinic constitutes an illegal abortion – these are the same pills that would be perfectly legal inside the doors of a clinic. In 2010, a woman was arrested and jailed after she fell down the stairs and miscarried, as doctors suspected she had intentionally tried to harm the fetus. In Poland, a miscarriage can be subjected to institutional scrutiny if someone suspects the woman of having intentionally brought it on.
Women are getting angry about this. In Poland, people have come out in protest to demand that the government throw out the changed proposed by 'Stop Abortion'. A #CoatHangerRebellion has spread across Europe, with women waving coat hangers, the symbol of the brutal history of backstreet abortions, in their thousands in Warsaw and other cities, protesting Poland's reactionary suggestion. In response to the intrusion into women's personal lives, some campaigners have copied protestors in Indiana in the US, and encouraged women to barrage their political leaders with tweets about their menstrual cycle. These stunts and protests are happening alongside the organised UK campaign We Trust Women by the British Pregnancy Advisory Service (bpas) to lobby parliament to decriminalise abortion. Similar protests in Northern Ireland have been led by groups that highlight the vast numbers of women who have to travel to England to gain access to abortion services.
After years of low-level acceptance of the state of abortion laws in the West, women are standing up and fighting for their bodily autonomy. As more and more stories come to light of women having their miscarriage thrown open to criminal scrutiny, being jailed, being forced to give birth and demonised on their way to clinics by pro-life agitators, women in the West are realising that they must demand control over their own bodies.
This is what the fight for abortion must be about – an argument not just for access to abortion, but for women to enjoy the same freedom of access to medical services as men. Women must demand that the society they live in reflects their beliefs and their needs, and allows them freedom over their bodies.
Ella Whelan is assistant editor at spiked. Follow her on Twitter: @Ella_M_Whelan
Picture by: Wojtek Radwanksi
To enquire about republishing spiked's content, a right to reply or to request a correction, please contact the managing editor, Viv Regan.