London: nothing to be scared of
A thriving, buzzing city deserves better than the politics of fear.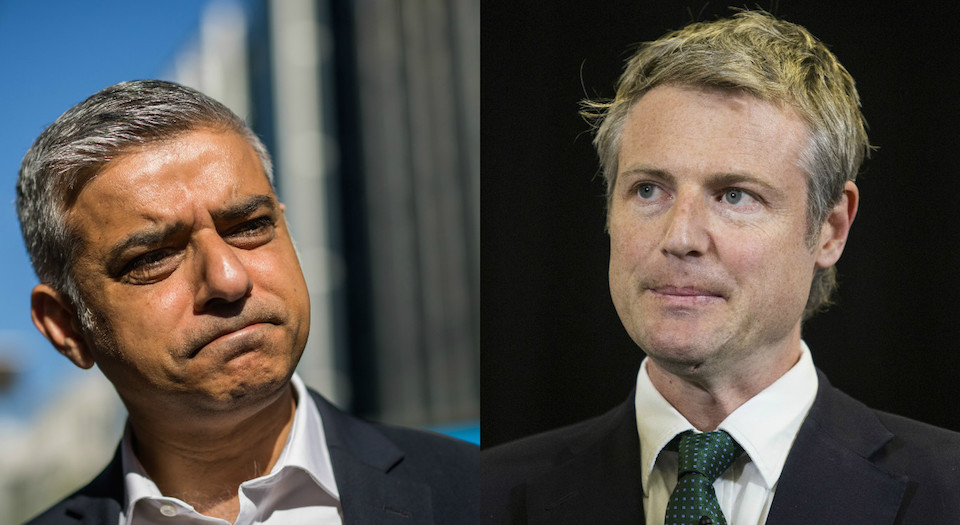 Poor old Zac Goldsmith. The Tories' London mayoral candidate was once every Guardianista's secret crush, with his bee-stung lips, green pieties and seeming indifference towards the Conservative Party. He was the toff it was okay to like, the Tory it was acceptable to fancy.
But then came his campaign to become London mayor. And it all went to pot. Now Goldsmith is the poster boy for the politics of fear, accused of racially profiling the electorate, and attempting to play on the voters' fear of the other, the unknown, or, more specifically, 'the Muslim', as his campaign team have been reported to refer to Labour's mayoral candidate Sadiq Khan.
One Guardian columnist called Goldsmith 'a shallow opportunist willing to stir racial tension'. Former London mayor Ken Livingstone, who knows a thing or two about stirring racial tension, said this was the worst, most dirty campaign he can remember. Even some Tories have tired of Goldsmith's fearmongering tactics. Former Tory co-chair Sayeeda Warsi tweeted her disbelief at the relentless demonisation of Khan at the hands of Goldsmith's campaign team. And former Tory parliamentary candidate for Leigh, Shazia Awan, declared herself 'deeply upset by the intrusive, patronising and divisive tactics being used by the party in the mayoral race'.
They have a point. Having spent the past three months dredging up tenuous, six-degrees-of-separation-style links between Khan and bilge-spouting Islamists, such as daft Islamist X used to hang out with Khan's sister's ex-husband, Goldsmith's campaign team has, incredibly, managed to up the fear-and-loathing ante in recent days. First, Goldsmith asserted in an interview that Khan's tangential connections to 'extremists' made him 'incredibly dangerous', and then, clearly worried that his message about Khan enabling terrorism was not getting through, he knocked out that piece in the Daily Mail. It's the one in which Goldsmith says Khan and Labour have 'repeatedly legitimised those with extremist views', which the Daily Mail helpfully illustrated with a photo of the wreckage of the No30 bus blown up in 2005 by the London bombers. Because that, you see, is what will happen if you vote for Khan, the Muslim, the terrorist facilitator, the clear and present danger.
Yet those now slamming Goldsmith for playing the fear-cum-race card, those now suggesting that Goldsmith has succumbed to the so-called dog-whistle campaigning techniques of evil, winner-of-elections Lynton Crosby, are missing the point. None of this is new for Goldsmith, let alone forced on him by unscrupulous electoral strategists from Oz. He has always embraced the politics of fear. He has always been driven by a fear of the future, the unknown – even when Guardian features writers were fawning over his sultry good looks and passion for recycling. It's just that they didn't recognise the politics of fear as such.
But that is what environmentalism, the creed to which the old-style conservative Goldsmith has always submitted, has always been informed by: the politics of fear. The fear, that is, of the unintended consequences of human activity; the fear of the unpredictable nature of social, technological and economic development; the fear of a future that is different, possibly even radically different, from the present. Other people, pursuing their manifold projects, have always posed a threat to the likes of Goldsmith. That's why, over 10 years ago, he stated that he believed in 'the precautionary principle'; why he warned of the dangers of nanotechnology; why he campaigned against the building of nuclear power stations; why he feared the material progress (and increasing resource use) of the developing world. Because he, like all committed environmentalists, fears change. Nature, or the environment, is, in this sense, little more than the refuge of the fearful, the figure to which one appeals in opposition to the potential dynamism of the human.
Not that Khan, despite his energy and enthusiasm, is much better. He, too, has professed his environmentalist faith, even saying that he wanted to be the 'greenest mayor London's ever had'. And it's not just in his possibly opportunistic attachment to environmentalism that Khan's own embrace of the culture of fear comes through. It's also there in his own playing up of his Muslimness, as a way to keep London safe, as a way to blunt the threat of these legion others. As one liberal, Muslim commentator put it, 'If a Muslim can be elected by millions of voters of all backgrounds to take charge of the world's greatest city, how would the jihadis – how could they – carry on believing and arguing that we Muslims have no future in Europe, or that Westerners hate us? This victory could do more to combat radicalisation than any number of government strategies.' That's what Khan's champions, banging on about the 'symbolic potency' of a Muslim mayor, are presenting him as: the anti-radicalisation candidate, the man to blunt the appeal of jihad. Inspiring stuff.
The politics of fear of Goldsmith and Khan differ in degree, but not in kind. London for both is a city at risk, besieged from without by the pressure of population growth and environmental threats, and potentially torn apart from within by racial tensions and spectral terrorists. Yet what both seem to fear is precisely what ought to be embraced. A growing city, one attracting people from across the world, is a dynamic, exciting place to be. And the apparent facts of difference, from ethnicity to faith, are not sources of tension to be managed – they are reasons to encourage and nurture a genuine culture of tolerance. That is what makes a city such a vibrant, thrilling place in which to live: that possibility of the unexpected encounter with the unknown, be it in a pub or on the Tube; and that sense of dynamism, and thrusting forwards, not just architecturally or economically, but culturally, too, where the new and not-from-round-here melts into and changes the content of the pot. Being the mayor of a metropolis like London is nothing to be afraid of; it's an opportunity to be seized.
Tim Black is a columnist at spiked. He also edits the spiked review.
Picture by: Jack Taylor / Rob Stothard / Getty Images.
To enquire about republishing spiked's content, a right to reply or to request a correction, please contact the managing editor, Viv Regan.