Leicester City: why I'm not celebrating
In football, there is no such thing as a 'second-favourite team'.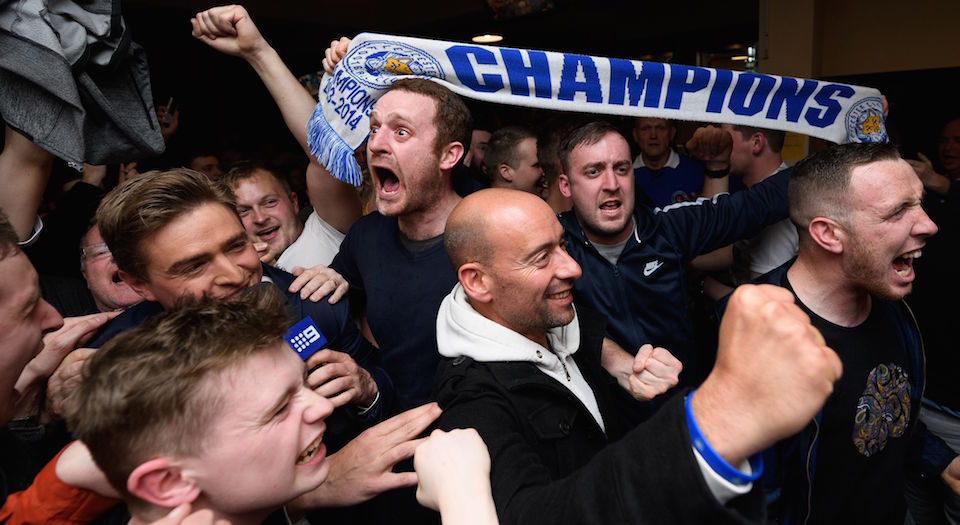 Wow. Leicester City are Premier League champions. I didn't see that coming. Nobody did. The 5,000-to-1 outsiders were the bookies' favourites for relegation at the start of the season. But they defied the odds and confounded the pundits. And they left the super-rich fat cats of English football trailing in their wake. We should all be rejoicing, right? We should be happy that camaraderie, work rate, a well-drilled defence and good coaching have triumphed over loadsamoney, shouldn't we? It's a modern-day fairytale, isn't it?
I totally get why there's a media love-in, but here's the thing: I'm not celebrating. That's right – not even a smile. Congratulations to Leicester and all that. But, unlike Jamie Vardy, I won't be having a party and here are five good reasons why.
People's champions
Leicester fans have been wearing t-shirts declaring that City are the 'People's Champions'. Do me a favour. Who decided that Leicester represented the rest of us? The only people who should be celebrating the title are Leicester City fans. My team, Crystal Palace, are still grubbing around near the relegation zone, so I've no particular reason to celebrate another club's success. I'm sick of the media narrative that the Foxes are the 'neutral's favourites' and 'everyone's second-favourite team'. Call me curmudgeonly, but I refuse to recognise the concept of a 'second-favourite team'. It's acceptable to have a crush on a sexy foreign outfit, but that's not the same as dividing your affections between two clubs in the same domestic league. Fandom is indivisible. I simply don't care about any team apart from Palace.
Cardboard clappers
There are some modern phenomena which, in my view, have no place in football. I'm talking about piped music, jester hats, half-and-half scarves and cardboard clappers. Brighton, Norwich and Leicester have all, to their shame, embraced clappers. Leicester City reportedly spent £228,000 distributing clappers to supporters. Why, you might ask, do fans need clappers to generate noise when God gave us hands for clapping and vocal cords for singing? Clappers are plain wrong. End of. If I was running the Football Association I'd impose an automatic 10-point deduction on any club that dished out clappers.
Rags to riches?
There is already talk of a Hollywood dramatisation of Leicester's improbable success. It ticks all the right boxes for a cheesy 'Roy of the Rovers' sporting film. The misfits from the wrong side of the tracks overcome adversity to become champs. Leicester's title win shows that money doesn't always talk. What might be airbrushed out of the fairytale script is that Leicester's ascent to the top flight was bankrolled by a Thai billionaire who poured over £100million into the club. Leicester might be relative paupers when compared to the Premier League's elite clubs, but they were big spenders in the Championship. Not only did the club effectively buy promotion but they are currently being investigated by the Football League for allegedly breaching its financial fair-play rules. None of this takes anything away from Leicester's achievement once in the top flight, but let's not forget that money was instrumental in the story of their rise to the top.
Sporting miracle?
If I hear the F-word (fairytale, in case you're wondering) one more time I swear I'll punch someone. Leicester deservedly won the Premier League, but this was no miracle. Leicester are well-drilled, devastatingly clinical on the counterattack and have two attacking players – Vardy and Mahrez – who have been on fire all season (not to mention largely injury-free). But Leicester's triumph has exposed the decadence, complacency and mediocrity that has corroded the Premier League. It was Leicester's extraordinary good fortune that the elite clubs simply didn't show up this season. Just as big clubs fielding weakened teams devalues the FA Cup, so too does the abject underperformance of the elite clubs diminish the Premier League's value. Leicester City, you could say, are the Jeremy Corbyns of the Premier League – a non-entity whose victory is symptomatic of the rotten state of that organisation. If I were Premier League boss Richard Scudamore, I'd be minded to declare this year's competition null and void, because the big clubs clearly couldn't be arsed to take it seriously.
Claridge's shin
This one's personal. Twenty years ago Leicester City won promotion to the Premier League courtesy of a shinner from Steve Claridge in the last minute of extra time in the play-off final against Palace. Call me bitter, but I still haven't erased the memory of that terrible few minutes. The game was heading for penalties when Martin O'Neill took off his keeper and sent on the Australian Zeljko Kalac who, at six feet, seven inches tall, dwarfed everyone else on the pitch. It was surreal. Sending on an actual giant for the penalty shoot-out was cheating. I swear that some Palace fans started booing. Our players were clearly unsettled by the freak and, as a result, didn't close down Steve Claridge at the edge of the box, who took a hopeful swing at the ball and shinned it beyond Nigel Martyn and into the net. Gutted. I can still remember that moment with chilling clarity. And I will never, ever forget.
Duleep Allirajah is spiked's sports columnist. Follow him on Twitter: @DuleepOffside
Picture by: Rob Leon Neal / Getty Images.
To enquire about republishing spiked's content, a right to reply or to request a correction, please contact the managing editor, Viv Regan.