No one wants a United States of Europe
By pushing for more central control, the EU has signed its death warrant.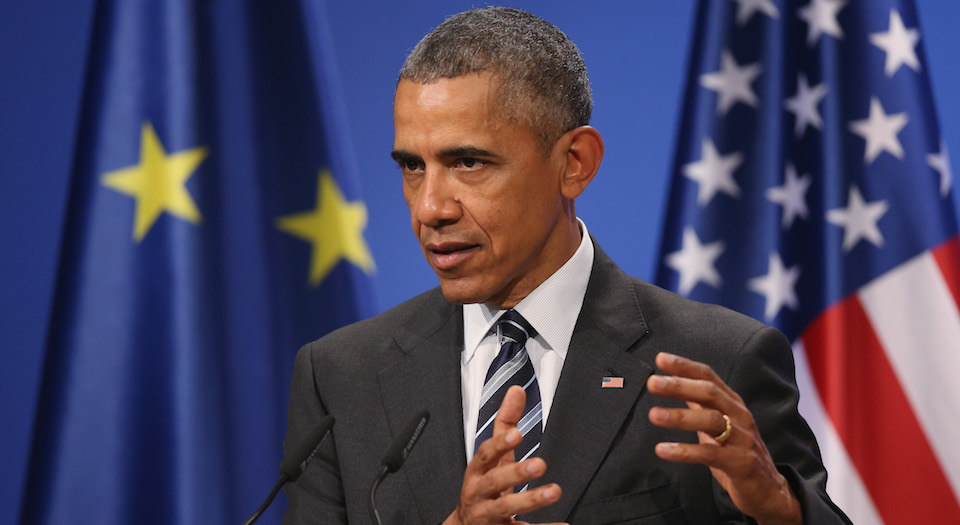 During President Obama's recent visit to the UK, in which he antagonised Brexiteers by urging the British to remain in the EU, the Remain campaign had a smart-alec response: the US is also a federation of autonomous states under one umbrella. If the United States of America works so well, came the implication, why wouldn't a United States of Europe?
The comparison only serves to highlight the cultural, historical and linguistic ignorance of those who believe in the feasibility of a united Europe. The parallel is manifestly phoney. The US has worked politically and economically because its inhabitants share one language and one common culture. This, incidentally, is why other federations – Germany and Australia, for instance – have also been functional countries.
The EU has never had one common vernacular, let alone one shared common culture. Hence the blandness of euro banknotes: the EU can't even agree on shared icons without squabbling. This is much more important than dullard Eurocrats comprehend. They, and the economists and business leaders who forever champion a united Europe, regard people mainly as producers and consumers, blank slates who can be remoulded into good EU citizens. They fail to see people as complex individuals bestowed and even hampered by their language and cultures.
This is why a single currency and a single interest rate in the EU have been disastrous. If, for example, you live in a poor part of the UK or the US, it's easier to try to make it in another part. You need not learn a new language in your new abode, and acclimatising yourself will come easily. Within the EU, however, mobility is hindered by culture. Sure, if you are a young, footloose graduate from Milan or Madrid, moving to London or Frankfurt will take but minor adjustments. But it's not the same story if you are an unqualified, middle-aged monoglot from Andalusia or Sicily with a family to support.
Before the single currency, the likes of Spain, Portugal, Italy and Greece could devalue to readjust this state of affairs. But if you fit many cultures and languages into one economic system, the result is ever-more pronounced regional inequality and consequent nationalist resentment. Populist, reactionary and radical movements have emerged as a direct consequence of the euro and the pockets of poverty it has spawned.
Multicultural nations may work, but multilingual, multinational federations are doomed. The Austro-Hungarian Empire was dissolved with ease for this reason. This is also why the Soviet Union collapsed so easily after 1991: the non-Slavic Baltic states began the domino effect. Franco's persecution of Catalan speakers is coming back to haunt Spain right now. And if bilingual Brussels weren't inside Dutch-speaking Flanders, thus geographically impeding the country's own 'velvet divorce', Belgium would have broken apart by now.
This week we read about utopian plans for a 'full-blown United States of Europe' as well as plans from Germany to develop a 'European Army'. Yet the more the EU moves its people towards unity, the more it will seal its own demise. The point of any federal system is that member states want to live in a broad association, but not in one, unified sovereign state. Federal states are ripped apart when the centre over-exerts its authority: witness Yugoslavia in the 1990s. The same would happen to the US were Washington to extend its power in the manner Brussels continues to do today.
Unlike the Stars and Stripes, no one reveres or adores the European flag. No one would fight for it; only against it. This is why I am voting Leave on 23 June. Closer, coerced union will be the European Union's undoing, and it won't be pretty.
---
Rebuilding the railways
A mainline train has returned to a Dorset railway line, closed by the 'Beeching axe' in 1972, thanks to the work of volunteers who spent four decades relaying the tracks. The South West Trains service has run two return test trips between Swanage and Weymouth on the restored line, before regular passenger services start next year.
With the enormous resurgence in train usage in the past three decades, it's only natural that old train lines are being reopened as a consequence. Last year, the Borders Railway line in Scotland resumed service, having been closed in 1969. Further south, there are plans afoot to reopen the Varsity Line linking Oxford and Cambridge, which closed in 1963.
The Beeching cuts were a necessary corrective to an over-extended railway network in the age of burgeoning motor-car usage, and in which freight traffic had switched dramatically to the roads. Yet many believe that they were undertaken overzealously, fuelled by a neomaniac belief that motorways represented a glorious future and the iron horse belonged to a rusty past. Posterity shows how such keenly felt futuristic thinking can actually be deleterious in the long term. When it comes to the high-speed transport of the future, now it's trains that are spoken of.
Ideology is often the enemy of the future. Consider Britain's coalmines, so enthusiastically closed by the Conservative governments in the 1980s. Had these mines been mothballed, not left for ruin, they could be conceivably reopened now, as demand for energy is higher. But they can't, because they're all either flooded or full of toxic gas.
A similar free-market zeal burns at the heart of those who pronounce that the troubled Port Talbot plant should fall on the sword of sacred market forces. They declare that British steel is structurally and chronically uncompetitive and should be put to death.
But shouldn't we be listening to those who say the price of steel rises as well as falls, that China hasn't being playing fair, and that no one knows what what the future holds?
---
Fading fame
According to a report in The Times, a line-by-line study of 2,000 films from the 1980s to the present day suggests that while men's career prospects improve with age, women's go into sharp decline from their mid-thirties. In support of the findings, we heard complaints from the likes of Catherine Zeta-Jones, Liv Tyler, Julianne Moore and Anne Hathaway about how they've become more sidelined with age.
It's a bit cheeky for actors to complain – whose youthful good looks gave them a buck-up in the first place in a notoriously shallow industry that has always placed an emphasis on beauty. And it's these actresses themselves who are forever getting hitched to older men. This represents the order of things.
Patrick West is a spiked columnist. Follow him on Twitter: @patrickxwest
Picture by: Sean Gallup / Getty Images.
To enquire about republishing spiked's content, a right to reply or to request a correction, please contact the managing editor, Viv Regan.