The end of the Grand Old Party
Trump's rise confirms the alarming decay of the Republicans.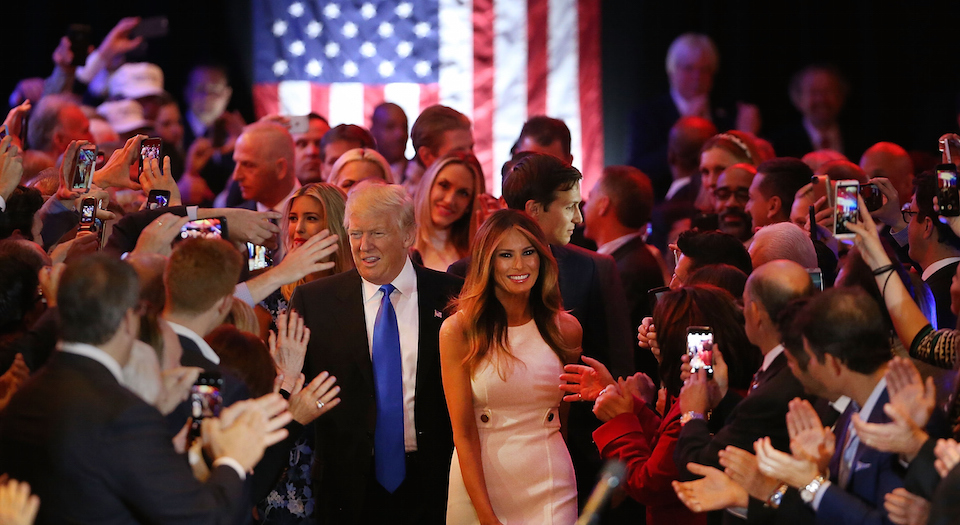 The party of Abraham Lincoln, Theodore Roosevelt and Ronald Reagan is now the party of Donald J Trump. With his win in the Indiana primary, Trump's hostile takeover of the Republican Party is complete. It is the biggest defeat for the Republican establishment in living memory.
There have been other businessmen, media stars and populist challengers who have vied for the top role of America's political parties, but none, until Trump, has combined all of those characteristics, and won the nomination. Trump only joined the Republican Party in 2012, and over the years donated hundreds of thousands of dollars to Democrats, including his likely opponent, Hillary Clinton.
His victory is a thorough repudiation of the Republican establishment. The elite of the party were very confident at the start of the campaign last year. They were going up against a flawed and unpopular Democrat in Hillary. They bragged about their abundance of A-list talented candidates. Their favoured candidates were going to turn the party around, and appeal to demographic groups like women and Latinos, who the Republicans failed to win in 2012.
Trump and the Republican grassroots voters overturned all that. Trump exposed all of his Republican contenders as empty suits. He adopted almost the opposite of the Republican strategy, when he called Mexicans rapists and drug dealers, promising to round up and deport illegal immigrants, and came out with various misogynist insults.
The Republican establishment proved out of touch and inept. They didn't take Trump seriously, and even after he had gained a foothold of support, they denied it was happening. The other Republican candidates ignored Trump's arguments on immigration, and then tried to outdo him, but by then Trump sounded like the more convincing and steadfast proponent. They resorted to a 'stop Trump' movement, but the more the voters got a better look at their preferred 'anyone but Trump' alternatives, like Ted Cruz and John Kasich, the more they went over to Trump.
Most painful of all for the Republican elite was the fact that the party's voters were consciously voting for Trump in order to send a message to the establishment itself. Exit polls from Indiana showed that a majority voted for Trump because they felt betrayed by party leaders.
Not only did Trump trounce the Republican hierarchy, but it looks like he will be an electoral disaster for the party as well. The Republicans have lost five of the last six presidential elections, and polls indicate that Trump will lose badly to Clinton. There are also negative implications for Republicans down the ballot: a blowout would increase chances that they could lose control of the Senate, and suffer losses in the House of Representatives and in the states.
Trump's triumph reveals a party elite that is cracking up. Elected officials, donors and strategists are shocked and confused, not sure whether to back or take a stand against Trump. Both former Bush presidents say they will sit out the election, while some Republicans say they would rather vote for Hillary. Others, like Senate leader Mitch McConnell, are grudgingly supporting Trump. And we're seeing some amazing flip-flops: former Louisiana governor Bobby Jindal went from saying Trump was 'deranged', 'a narcissist' and 'a carnival act' to saying Trump is someone he would 'absolutely' support.
But the bigger, and longer-term, issue facing the Republicans is not simply what will happen in this November's elections. It is that the rise of Trump destroys their supposed governing philosophical ideas. Republican thinkers like to trot out that theirs is the party of free markets, including trade and immigration, and limited government. But now, with Trump, the Republicans are the party that will build a wall on the border with Mexico, keep out Muslims, adopt protectionist trade policies and nationalise healthcare. The party that was supposed to be dominated by religious social conservatives is now the party of a secular, serial philanderer who is pretty relaxed on social issues. A supposedly serious party is now led by someone who routinely repeats conspiracy theories – from believing Obama wasn't born in the US to, just two days ago, coming out with a National Enquirer-style accusation that Ted Cruz's father plotted with JFK's assassin, Lee Harvey Oswald.
For now, some Republicans will take solace in knowing that the party is stronger below the presidential level. Republicans have made big gains since 2008, and now control both houses of congress, most governorships and most state legislatures. But, as the rise of Trump shows, the Republicans no longer know what they stand for, and that will inevitably have negative effects across the country.
At their convention in July, many Republicans will try to put on a brave face, and hope that Trump is a one-time fluke, and when he's gone they can go back to old practices. But there really is no return to the past for the Republican establishment, and whether the party becomes fully 'Trumpist', or splits up into competing parties, or something else, it will never, after Trump, be the same again.
Sean Collins is a writer based in New York. Visit his blog, The American Situation.
Picture by: Spencer Platt / Getty Images.
To enquire about republishing spiked's content, a right to reply or to request a correction, please contact the managing editor, Viv Regan.