Harvard's war on 'privilege'
The blacklisting of single-sex social clubs is another blow to student freedom.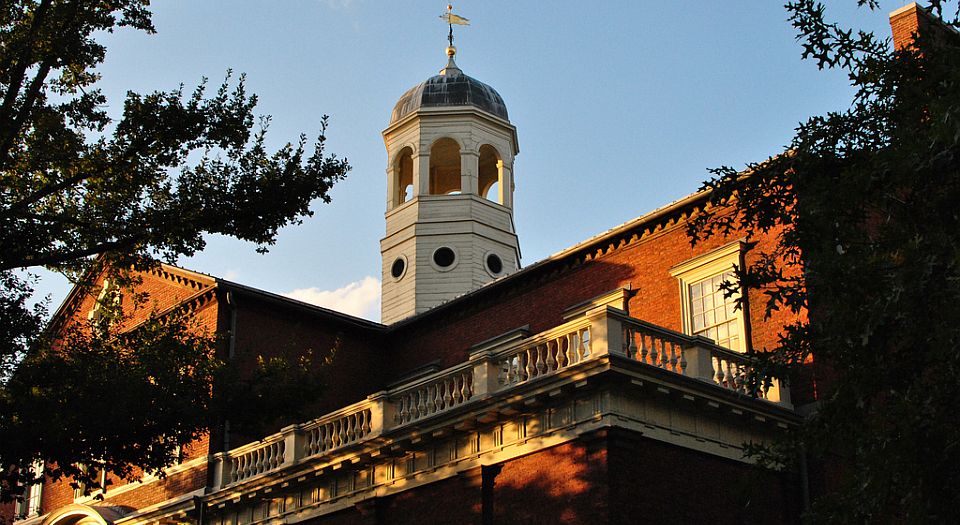 Harvard University, ultra-exclusive dispenser of lifelong privileges, now claims that 'privilege and exclusion (are) at odds with our deepest values'. Seriously. Does this mean that Harvard will begin loosening its admission requirements and start offering free tuition to all undergraduates (with the exception, perhaps, of gazillionaire kids)?
Of course not. It means that Harvard will punish students who belong to single-sex social organisations of which university administrators disapprove – namely, fraternities, sororities and final clubs. (There are female as well as male final clubs, but the exclusively male enclaves are the primary targets of Harvard's wrath.) Students who dare to join these groups will risk damaging their graduate and professional careers: they will be barred from 'leadership positions in recognised student organisations or athletic teams', and will not be eligible for dean's endorsement letters for such honours as Rhodes scholarships and Marshall fellowships.
Harvard's crusade against these particular exclusionary groups was sparked by concerns about alleged sexual assaults and the misogynist attitudes the final clubs allegedly propagate. But these concerns are not discussed in Harvard dean Rakesh Khurana's explanation for the new policy. Instead, with a straight face, he declares, 'In their recruitment practices and through their extensive resources and access to networks of power, these organisations propagate exclusionary values that undermine those of the larger Harvard College community'.
Dean Rakesh doesn't explain how the university manages to exploit its 'extensive resources and access to networks of power' without promoting 'exclusionary values'. Perhaps he thinks the answer is self-evident: Harvard is an 'inclusive community', president Drew Faust asserts, as she excludes from substantial benefits students whose associations she disdains.
The Foundation for Individual Rights in Education (FIRE) rightly characterises this new policy as a blacklist of students who don't share Harvard's 'political preferences'. FIRE vice-president Robert Shipley stresses, 'I had hoped that universities were past the point of asking people, "Are you now, or have you ever been, a member of a group we don't like?". Sadly they are not.' As FIRE co-founder Harvey Silverglate adds, 'Who's to say that Harvard's leaders five years from now won't decide that Catholics or Republicans should be blacklisted because they might not line up with Harvard's preferred values?'.
There are, of course, numerous single-sex groups (in addition to sports teams) that Harvard students may continue to join with impunity. Indeed, Harvard's list of official student organisations includes affinity groups based on religion, race and ethnicity, as well as sex or gender, among other demographic categories, from BAGELS, a queer/jewish student group, to the Half-Asian People's Association and the Latino Men's Collective. Officially recognised organisations are generally supposed to comply with the university's anti-discrimination policy, which differentiates them from now-verboten social organisations that formally exclude members on the basis of sex. But final clubs, fraternities and sororities are not recognised or affiliated with Harvard: they exist and operate independently, which is why blacklisting students who choose to join them is such an affront to personal liberty. It's a bit like punishing students for private, off-campus speech that administrators find offensive.
And, like most blacklists, this one does not just violate the associational freedom of people directly targeted. It limits the freedom of any campus group that wishes to associate with them, depriving approved organisations of the right to elect targeted students to leadership positions. As Harvard's undergraduate council tactfully wrote in responding to the new policy, 'We strongly encourage the college and the advisory group enforcing these recommendations to be mindful of internal democratic processes of student organisations… Vetting of elected members of student government based on affiliation in certain groups is detrimental, and fundamentally opposed, to the vivacity of the democratic process.'
Safe Space advocates mounted an angrier protest of the new policy, as a group of female students marched through Harvard Yard, defending their need for exclusively female clubs. 'On campus and in a society that is so male-dominated, female spaces are crucial sources of empowerment… in the classroom men speak more than women, and on the weekend… women are targeted and shamed for their sexuality', one student asserted. 'Hear her Harvard. Value Women's Spaces and Voices', a sign proclaimed. 'Don't make women collateral damage', another implored.
Sororities and female final clubs probably were collateral damage of Harvard's punitive new policy, given prevailing assumptions that male social clubs cause sexual assault. But perhaps because Harvard can't substantiate that assumption, it continues to rely on professed opposition to discrimination, whether practised by women or men. And it seems likely that the university targeted female as well as male clubs in order to appear even-handed, and perhaps to avoid equal-protection challenges under Massachusetts law.
Is Harvard's assault on free association legal? As a private university, it's not bound by the US Constitution, specifically First Amendment associational rights, but students punished for joining private, off-campus clubs may find relief under the state's constitution, its civil-rights statute and Massachusetts common law. They will not, however, find support from the many liberals or progressives who have applauded Harvard's blacklist and share the hostility to fundamental liberties – of speech, association and due process – that now prevail on many American campuses. Harvard's anti-association policy should be vigorously opposed, but the greater challenge for civil libertarians is defeating the illiberal authoritarianism that gave rise to it.
Wendy Kaminer is a lawyer and writer, and a former national board member of the American Civil Liberties Union. She is the author of several books, including: A Fearful Freedom: Women's Flight from Equality (1990); I'm Dysfunctional, You're Dysfunctional (1992); and Worst Instincts: Cowardice, Conformity and the ACLU (2009).
To enquire about republishing spiked's content, a right to reply or to request a correction, please contact the managing editor, Viv Regan.