The value of the FA Cup? Glory
A Palace fan on why that old trophy still matters.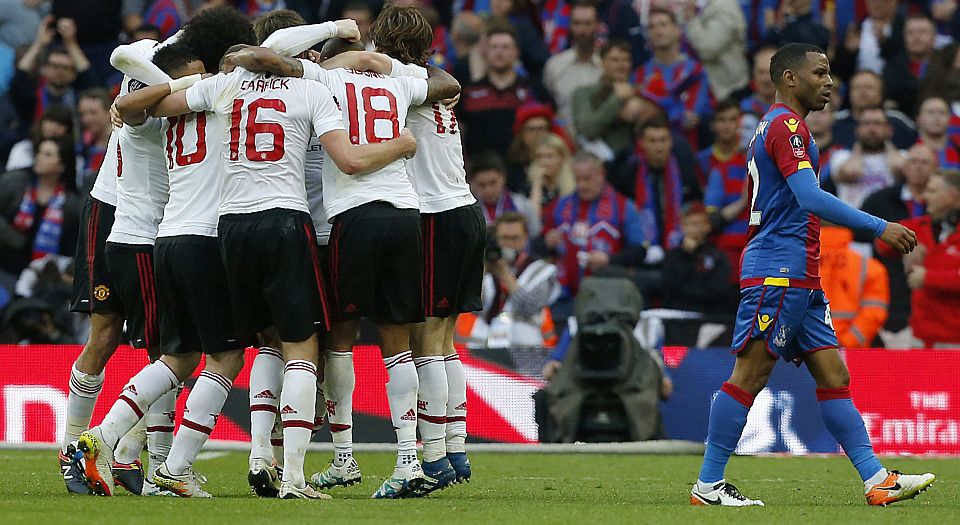 What is the FA Cup worth? It's a question that is feverishly debated every January when elite clubs enter the competition, fielding weakened teams. 'Disrespecting the Cup' has become a modern football cliché. God knows I've written about the diminished value of the Cup enough times. We can all agree that its value ain't what it once was. We know that, for the Premiership elite, the Cup now matters very little. We saw that illustrated starkly this weekend when Louis van Gaal was unceremoniously sacked 24 hours after his Manchester United side won the FA Cup, beating Crystal Palace 2-1 in the final. Just winning the FA Cup is now regarded as a sackable offence. Contrast this with 1990, when winning the FA Cup effectively saved Alex Ferguson's job.
Twenty-six years after United and Palace drew 3-3 at Wembley, that famous old trophy has undoubtedly lost some if its lustre. The FA Cup is now just a consolation prize for the top clubs. Glory, to these clubs, means winning the Premiership, or that bloated cash-cow the Champions League. Even qualification for the Champions League is arguably a bigger prize. But, here's the thing: glory is relative. For United, winning just the Cup means failure. Wayne Rooney, interviewed with the FA Cup in his hands, said United were 'disappointed' with the season. For Crystal Palace, however, winning the FA Cup means the world.
As a Palace fan, I hadn't quite appreciated how much winning the Cup still matters until Saturday. I'd swallowed the lie that winning the Championship play-off final was now worth more. And it does if you measure value purely in cash terms. Last year's play-off final – dubbed the 'richest game in football' – was said to be worth £120million. No doubt this weekend's play-off final will be even more lucrative. But I'm a football fan not a sodding accountant. Glory isn't measured in money but in trophies. Proper trophies, that is, not the thing they present to the play-off final winners. A cup for the third-best team in the second tier of English football? Who are they trying to kid?
Of course, winning a play-off final is a big deal. I've been to four of them myself. It's great to have a day out at Wembley – that drab north-west London suburb that has improbably become the Promised Land for football fans. And winning at Wembley is a thrilling experience. But while the play-off final looks and feels like a cup final, we all know it's not the real thing. At best, all you'll win is an entry ticket to the VIP club. For a season, at least, your team will be rubbing shoulders with the big boys. There'll be cash for the chairman to splash and awaydays at Old Trafford and the Emirates. But what's the best you can hope for once you're in the Premiership? Avoiding relegation? Mid-table mediocrity? Survival in the top-flight is a huge achievement for teams like Crystal Palace or Bournemouth or Watford. But it's stretching the dictionary definition to call it glory. Proper 24-karat glory is winning the league, not just clinging desperately to the coattails of the big clubs. If you can repeat the Leicester miracle and win the Premier League then you can legitimately start using the G-word.
As I said, until last Saturday I, too, believed that Premiership survival was worth more than winning the FA Cup. If Palace can hang in there for four or five years, I told myself, we can buy better players. We can invest in the stadium, the training ground and the youth academy. We can build an infrastructure and grow the fanbase. We can progress to the next level – become an established Premier League club. I'm not suggesting that all those benefits are unimportant. But you know what? I'd trade all of that just to win a trophy. Maybe it was when they played 'Abide with Me' on Saturday that my knees started to go all trembly. That's when the occasion got to me in a way that no play-off final ever could. And when Jason Puncheon scored in the 79th minute – holy shit, I don't think I've ever experienced such elation. The huge roar, the wild celebrations: it was pandemonium. For 175 seconds we were in ecstasy. Mine eyes had seen the glory. And then, of course, we were cruelly brought crashing down to earth. I've avoided watching TV replays of Juan Mata's goal, but I know it will haunt me for years. I knew in that moment that we'd blown our chance of glory.
The Palace fans created an amazing atmosphere at Wembley. We've won a lot of plaudits from 'neutrals' for the passion and noise of our support. But I'm not interested in moral victories. You don't win any trophies for out-singing the opposition. There was only one prize that mattered to me. For 175 seconds we had one hand on the FA Cup. And, although we blew it in a typically Palace way, it made me appreciate the true value of that maligned old trophy. Winning promotion will bring you riches, but only the FA Cup can deliver glory.
Duleep Allirajah is spiked's sports columnist. Follow him on Twitter: @DuleepOffside
To enquire about republishing spiked's content, a right to reply or to request a correction, please contact the managing editor, Viv Regan.