Is the US doomed to be led by The Donald?
Trump's increased support should worry us all.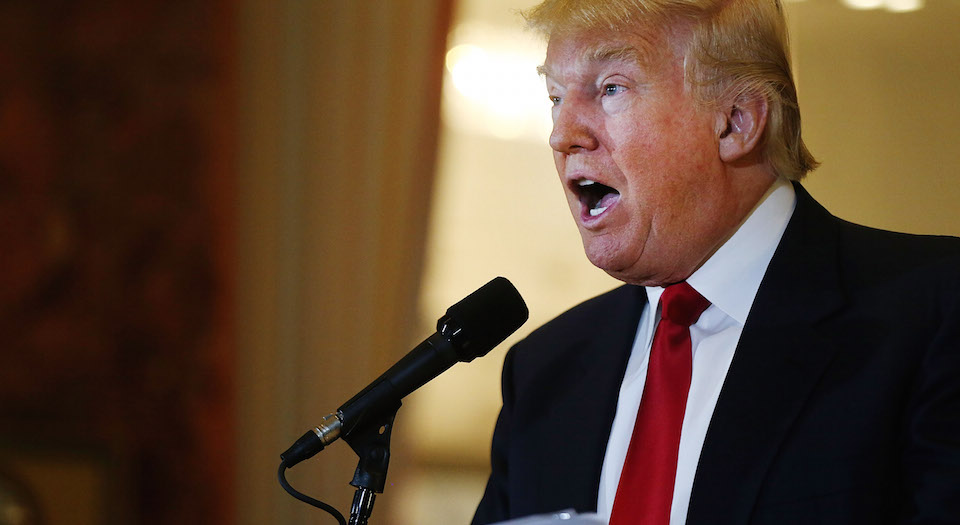 Never mind that Donald Trump is a 'delusional narcissist, orange-faced windbag', and, quite possibly, a 21st-century Joseph Goebbels. Faux-libertarian senator and failed presidential candidate Rand Paul will endorse him for president anyway. Trump is a 'shallow, unserious, substance-free narcissistic egomaniac', former Louisiana governor Bobby Jindal agrees, but he doesn't seem to regard these flaws as disqualifiers: Jindal, another failed candidate, endorses Trump. Also-ran senator Lindsey Graham, who called Trump a 'race-baiting, xenophobic, religious bigot' who is 'all over the board crazy' and 'unfit for office', now privately encourages donors to support him. Former, and possibly future, presidential aspirant Senator Marco Rubio considers Trump a 'con artist', and an 'erratic individual' who can't be trusted with the nuclear codes. But even he now stands by Trump. Apparently the threat of nuclear war is outweighed by the risk of Hillary Clinton nominating a few Supreme Court justices.
The list goes on, as prominent Republicans choose party over country and power over principle, endorsing Trump after unequivocally denouncing his gross unfitness for office. Maybe they expect to control him, assuming he's after the brand and bully pulpit, not the work, of the presidency. But no one can safely predict the policies or actions of a President Trump – except to say that he will do whatever he senses is in his interest to do at the moment he does it.
Yet only one Republican senator (Ben Sasse of Nebraska) and a minority of unelected movement conservatives and foreign-policy veterans are standing by their appalled opposition to the ignorant, infantile, fraudulent Trump. Hillary Clinton tells lies, writer Charles Murray observes, but Trump 'takes first prize for bulk, averaging one factual untruth every five minutes… he just makes stuff up as he goes along'. Libertarian satirist PJ O'Rourke has even grudgingly endorsed Clinton, memorably explaining that 'She's wrong about absolutely everything, but she's wrong within normal parameters'. Conservative civil libertarian David French, unrelenting in his criticisms of Trump, condemns his 'hyper-violent isolationism [and] fringe conspiracy theories'. With his 'enthusiastic flock of online racists', French writes, Trump has spawned 'perhaps the most toxic electoral coalition since [segregationist] George Wallace'.
French is a man of principle (who I know and respect from the other side of a political divide). Indeed, Weekly Standard editor William Kristol has suggested that he run for president as an independent. Entering the race late, as a relatively unknown candidate, French or any other Kristol recruit would be unlikely even to appear on the ballot in many states. A candidacy like this would be a symbolic gesture by conservative intellectuals and pundits who've lost the Republican Party to Trump. Most elected officials are on the path of no resistance. House speaker Paul Ryan, reputedly a principled conservative, seems poised to fall in line eventually.
So are substantial numbers of voters. Trump is generally considered not qualified to be president, while Clinton is generally considered qualified, yet they are evenly favoured (and disfavoured) in recent polls. The numbers are striking: 58 per cent of respondents to an ABC Washington Post poll call Trump unqualified, while 63 per cent call Clinton qualified; 67 per cent think that Clinton 'has the better experience to be president', while 24 per cent say the same of Trump. Fifty-five per cent trust her more to handle an international crisis, as opposed to 36 per cent who trust Trump more. Majorities expect Clinton to do more to 'advance the interests' of working- and middle-class people, while majorities expect Trump to do more to advance the interests of wealthy people. But the same poll finds Clinton and Trump in a 'virtual dead heat'.
That voters don't prefer a candidate who is considered qualified for office is, to say the least, remarkable. It seems, in part, a testament to the power of partisanship, and, in part, a reflection of a strong, visceral dislike of Hillary Clinton. So far we seem immersed in a fear-and-loathing campaign – mainly fear of a Trump presidency and loathing for Clinton.
Hillary has long shared the national stage with Hillary-haters. But she enjoyed impressive approval ratings (nearly 70 per cent) while serving as secretary of state only a few years ago. Why the precipitous decline in support? First Benghazi happened, on her watch. Republicans blamed her for the fatal attack on the US embassy in Libya and accused her of lying about it. (The Washington Post rejected this charge, finding it unsupported by evidence.) Then the email scandal erupted, raising substantial questions about her judgement in relying on a relatively insecure home server for State Department communications and what appeared to be her effort to evade public-record-keeping requirements. Most of all, Clinton's clumsy, obfuscatory responses to the email story deepened and hardened suspicions of her dishonesty: they will not be softened by the State Department inspector general's recent report sharply criticising her use of a private server.
But while Hillary's wounds have been, perhaps largely, self-inflicted, Bernie Sanders has been twisting the knife in them, equating Clinton with the corruption he rails against. The campaign began with relatively friendly debates between a candidate strongly favoured for the nomination and a long-shot, message-driven insurgent, both united in opposition to the prospect of a conservative Republican presidency. But it's ending in Sanders' uncivil war against Clinton and the Democratic Party (of which he is not actually a member). His attacks on her intensified as his chances of winning the nomination increased. Then, as his chance of winning evaporated, he sharpened his assault on Clinton and the nomination process itself – perhaps out of bitterness at losing after all, perhaps in an ideologically driven effort to remake the party in his image, even at the cost of aiding Trump.
Sanders has acknowledged the horrors of a Trump victory, but it's not hard to imagine his Schadenfreude if Clinton loses the election – and he can say, 'I told you so'. Trump is Sanders' ideological opposite, but Clinton is his nemesis; she poses a greater threat to reforming the party, and his battle with her seems increasingly personal.
By angrily assailing her as an ally or tool of Wall Street, and an obstacle, rather than a friend, to progressive reforms, Sanders effectively encourages some of his new-to-politics supporters to sit out the General Election or cast a protest vote for any marginal left-wing candidate on the ballot. At best, Sanders describes Clinton as a 'lesser evil'. Many political neophytes who 'feel the Bern' intensely may think that electing a much greater evil will advance their reforms, if not their 'revolution'. Experienced Democratic voters and activists know better, and are accustomed to choosing lesser evils; they'll favour a normally flawed, qualified candidate over an abnormally unfit, unqualified one. The challenge for Clinton is persuading new voters in the Sanders camp to accept this compromise. Ideological purists condemn their opponents but reserve a particular contempt for sympathetic pragmatists.
But in a diverse, divided democracy of over 300million people, all entitled to equal rights, including a voice in public policy, the most you can hope for – apart from avoiding utter catastrophe – is to be among some of the people pleased some of the time. This is not an argument for abandoning your ideals or the effort to implement them. It's not a plea to be satisfied with whatever you consider injustice. It's a reason to tolerate dissatisfaction – not disaster, but dissatisfaction – instead of insisting that, in the end, something is no better than nothing. In politics, an inherently impure endeavour, purity is a path to nihilism.
If Trump ascends to the presidency (meaning the presidency will descend to Trump) he will partly owe his success to the nihilism of the left combined with the blind anger and cynical partisanship of the right. Ignorance of policy and politics as well as gullibility on both sides will also play a part. Blame the media, if you like, for Trump's rise. Blame Sanders and Clinton for the Democrats' fall. But ultimate responsibility for a know-nothing Trump autocracy will lie with the people who vote for him.
Blaming the people isn't politically correct; right or left, we're supposed to celebrate their wisdom. But democracy isn't based on fantasies about people's collective or individual wisdom. It's based on the recognition of their agency. To absolve voters of responsibility for their own terrible choices is to suggest that they lack the capacity to choose and should not be afforded the right to do so.
Wise people, who consider policy over personality and facts over self-serving fictions, would never have given Trump the chance to get his small, grubby hands on the presidency. They would never be swayed, like children, by self-aggrandising, quasi-religious rhetoric like this: 'Politicians have used you and stolen your votes. They have given you nothing', Trump declares, offering himself as our saviour, 'I will give you everything. I will give you what you've been looking for for 50 years. I'm the only one.'
In a democracy, people have the right to vote for anti-democratic leaders. Citizens can exercise their rights in a way that effectively surrenders them. That is an irony of our system, but not, one hopes, a fatal flaw.
Wendy Kaminer is a lawyer and writer, and a former national board member of the American Civil Liberties Union. She is the author of several books, including: A Fearful Freedom: Women's Flight from Equality (1990); I'm Dysfunctional, You're Dysfunctional (1992); and Worst Instincts: Cowardice, Conformity and the ACLU (2009).
Picture by: Spencer Platt / Getty Images.
To enquire about republishing spiked's content, a right to reply or to request a correction, please contact the managing editor, Viv Regan.