Hillary and the death of the public
Identity politics has made petty demographic politicking respectable.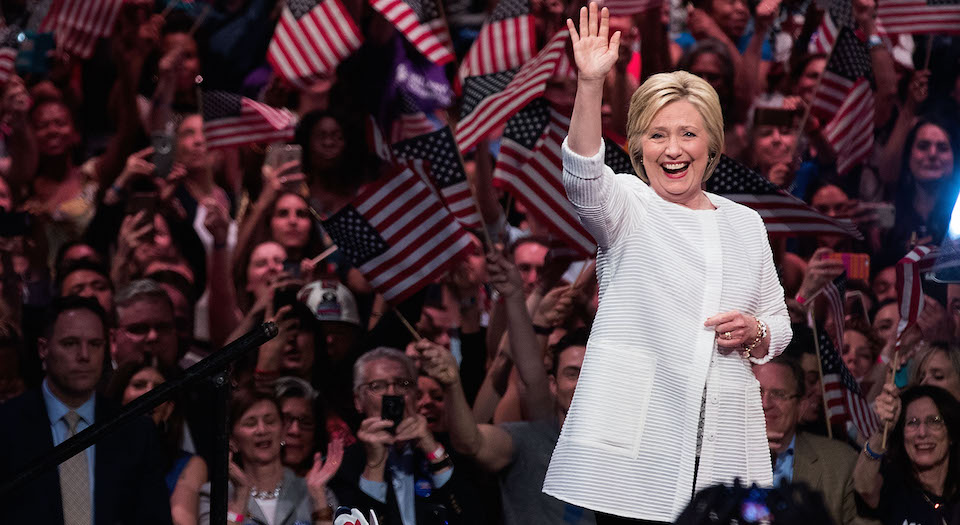 Hillary Clinton has clinched the Democratic nomination. Who saw that coming? Well, we all did. In a presidential election campaign defined by upsets, underdogs and uncertainty, this is one thing that has gone to plan, that was predicted all along. Despite an insurgent campaign from self-touting democratic-socialist Bernie Sanders, Hillary has done what she was supposed do: be sufficiently boring, steady and 'electable' to clinch it. Establishment candidate wins nomination. Big whoop.
Well, for some, it was a big whoop. A huge whoop. Announcing herself the presumptive nominee at a rally at the Brooklyn Navy Yard on Tuesday, Hillary called it a 'milestone', 'the first time in our nation's history that a woman will be a major party's nominee'. She pointed to the venue's glass ceiling, saying: 'Don't worry, we're not smashing this one.' The crowd whooped. And myriad commentators have since piled in to hail Hill's win as a 'historic' moment for womankind.
For some people, symbolic moments matter. But the desire to dress up Clinton's long-coming victory as a mould-shattering moment does politics a disservice. Indeed, though Clinton may have seen off Sanders, it was a long slog, which revealed just how uninspiring a candidate she has been in many people's eyes. Her campaign, despite being dogged by scandal, was uniquely staid. As Sean Collins wrote on spiked last week, she has come across as a 'holdover from the past, at a time when there is a desire to move on'. So much so that a septuagenarian socialist gave her a real run for her money.
This is where identity politics comes in. Since the beginning of Hillary's campaign, talking up her femaleness has been a handy way of transforming her mediocrity into a triumph. In the 2008 race she refused to run 'as a woman'. This time round she came out as the 'grandmother-in-chief'. One of her campaign slogans is 'I'm with her'. At a rally in Brooklyn in April, she told the crowd: 'I care about women's issues, because I am one.' She's literally presenting herself as a women's issue. And it makes sense: when you've got few big ideas to speak of, reducing yourself to your biology is a canny strategy.
She hasn't only appealed to the 'vagina voters'. Clinton seems to begin almost every stump speech with a roll-call of the minority groups she supports. And she has targeted the black vote, which her team fondly refers to as her 'firewall', incessantly. She's leveraged the residual support for her husband Bill 'the first black president' Clinton and had the mothers of Trayvon Martin, Freddie Gray and Mike Brown appear in campaign ads. While her precise proposals to tackle 'racial injustice' are thin on the ground, she's constantly made a point of showing how much she cares.
The Hillary campaign has been a stark exercise in treating the electorate as racial, gender or social blocs to be pleaded with separately, rather than as part of a public to be engaged with as a whole and potentially inspired. The universalist impulse of democratic politics – that a population can be united by common values, ideas and ambitions – is undermined by this divisive, downbeat approach to campaigning. Identity politics not only offers a 'progressive' gloss to ideas-lite politicians like Hillary – it rehabilitates petty demographic politics in a new form.
In American politics, targeting particular demographics is nothing new. In the 19th century, inner-city 'political machines' targeted particular immigrant communities, often inflaming divisions in the process. For example, Tammany Hall, a Democrat organisation in New York City, courted the support of Irish Catholic immigrants who arrived during the Famine by advocating policies that would stop their children having to recite Protestant prayers in schools and lobbying for Irish Protestant parades to be banned. Politicians of all hues engaged in such sectarian or communal politicking.
Of course, Hillary isn't consciously stirring up racial, let alone inter-gender, tension. But what her campaign, and the liberal media enthusiasm for it, shows is how respectable the old divisive approach to winning support in the political realm has become. Today, the playing to specific communal and ethnic blocs that has happened in one form or another for a long time is increasingly viewed, not as grubby, but as necessary, and even as positive. Under the banner of diversity, demographic politics has been given a PC lick of paint; it has been recast as a sensitive, 'intersectional' means of appealing to an electorate incapable of embracing common ideals.
Thankfully, there are signs of resistance to this politics of identity. Women under 30 overwhelmingly support Bernie; at the Iowa caucuses alone, 84 per cent of them voted for him. Younger staffers at the Congressional Black Caucus reportedly bristled when the CBC endorsed Hillary and scolded younger Bernie supporters for their naivety. 'I am supporting Bernie Sanders because of where he stands on the issues', one female Sandernista told the Guardian, after Gloria Steinem accused millennial women of just following 'the boys'.
Yes, some of these Sanders backers are the self-same millennials who have made identitarianism the No1 campus religion. But the fact that, when push comes to shove, some young people recognise that you should vote for someone you believe in, rather than someone you look like, is a start. Identity politics has not only filled the void left by universal, material politics – it has given husks like Hillary a new lease of life and allowed them to appear as relevant when they're anything but. If there has ever been a reason to throw off identity politics once and for all, it's that one.
Tom Slater is deputy editor at spiked. Follow him on Twitter: @Tom_Slater_
Picture by: Drew Angerer / Getty Images.
To enquire about republishing spiked's content, a right to reply or to request a correction, please contact the managing editor, Viv Regan.