Hollande's fall from grace
The French president's undemocratic reforms have caused chaos in Paris.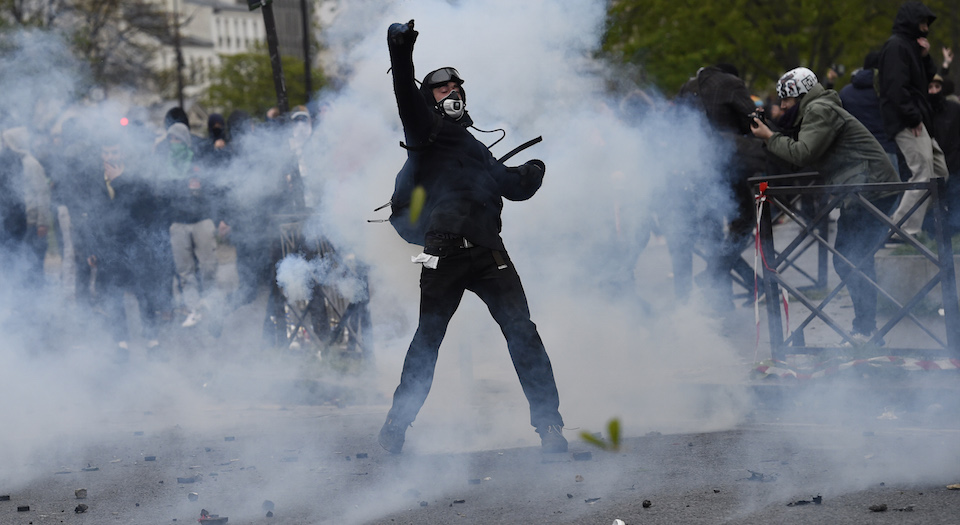 Smashed windows, cars on fire, empty tear-gas canisters in the street… this was the scene in Paris on Tuesday. Another day of demonstrations against the proposed labour-law reforms saw some protesters turn violent, even vandalising the outside of a children's hospital. This comes after weeks of blockades and strike action, with rubbish piling up on the streets of Paris and many left without petrol after six out of France's eight major oil refineries were affected.
On top of this chaos, France remains in a state of emergency since the devastating terrorist attacks in Paris last November that killed 129 people. Amid fears of further possible attacks during the Euro 2016 football championship, and violent clashes between football fans in French cities, the country appears to be falling apart at the seams.
This is the situation French president Francois Hollande finds himself in during the final year of his presidency. It is a far cry from his election four years ago, when hordes of jubilant French citizens flooded into Place de la Bastille in Paris to celebrate the election of the first socialist president of France in 20 years. Hollande beat incumbent president and leader of the centre-right UMP party Nicolas Sarkozy with a campaign promising to tackle the high level of unemployment and to tax the rich.
Despite Hollande's promises, unemployment hit a record high of 10 per cent earlier this year. The labour-law reforms seek to encourage new employment by giving French employers more control over hiring and firing employees, as well as greater freedom to control working hours. This would mean moderating the watertight French labour code of protection for employees, which makes it virtually impossible for an employer to sack a permanent employee and includes the sacrosanct 35-hour working week. In fact, France's economy minister Emmanuel Macron described the reforms as the de facto end of the 35-hour week. So it was a foregone conclusion that the reforms would be met with revolt from the unions, despite the actual content of the reforms appearing fairly moderate to citizens of countries with more flexible labour laws.
The General Confederation of Labour (CGT), one of the more hardline unions and the leader in the current strikes, is refusing to back down and has announced further demonstrations in the coming weeks. However, beyond the expected response from the unions, it is the underhanded and undemocratic way in which Hollande has pushed his legislation through parliament that has outraged and disappointed those who voted for him. To avoid opposition from his own MPs, Hollande invoked a rarely used constitutional decree to bypass any debate in the National Assembly and push the legislation straight through to the Senate without a parliamentary vote.
This is a shocking tactic from a president who, in a powerful speech at a debate with Sarkozy during his 2012 election campaign, pledged to be 'a president who, above all, respects the French people and takes them into consideration'. In the same speech, he also promised that 'as president of the Republic, I would make sure that all industrial partners would be considered, businesses and workers' unions, and we would have regular discussions'.
Martine Aubry, mayor of Lille, and champion of the 35-hour week, has accused Hollande of selling-out socialist ideals. Earlier this year, she announced that she wanted to leave the Socialist Party – underscoring a deep dissatisfaction with Hollande from within his ranks.
This is certainly not what the French people expected when they voted for Hollande, so why has he done this? Most likely it is because time is ticking on his presidency and he promised he would not stand for re-election if he had not succeeded in reducing unemployment. By forcing through these reforms he hopes to achieve some success in reducing joblessness in France before the election. Patrick Marnham writes in the Spectator that Hollande will also be banking on facing National Front leader Marine Le Pen in the second round of voting in the 2017 election. If this is true, it is a depressing tactic from the politician who won an election claiming to be Mr Normal.
But why didn't Hollande take any action to tackle unemployment earlier in his presidency? Here the European Union has a lot to answer for. Instituting labour reforms was always going to go down badly with French workers and union members, but there were alternative fiscal measures that could have been taken that may well have boosted employment.
But, as Tara Golshan points out on Vox, these measures are made impossible by the EU: 'France's very low inflation rate suggests that more aggressive monetary policy from the European Central Bank (ECB) could boost job creation, but the French government doesn't control the ECB. Fiscal stimulus – like a large, temporary cut in France's 20 per cent consumption tax – could also create jobs, but it would violate the European Union's fiscal rules.'
This is certainly something to bear in mind when listening to the liberal-left waxing lyrical about how the EU protects workers' rights. When it conflicts with its fiscal policy, the EU's dedication to workers' rights goes out the window.
With the EU closing off avenues for reform on one side, and the anger of the French public on the other, Hollande finds himself stuck between a rock and a hard place in finding a solution to the unemployment crisis. But whether or not Hollande's reforms prove to be successful, the French people will not forget the way he strong-armed his legislation through parliament when they come to the polling stations next year.
Hollande has been named the least popular French president of modern times, and has an approval rating of just 13 per cent. If he continues to treat his electorate with such disregard, it will only drop further.
To enquire about republishing spiked's content, a right to reply or to request a correction, please contact the managing editor, Viv Regan.