The Cliff Richard case: another homophobic witch-hunt
The paedophile panic has rehabilitated some age-old prejudices.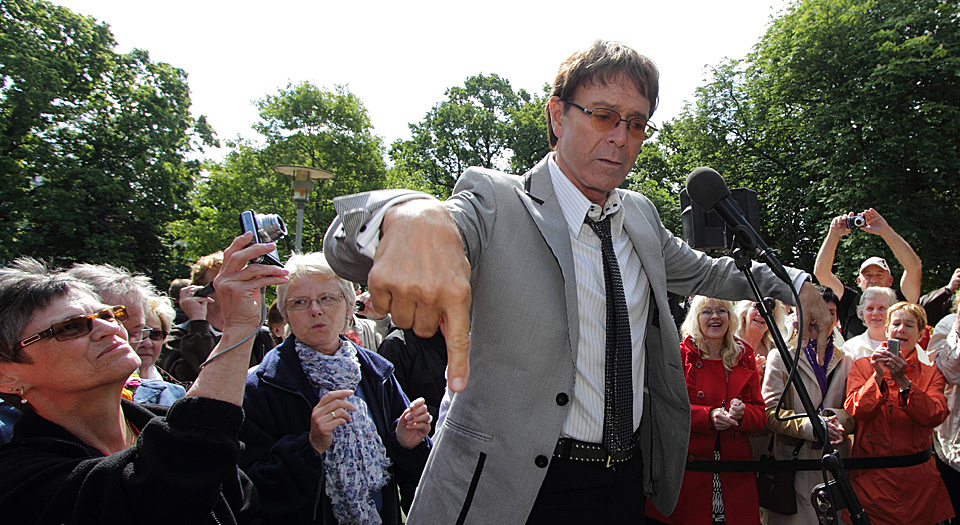 The police have announced that singer Cliff Richard will not face any sexual-abuse charges. The case against Richard was launched following allegations made in 2014 that he had groped a young boy during a Christian rally in 1985. His house was searched while he was on holiday in Portugal. South Yorkshire Police have had to issue a formal apology for leaking the plan to raid Richard's home to the BBC.
Richard has been on bail for two years. In the lead-up to the decision to drop the case, it was reported that the Crown Prosecution Service had received a 'full file of evidence'. But this evidence has now been declared insubstantial. After the case was dropped, it emerged that one of Richard's accusers was himself one of Britain's most notorious sex offenders and had also accused the Conservative peer Leon Brittan of similar offences. Richard's case has been widely criticised and has led many to suggest that defendants in abuse allegations should be entitled to anonymity until they are charged.
Richard is only the latest high-profile individual to suffer such an investigation. Last year, following the conclusion of Operation Midland, former MP Harvey Proctor was informed that he would face no charges following allegations that he participated in a Westminster paedophile ring during the 1970s. The widely reported allegations, made by a complainant known only as Nick, were found not to be credible. At the conclusion of the investigation, Proctor gave a lengthy press conference proclaiming his innocence and describing the investigation as a 'homosexual witch-hunt… egged on by media, Labour MPs and a ragbag of internet fantasists'. Similarly, the late prime minister Edward Heath, who was also implicated in Midland, was 'outed' as homosexual by a friend who was moved to make clear that Heath was a 'shy gay man' and 'not a paedophile'.
The recent spate of allegations proves Proctor's point. The panic about historic sexual abuse has rehabilitated a very old-fashioned form of homophobia. Almost all of these investigations have involved lurid speculation about the lifestyles of homosexual men during the 1970s. Back then, the private lives of gay men were routinely intruded upon by the criminal law, which disproportionally criminalised sexual activity between men. Even after homosexuality was decriminalised, under the 1967 Sexual Offences Act, gays were targeted through public-order laws criminalising kissing or holding hands in public and laws that maintained an unequal age of consent (gay men were forbidden from having sex until they were 21). Indeed, the number of homosexuals prosecuted actually increased during the 1970s and 1980s.
Today, this official homophobia has been reconstituted through these historic investigations. When Proctor was interviewed he was asked about his conviction for gross indecency in 1987, where he admitted to sleeping with male prostitutes who were aged between 17 and 21 (21 being the gay age of consent then). The questions posed to Proctor suggested that paying for gay sex was illustrative of a depraved sexual lifestyle. Similarly, many media outlets used the investigation into Richard as confirmation that he was and always has been gay. Despite his numerous public denials, and expressions of his devout Christianity, these allegations were used as the basis for speculation about his private life – as happened with Ted Heath.
Now, this is not to say that the police forces involved are explicitly homophobic. But the treatment of those accused has rehabilitated the sort of prejudice and speculation that drove official homophobia in the 1970s and 1980s. Just compare the treatment of Proctor, who was investigated under Operation Midland, with the investigation of straight individuals under Operation Yewtree, which was set up in the wake of the Jimmy Savile scandal. Because Proctor was forced by official homophobia to be more secretive about his sexuality, the allegations were much more outlandish. Whereas the targets of Operation Yewtree were investigated for groping and touching, Proctor was accused of being involved in torture, child rape and murder. These are the kind of allegations that could only be made against someone who had to conduct their sexual relationships in secret.
Making defendants anonymous would go some way to stopping innocent people having their names dragged through the mud. But it would be a technical solution to a societal problem. These investigations illustrate a number of issues that cannot be resolved through making defendants anonymous. The most striking of all is a suspicion of private individuals that is so intense it has managed to bring official homophobia back into our criminal-justice system.
Luke Gittos is law editor at spiked, a solicitor practising criminal law and convenor of the London Legal Salon. He is the author of Why Rape Culture is a Dangerous Myth: From Steubenville to Ched Evans. (Buy this book from Amazon(UK).)
Picture by: Poul Rasmussen/Flickr.
To enquire about republishing spiked's content, a right to reply or to request a correction, please contact the managing editor, Viv Regan.