After the referendum, the ugly scourge of ageism
Hating old people has become a socially acceptable prejudice.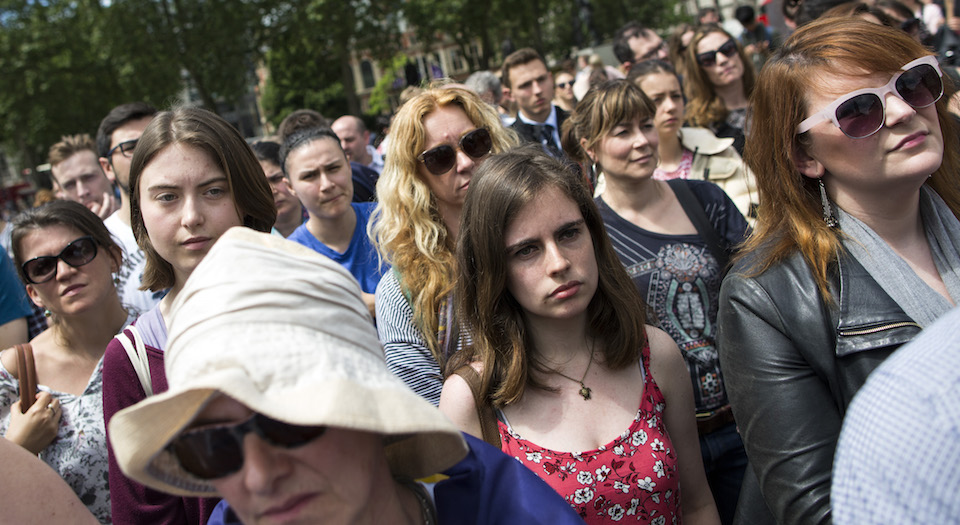 We live in a time obsessed with -isms and -phobias. There is a penchant for calling out anything deemed to be transphobic, homophobic, sexist, disablist, racist, classist… the list goes on. But ever since the UK voted to leave the European Union, there is one -ism that has been excused by the offence-seekers: ageism.
It seems that hating old people is the new socially acceptable prejudice. Just like it's apparently okay to degrade Americans and fat people. Since the EU referendum, granny-bashing has become mainstream. Polls have revealed that the older population tended to vote Leave, in contrast with young voters who were predominantly in favour of Remain, and, with that information, some Remain supporters have turned ugly.
One popular tweet, referenced by journalist Giles Coren in his gross takedown of 'old wrinklies', encouraged young people to refuse to give up their seat on public transport for old people as revenge for their decision to vote Leave.
I'm not giving up my seat to the elderly anymore. Eye for an eye.

— VUJ (@DavidVujanic) 24 June 2016
Esquire magazine, meanwhile, ran an article bemoaning the fact that 'some of the oldest and whitest people on the planet leapt at a chance to vote against the monsters in their heads'. Some got creative on social media, voicing their disgust for the old by sharing paintings by Goya.
I put together a quick infographic summarizing the demographics of the Brexit vote by age. pic.twitter.com/UTEvmPVTc3
— Kieran Healy (@kjhealy) 24 June 2016
Alongside these visceral attacks on old people, some worrying political proposals are being put forward. Before the referendum a (middle-aged) journalist argued in GQ magazine for 'a total ban on anyone of retirement age voting in the EU referendum'. Why? Because 'the majority of senior citizens are politically and culturally informed – either directly or through osmosis with their flaky-skinned peers – by the Daily Mail'. These stupid old people should be banned from politics, he wrote: 'We take pensioners' driving licences away… why not their right to vote?'
Where were the cries of indignation? Where was the You Can't Say That patrol? Instead of condemning this genuine prejudice against old people, many are actually celebrating the sense of drift between generations. Giving advice to young Remain voters, one Guardian columnist told them to 'take heart in the fact that you're more than likely part of this optimistic, open-minded gang'.
Some have taken this quasi-religious faith in the young even further and renewed their calls for 16-year-olds to be given the vote. 'The fact that 16- and 17-year-olds – about 1.5million people – were shut out of this decision is an absolute disgrace', wrote one disgruntled youth. This indignant response was echoed by a gaggle of teenagers who took to Parliament Square following the referendum result brandishing placards with slogans such as '#NotInMyName' and 'What the fuck?'.
Taking these arguments to their logical end would mean stripping the over-65s of their vote and handing it to 16-year-olds. According to many angry Remainers, children should be given greater democratic say than adults. Teenagers, who have a hard time picking their GCSE subjects let alone deciding on the future direction of politics, should be enfranchised, whereas their elders, adults who have worked and lived under the EU for 40 years, should be silenced. There is also a bizarre belief among many political commentators that the young have somehow been damaged by the result – that we have ruined our children's future.
Unfortunately, this is how politics has been interpreted by many young Remain voters – as an emotional and personal attack. This is why Brexit has sparked such a spiteful outpouring. 'You don't just accept a wrong perpetrated against you. You fight it', wrote one heartbroken, young-ish commentator. Rather than engaging with those who voted to leave the EU, young people, and their sad cheerleaders among middle-aged Remain journalists, have sought to demean and degrade a large section of the voting public not just for disagreeing with them, but also for being old.
At the same time as Remain voters slam the alleged anti-migrant prejudice of Leave voters, they openly express their own ugly prejudice towards old people. But far from being evil, right-wing reactionaries, the older generation has proven itself to be far more radical than the younger generation. In voting for a Brexit, they have won greater democratic control for the British public – young and old. Thanks in part to those pensioners who voted Leave, we now have more power to take control of politics and shape it in brilliant and radical new ways. We owe them.
Ella Whelan is assistant editor at spiked. Follow her on Twitter: @Ella_M_Whelan
Picture by: Getty Images.
At 7pm on Wednesday 29 June, spiked and the Institute of Ideas are holding a public meeting at the Royal National Hotel in central London entitled 'Brexit: the battle for democracy starts here'. Frank Furedi will give a lecture, Claire Fox will respond and Tom Slater will introduce and chair. Get your tickets here.
To enquire about republishing spiked's content, a right to reply or to request a correction, please contact the managing editor, Viv Regan.