England: still bang average
The Iceland defeat was one of the most humiliating yet.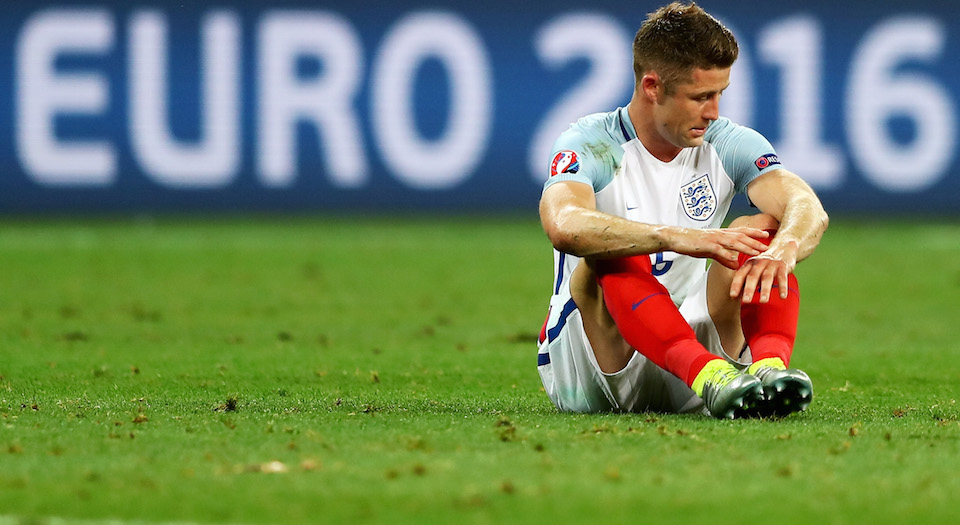 And so the customary inquest into the death of English football resumes. We live in a state of perpetual inquest, but the orgy of self-flagellation goes into overdrive whenever England crashes out of an international tournament. The hapless head coach gets the turnip treatment and the players get a shoeing.
This time round, the abuse heaped on the England team was particularly vitriolic. This was no ordinary England defeat. Not the plucky quarter-final penalty shoot-out defeat to which we'd become accustomed under Sven. No, this was far more calamitous. We lost to Iceland. That's right, we were humiliated by a tiny nation of 300,000 cod fishermen, puffin-hunters and failed bankers. Not just defeated, completely outplayed and outfought. Alan Shearer described it as the 'worst performance I've ever seen from an England team. Ever.' The Times gave every single England player a zero rating. Some would say that's too generous. I've seen some abject England performances, but, given the modest calibre of the opposition, this must rank up there with the 1-0 defeat to the USA in Belo Horizonte in 1950 as one of the most humiliating defeats in English football.
So why did England fail so spectacularly? Inevitably, the hunger, passion and patriotism of the super-rich players was called into question. Journalist Julia Hartley-Brewer branded the England team 'a bunch of overpaid nonces'. Ouch. 'Absolutely disgraceful, England', ranted the broadcaster Danny Baker on Twitter. 'You useless overpaid mollycoddled shits. You are beyond shame.' But this explanation, convenient as it is, doesn't really explain anything. The German and Italian players are paid top dollar, but this doesn't seem to have blunted their desire to win. What was really striking about Monday's debacle was that the team appeared gripped by a collective loss of composure as they laboured to find an equaliser.
In the group games, England's ball retention was refreshingly good. But against Iceland, they reverted to type – disjointed, giving the ball away cheaply, and bereft of guile or creativity. It was like a greatest-hits compilation of every dispiriting England performance I've seen in my lifetime. Roy Hodgson has to take ultimate responsibility for this dismal capitulation. Whereas Iceland were extremely well-drilled and every player knew his job, the same cannot be said of England. His gameplan seemed to be: throw on more strikers and hope for the best. But, while Hodgson's leadership and tactics should quite rightly be questioned, the wretchedness of the performance points to deep-rooted problems within English football. Ragnar Sigurdsson, who scored Iceland's equaliser, thinks that the England players 'panicked'. If that's the case, it has nothing to do with the weight of national expectations. After 50 years of hurt, our expectations have hit rock bottom. We hope, we pray, but we no longer expect.
So why did collective panic grip the England team? I think it's a problem which has its roots in the way we develop and coach players. Firstly, we produce athletes rather than artists. England were crying out for a between-the-lines No10 to find a way through Iceland's well-marshalled defence. But our elite youth academies are not producing creative wizards like Modric, Iniesta or Özil who can unlock defences. Wayne Rooney's limitations as a quarterback-style playmaker were painfully exposed by Iceland's high press. It was all misplaced passes and hopeful Hollywood balls – more Pierrot than Pirlo. In Italy, they have a name for the deep-lying playmaker – he is called a regista. In England, no such phrase exists, which tells us all you need to know about how alien the playmaker concept is to our football culture.
England's inability to find a way through Iceland's 4-4-2 and high press was also symptomatic of a tactical illiteracy that afflicts the English game. Our youth academies place too little emphasis on tactics unlike, for example, Italy, where classroom-style tactical instruction is a core component of player development. English players are much more uncomfortable switching from one formation to another. When Hodgson experimented with a midfield diamond in a pre-tournament friendly, his players were clearly struggling to adapt to an unfamiliar system. Italian players, by contrast, are much more able to adapt to different formations.
As England's frustration grew during the Iceland game, the players' ball retention and technique deserted them. These technical deficiencies also have their roots in player development. As Gianluca Vialli observes in The Italian Job, his insightful comparative study of English and Italian football, the range of training ground drills (both technical and tactical) that English players work on is much more limited. In a high-pressure tournament game, the countless hours spent working on training-ground routines pays off. Players are able to operate as though on autopilot. Their technique, decision-making, positioning and movement doesn't unravel under pressure. Malcolm Gladwell, in his book Outliers, said that it takes 10,000 hours of practice to master technical skills. I'd like to know how long Harry Kane has spent practising set pieces on the training ground. Nowhere near 10,000 hours would be my guess. When the heat was on against Iceland, his technique went AWOL.
The class of 2016 clearly isn't a 'golden generation' – that unfortunate moniker that hung like an albatross around the necks of England's last crop of talented flops. There is promise and potential, but world-class players are conspicuously absent from the current squad. Many of us assumed that this fresh, young cohort would be unencumbered by the psychological baggage of past defeats; that they wouldn't be haunted by the ghosts of failed penalty shoot-outs. How wrong we were. Fear is still eating away at the fragile minds of our footballers. But it's not, as we mistakenly believed, a fear of the nation's wrath. It's the terrifying realisation that, on the big stage, their mediocrity will be found out; that the world will see that, in the words of former Germany midfielder Dietmar Hamann, they are just 'bang average'.
Duleep Allirajah is spiked's sports columnist. Follow him on Twitter: @DuleepOffside
Picture by: Getty Images.
To enquire about republishing spiked's content, a right to reply or to request a correction, please contact the managing editor, Viv Regan.