Portugal's punk-rock tribute to defending
Don't blame defenders for a dull Euro 2016 – attacking tacticians need to up their games.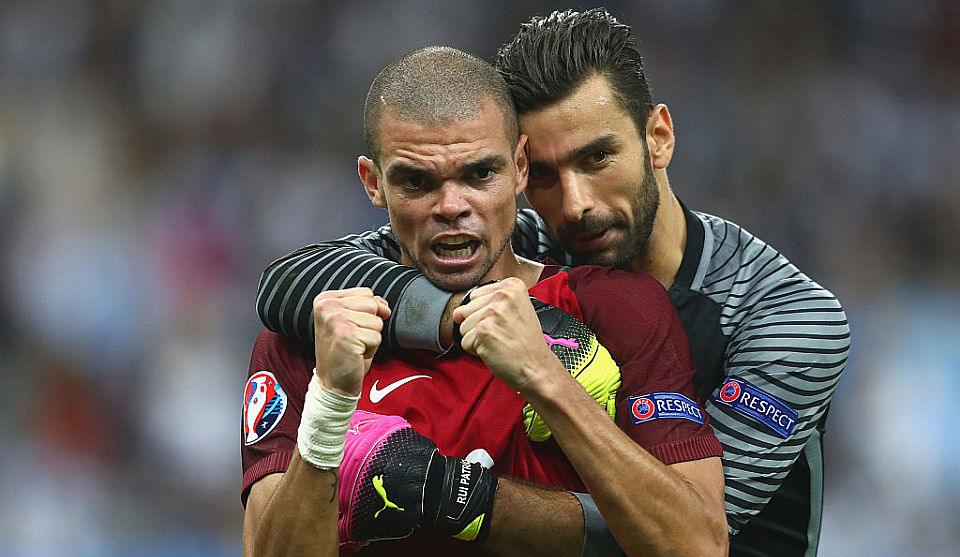 Okay, firstly an admission. I didn't watch the Euro 2016 final. Yes, this so-called football columnist went to see Stevie Wonder instead. By all accounts, it sounds like I didn't miss much. As the broadcaster Danny Baker quipped on Twitter: 'The UN has just downgraded this game from "Ordinary" to "Fucking Awful".'
As the tournament reached its underwhelming finale, disgruntled football pundits – or at least those who weren't at the Stevie Wonder gig – were lining up to stick the boot in. ESPN commentator Ian Darke described it as 'a rather tedious tournament – perhaps the worst since Italia 90'. Jonathan Wilson, the spiritual capo di tutti capi of football hipsters, was similarly unforgiving. 'So, it's over then', wrote Wilson. 'The worst of the 15 European Championships to date, a tournament so bereft of quality that Wales's mildly diverting win over an inept Belgium was raised to the status of minor classic.'
The main culprit, Michel Platini, was conspicuous by his absence. The disgraced UEFA boss, who was barred from the stadium, is the man responsible for the expansion of the Euros from 16 to 24 teams. Many commentators bemoaned the inevitable dilution of quality as minor footballing powers, such as Albania and Northern Ireland, were admitted to the party. According to this narrative, the weaker teams parked the bus against more illustrious opponents and, consequently, many games were devoid of goalmouth action. The tournament format, whereby the best third-placed teams qualified for the knock-out stages, has also been blamed for incentivising risk-averse football and producing a dearth of goals.
Firstly, I just don't buy Wilson's argument that Italia 90 was dull. I watched pretty much every game and, while the final was a let-down, the tournament itself was brilliant. Italia 90 reignited England's passion for football. The tournament gave us Gazza's tears, 'Nessun Dorma', Roberto Baggio, Toto Schillaci, 'World in Motion', Frank Rijkaard gobbing in Rudi Völler's face, Roger Milla's snakehips goal celebration, UK clubbers in football shirts and two utterly compelling, nerve-shredding semi-finals. What's not to like? When football pundits sneer at Italia 90, what they are really saying is that the football was too pragmatic, too defensive. It was a tournament devoid of Brazilian joga bonito.
Fast forward to Euro 2016, and we hear the same gripes: there was too little flair and too much defensive football. The group stage games were all dull according to Mark Lawrenson, who had reached Peak Grumpiness by the knock-out stages. Sure, the football wasn't always of the highest calibre, but we shouldn't conflate quality with drama. Maybe I'm easily pleased, but I thought there was more than enough drama in the group stages. Take Albania's 1-0 win over Romania, for example. Sure, this was no El Clasico, but it was no less dramatic. The noisy, ecstatic celebrations, which greeted Albania's first ever victory in a major tournament, were joyful to behold, (admittedly I'd drawn Albania in the office sweepstake). And it wasn't just the Albanian supporters who lit up Euro 2016. The fans were the real stars of the tournament. In particular, the supporters of the smaller nations – Wales, Northern Ireland and Iceland – were the loudest and most passionate. Next season, we'll see fans throughout Europe copying the Viking war chant and singing 'Will Grigg's on fire'.
This was undoubtedly a tournament in which defensive football triumphed over attacking play. I don't think that's necessarily a bad thing. For years Sepp Blatter and his cronies tampered with the laws of the game in order to favour the attacking side. The offside rule has become almost incomprehensible. Yellow cards are dished out like banknotes in Weimar Germany. As a consequence modern football has become virtually a non-contact sport. Given the extent to which the odds are stacked against defences, I think it's a cause for celebration that the tournament was won by the team that could actually defend properly. Call it negative, call it anti-football, but I think there's something deliciously punk rock about Portugal's victory. It's heartwarming that the man of the match wasn't Antoine Griezmann or Ronaldo, but Pepe, one of most reviled players in world football. Portugal's victory was a massive 'fuck you' to the bien pensant soccerati who drool over tiki-taka and totaalvoetbal and who bore on interminably about 'the beautiful game' and 'working-class ballet'.
Inevitably there will be calls for UEFA to change the format of the competition in order to encourage more attacking football. TV pundit Ian Wright has even suggested bringing bring back the golden goal – an innovation that singularly failed to produce more adventurous football. But tweaking the rules misses the point. If defences were on top in Euro 2016, it's not because the tournament format was wrong; it's because the attack-minded teams simply weren't good enough. Germany were arguably the strongest team but they lost to France because they didn't have a striker who could put the ball in le sac d'oignons.
The best thing Uefa can do now is to do nothing. That's right. Nada. Possession-based football, exemplified by Spain, has been found out. As Leicester City showed us last season, who needs possession if you have a well-drilled defence and can counterattack at lightning pace? The onus now is on the attacking coaches to devise new tactics. As I've argued before on spiked, the evolution of football tactics is a dialectical process. Just as the ultra-defensive catenaccio was negated by Dutch totaalvoetbal – whereby positional fluidity made man-marking impossible – so today's vogue for anti-possession and counter-attacking demands an innovation in offensive tactics. So, rather than moan about negative football, let's raise a toast to Portugal for reminding the world that the art of defending isn't dead. It's over to you now, attacking tacticians – it's time to raise your game.
Duleep Allirajah is spiked's sports columnist. Follow him on Twitter: @DuleepOffside
Picture by: Getty Images.
To enquire about republishing spiked's content, a right to reply or to request a correction, please contact the managing editor, Viv Regan.