Breaking the spirit of Brexit
The government's dithering is an attempt to dilute the people's will.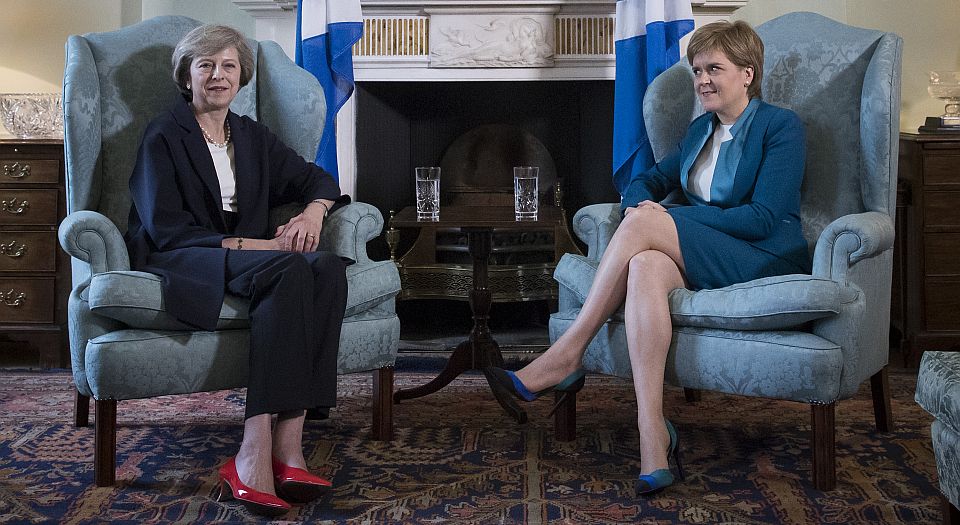 It's more than three weeks since the Brexit vote, and the strangest thing has happened. Article 50 has not been invoked. The two-year starting gun on Britain's exit negotiations has not been fired. And we're none the wiser as to when it might happen. The new PM, Theresa May, who previously said she would wait at least until the end of this year, is now even vaguer on the subject. After meeting with Scottish first minister Nicola Sturgeon over the weekend, and set to meet Welsh first minister Carwyn Jones today, May is now saying she'll hold off until she's established a 'UK-wide approach' on Brexit negotiations. Whatever that means…
We can't let the significance of this delay escape us. The EU referendum delivered the British political class with the clearest democratic instruction in our history. During the campaign we were told, in multimillion-pound campaign literature, that 'the government will implement what you decide'. When pushed on the campaign trail, then PM David Cameron assured us the vote would be swiftly acted upon. Even if he didn't come out and say it, that means triggering Article 50. But nothing has happened. No progress has been made. And all the talk of caution and negotiating nous doesn't change the fact that the people's will remains unmet – and apparently won't be met any time soon.
Make no mistake: the delay on triggering Article 50 is not about boxing clever, it's about diluting and fudging Brexit. Under the Lisbon Treaty, formal negotiations with the EU can't begin until Article 50 is triggered. Today, newly appointed foreign secretary Boris Johnson attends his first EU foreign ministers' meeting. And yet Brexit is off the agenda. Even the claim that we need this time to build our EU negotiating team and strike up new trade deals ready to be signed post-Brexit rings hollow. Not least because most of the government's energy is going into traipsing around the UK and meeting with politicians and organisations that didn't want us to leave in the first place.
Theresa May's amicable meeting with Sturgeon is a case in point. Sturgeon's contempt for the Brexit vote, and her determination to undermine or veto it on account of a majority in Scotland having voted to Remain, has been on full show since 24 June. While Scotland is a nation, it is a part of the UK, and the idea that we need to meet Sturgeon's 'concerns' makes a mockery of one man, one vote. Brexit was a collective decision made by the British people, yet it is now being turned into a negotiation between a gaggle of special interests. Not only did May meet with Sturgeon, she made positive noises about listening to her 'proposals', including her hare-brained scheme for Scotland to remain in the EU post-Brexit.
All this begs the question: why bother buttering up the people who want to thwart Brexit? The simple answer is that the government, desperate to avoid taking responsibility for Brexit, wants to pass the buck and smother it in process. May doesn't want to take the heat either for blocking the referendum result or making it a reality. Putting Brexit off in the name of pragmatism, watering it down in the name of compromise, is a canny way of opening Brexit up to anti-democratic chancers and spreading the blame if they eventually get their way. The government's call for delay is driven by a mix of cowardice and a blind hope that something – other than them – will stop Brexit from happening.
Those of us who believe in democracy, whether we voted Leave or Remain, must be vigilant. The government is giving a green light to anti-democrats, and they're already on the march. Since the referendum result, all corners of the establishment have taken up arms against it. MPs have called for Brexit to be blocked in parliament. Legal firms like Mishcon De Reya have been formulating legal challenges, insisting that Brexit be put to a vote in parliament. Owen Smith, the other one in the Labour leadership contest, said over the weekend he would consider asking Britain about the EU again, after the facts of the re-negotiation emerge. And, since meeting May, Sturgeon has been suggesting that she is in a 'strong position' to block Brexit.
Meanwhile, the entire cultural elite is hammering out letter after letter, op-ed after op-ed, demanding that the referendum result be overruled. Seasoned misanthrope Richard Dawkins writes in the New Statesman that we need a second referendum, 'after a cooling-off period', so that the 'mob' can have a moment to think about what it has done. Philosopher AC Grayling said parliament must resist rule by 'crowd acclamation' – see 'mob rule' in the Thesaurus – arguing that 'it is not in the UK's interests to leave the EU' and there is a 'powerful case' for parliament to overrule it. Both discuss the need for two-thirds majorities for referenda where such huge constitutional questions are at stake – concerns they conspicuously never raised pre-referendum.
While May's Brexiteer-friendly reshuffle – with Liam Fox, Boris Johnson and David Davis nabbing plum, Brexit-related appointments – has assuaged some Leavers' fears, this really counts for jack. Official Leavers still feel the pull to be pragmatic, to temper the public will. Davis, the new minister for Brexit, is a committed Brexiteer. But even he has insisted that we must wait until the end of the year to trigger Article 50. In his much-cited essay for Conservative Home, he echoes May's calls for compromise, arguing it is 'common sense' to consult with Remain-backing trade unions, business interests and universities in order to meet their concerns.
This underlines what we at spiked have said all along: that the Brexit vote terrifies elite Leavers and Remainers alike. The referendum was a huge democratic awakening. For the first time in decades, politics was thrown open to the masses, and the legitimacy of the entire elite was called into question. All politicians now feel the breath of the public on their back. That's why they want to delay, cool us off and dampen the impact of Brexit. We can't let this happen. We must recognise that refusing to act on Brexit now is, at worst, an attempt to stop it from happening and, at best, an attempt to calm the passions that have been unleashed. It's no longer Leavers vs Remainers. It's Us vs Them.
To enquire about republishing spiked's content, a right to reply or to request a correction, please contact the managing editor, Viv Regan.