University: forget what it costs, what's it for?
The fees hike reveals how hollow the academy has become.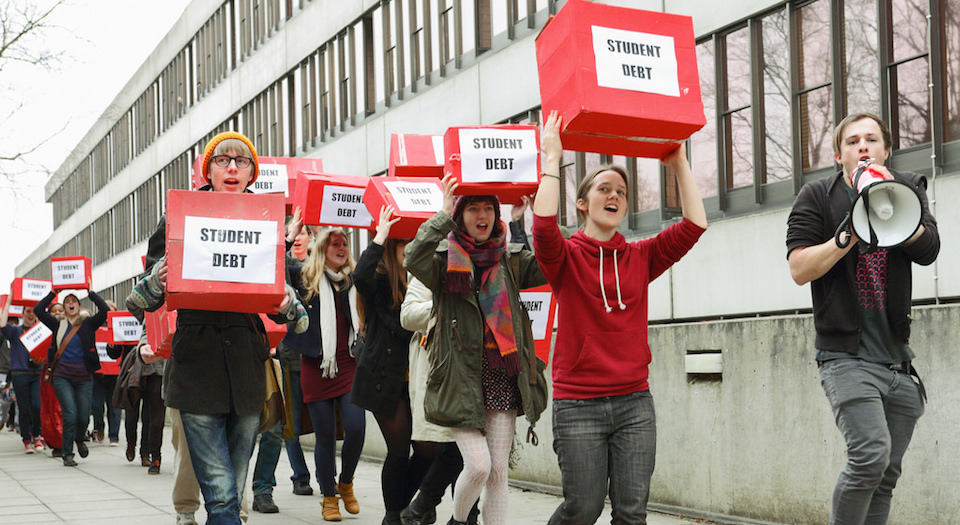 Graduation ceremonies are over for another year and one-time students are left counting the cost, not just of robes and prosecco, but of tuition fees, loans and interest rates. A report out this week from the Intergenerational Foundation will do little to ease the gloom. It makes clear that the so-called graduate premium, the mythical £100,000 students are supposed to earn more over their working lives than those who didn't bother going to university, is not all it's cracked up to be. Of course, those who studied at a top-ranking institution, or chose a subject such as medicine or dentistry, will be quids in. But for the majority of graduates, any increase in earnings is off-set by paying back student loans.
This discussion of the graduate premium comes at the same time as some universities have begun announcing the first increases in annual tuition fees since they were trebled to £9,000 in 2012. What's more, in the new academic year, students from low-income families will no longer be entitled to grants to cover some of their living expenses, and will be expected to take out additional loans instead. Even though loan repayments are tied to future earnings, making them more akin to an extra tax than a typical debt, going to university is still a pricey affair.
Campaigners accuse politicians, teachers and universities of 'mis-selling' student loans, as repayment terms are glossed over and interest rates are changed after students have signed up. The Intergenerational Foundation is urging government ministers not to use the 'carrot of higher graduate earnings' to justify raising fees. It argues that those who do 'should be charged with gross mis-selling'.
It might be tempting for recent graduates to complain about having been 'mis-sold' university, but doing so equates higher education to some dodgy payment protection insurance. In reality, students know that there are no guaranteed outcomes and few lucrative job offers waiting for those who can wave a degree certificate in front of a prospective employer. However, this does not stop almost half of all young people who want to postpone adulthood and the world of work in order to have their 'student experience'. In fact, many parents see university as a means of safely easing their children out of adolescence and the parental home.
Being able to spend three years on campus, making friends and hopefully learning a little bit about a subject you enjoy, is a luxury. In previous generations, most people did not get to have an indulgent interlude between school and work, between childhood and adulthood. And yet, many young people today are keen to sign up to this – despite the future costs. Higher education is a privilege, not an entitlement, and retrospective complaints risk sounding like buyer's remorse.
The real scandal here is not an extra percentage point on student loan interest rates, or an inflationary increase in fees, but that, for the most part, university has become so intellectually impoverished it represents little more than a continuation of school. With many academics struggling to make an intrinsic knowledge-based case for the pursuit of a particular subject, instrumental justifications, such as teaching generic employability skills, or promoting values such as sustainability and global citizenship, have come to be almost all that university is about.
Rather than moaning about mis-selling university, campaigners' efforts might be better spent showing young people that going to university is not the only way to make a success of your life. Teenagers are often presented with few options other than higher education. Those who opt out, such as white working-class boys, are labelled 'hard to reach' and have become the subject of a moral panic. Each year more money is spent on outreach projects designed to coax and cajole 'non-traditional' students into signing up for a degree programme that may leave them not only knowing little, but with fewer job prospects than if they hadn't bothered.
Most initiatives assume young people who opt out of higher education lack information about future earnings, employment and social mobility. What's rarely acknowledged is that, for boys especially, if university is about little more than employability skills (which they could easily pick up while in work, at the same time as gaining experience and earning money), then rejecting higher education can be a positive decision. It may also represent an aspiration for autonomy that coddled and monitored students are not permitted.
Many lecturers also feel uncomfortable with the idea of teaching generic employability skills and promoting the idea of higher education as an investment in human capital. But their alternative, which has become far more explicit since the referendum outcome, is to use the seminar room to inculcate in students the values of inclusion and diversity. Too often this runs alongside an intolerance and a disrespect for those whose views challenge the values being promoted. The campus crusade against lad culture, and the demands that all students attend sexual-consent workshops, show how this values agenda can slide into overt behaviour modification.
It is still the case that, despite institutional marketing campaigns and government-funded widening-participation initiatives, university is not compulsory. Young people can vote with their feet and do not have to attend. Rather than moaning about having been taken in by some slick sales patter, young people wanting to earn money need to look at what other options are available to them. Those who want to go to university need to demand more than a few employability skills and what can, at times, seem to be barely concealed political indoctrination.
If rising fees and diminishing returns make teachers, lecturers, parents and students question the purpose of university, then this is to be welcomed. Lecturers need to show young people that higher education can be intellectually inspiring and challenging. And that accessing the rewards that come with learning requires effort and hard work, no matter how much money changes hands.
Joanna Williams is education editor at spiked. Her new book, Academic Freedom in an Age of Conformity: Confronting the Fear of Knowledge, is published by Palgrave Macmillan UK. (Order this book from Amazon (USA).
To enquire about republishing spiked's content, a right to reply or to request a correction, please contact the managing editor, Viv Regan.