A welcome shot of Olympic spirit
The ethos of the Olympics flies in the face of today's cultural pessimism.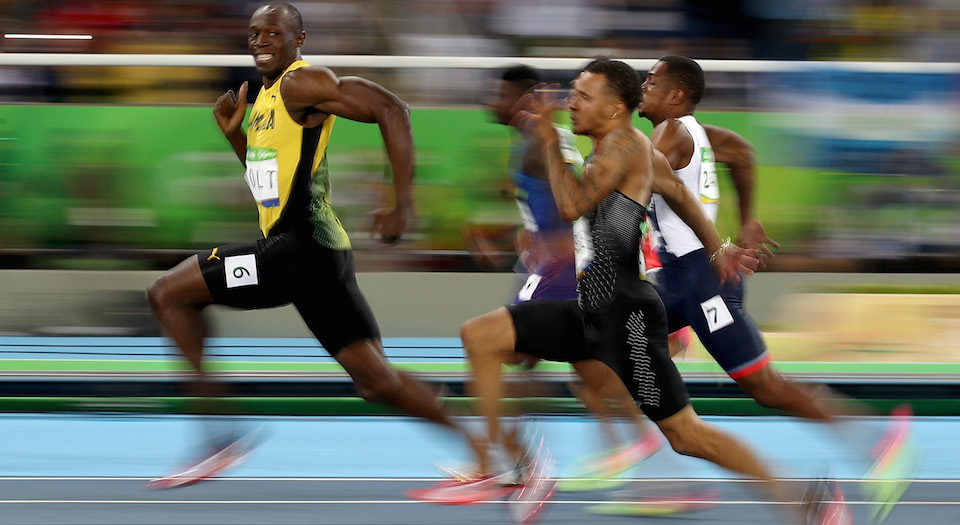 It happens every four years. In the run-up to the Olympics, the tired and the cynical act as if this time they will be vindicated. This Olympics really will be the dampest of squibs, they say. The stadia aren't up to scratch, too much money has been spent and the athletes are all on something anyway. The anti-Olympics brigade were at it in the run-up to Beijing 2008, when everything from China's human-rights record to the Tibet question were expected to overshadow the games, that is, if you could see them at all through the smog. They were at it in the run-up to London 2012, when all the talk was of a pointless, white-elephant-building waste of money at a time of economic austerity. And they've really been at it in the run-up to Rio 2016, bemoaning everything from slow ticket sales and military policing to the Zika virus and, of course, the latest Russian-flavoured battle in the infernal war on doping.
But then the sport starts, and the sniping and the whining appears for what it is – irrelevant. The Olympics spectacle, the spectacle of these extreme expressions of our common humanity, striving and struggling to be the best they can be, always proves too compelling, even for those who, a few days earlier, might have been nodding along to some know-it-all droning on about the state of the toilets in the Olympics village. None of that matters when the games start in earnest. We become immersed in the spectacle. Minority sports such as gymnastics, or some variation of cycling, suddenly become majorly significant, as we succumb, awestruck, to the spectacular results of a combination of physical skill, discipline and intense dedication.
And then comes the centrepiece of the Olympics: the athletics. On the track and on the field, we see human abilities – the ability to run, to throw, to jump – pushed, in the heightened drama of competition, to near superhuman levels. That is, we see the greatest rise to the occasion. Mo Farah's victory in the 10,000 metres, for instance, was not a given, despite his years-long dominance of long-distance running. In that one moment, 10 laps in, when he tumbled beneath a leggy blur, everything that it takes to be the best one can be became wonderfully apparent. Farah was clearly shaken. He knew, adrenaline now racing through his body, how close he had come to failure. But he rallied. And then he willed himself through 14 more laps before producing that familiar but still no less incredible 400- to 600-metre sprint to fend off his rivals. Runners make sporting history, as a famous old German might have put it, but they do not make it under circumstances chosen by themselves.
And then, of course, there's Usain Bolt. His victory in the 100 metres looked anything but certain 40 metres in. At that point, after a typically slow start, he was behind Justin Gatlin, the twice-caught-doping pantomime villain of track and field. But then, at the halfway point, Bolt, his tall frame finally unfolded, hit his stride. And what a stride. In the next three-to-four seconds, we witnessed Bolt effortlessly accelerate past Gatlin, before, after flicking his head to either side to check everyone else was safely behind him, breaking out into a huge celebratory smile. Glorious.
In those moments – and there have been plenty of them so far, from 24-year-old Wayde van Niekerk winning the 400 metres in a world-record-breaking time to the sight of swimmers Sarah Sjostrom and Jeanette Ottesen helping the beaten favourite Cate Campbell out of the pool in a gesture of competitive solidarity – we enjoy sport at its most momentarily transcendental, the points at which it takes us away from the everyday, at which it really does seem more important than life and death. If the spirit of the Olympics exists anywhere, it does so in these sublime moments of sporting drama, where an individual, pushing himself beyond his limits in pursuit of glory, succeeds – or fails.
There's something else, too. What the Olympic spectacle presents us with is an ethos almost entirely at odds with that writ large in today's mainstream cultural script, rich as it is in relativism and low aspiration. You can see this in the contradiction between the International Olympics Committee's jargonised and buzzworded articulation of the spirit of the Olympics, with its emphasis on encouraging 'pluralism' and 'cultural diversity', and the Olympics itself. After all, there is nothing plural or diverse about a sprint competition. It is exclusive. There is equality of opportunity, of striving and struggling to run faster, leap higher, throw further – it's universally human in that sense. But there can only be one winner, not many or plural winners. The Olympics establishes a strict hierarchy, not a loose plurality, cultural or otherwise.
In fact, there is so much about the implicit ethos of the Olympics (which becomes explicit in the heated spectacle of competition) that runs counter to mainstream cultural norms. Think, for example, of what it takes to become a competitor: the self-sacrifice; the intense discipline; the will to put oneself through physical and psychological pain in pursuit of that golden objective. That's why, at the last, there is a solidarity among competitors, whether winners or losers – they know of their mutual sacrifice and dedication. And contrast all that effort and self-abnegation with today's culture of entitlement, in which everyone – every opinion, every work produced, every feeling – is to be respected simply for being what it is. No sacrifice is required, and little effort is necessary. Respect, here, precedes achievement. It is indiscriminate and non-judgmental, to be accorded to children just as it is to adults. It is what one feels automatically entitled to receive. But in the Olympics, the relationship is reversed. Achievement, or at least the struggle to achieve, precedes respect. What is important here, what is valued, is the doing, rather than the being.
The Olympics world is a harsh, discriminating and judgmental world, in which many are judged failures and a few are judged successes. British long jumper Greg Rutherford acknowledged as much when, in response to coming third, he tearfully admitted he was 'gutted'. But the Olympian ethos is also an inspiring one. It is a rejoinder to cultural pessimism, easy cynicism and cynical relativism. It is a world in which we see humanity striving to go beyond itself, of individuals striving to be the best they can be, no matter the pain and sacrifice. It is a world in which what matters is not who you are, but what you might become.
Tim Black is a spiked columnist and editor of the spiked review.
Pictures by: Getty Images.
To enquire about republishing spiked's content, a right to reply or to request a correction, please contact the managing editor, Viv Regan.