America's law-and-order problem
To blame rising homicide rates on post-Ferguson 'de-policing' is a cop-out.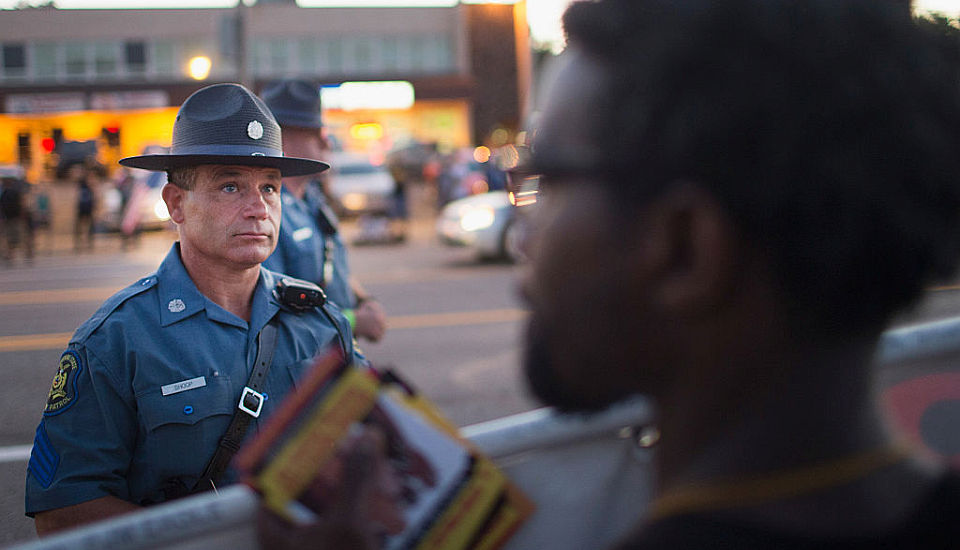 When Donald Trump gave his acceptance speech, following his nomination as the Republicans' presidential candidate last month at the Republican National Convention, he presented a bleak view of crime in the US. Trump, channeling the spirit of Richard Nixon's 1968 convention address, argued that crime was spiralling out of control. He promised to restore 'law and order to our country', and claimed to be 'the law-and-order candidate'. In particular, he claimed that 'decades of progress made in bringing down crime are now being reversed by [the Obama] administration's rollback of criminal enforcement'.
President Obama countered that, in actual fact, crime, and violent crime in particular, was still on the decline. 'When it comes to crime', Obama said, 'the violent crime rate in America has been lowered during my presidency and any time in the past three, four decades'. He admitted that violent crime had increased in some cities, but, he continued, 'the fact of the matter is that the murder rate today, the violence rate today, is far lower than it was when Ronald Reagan was president, and lower than when I took office'.
It does seem to be true that over the past few years, violent crime in many American cities has been on the increase. A report by the US Department of Justice, released this year, claims that in America's 56 largest cities, the homicide rate rose by 16.8 per cent between 2014 and 2015. In New York City, for instance, it rose by 5.1 per cent, and in Cleveland, Washington, Milwaukee and Baltimore it rose by its greatest margin since 1985. That violent crime, especially homicide, is rising in cities at a time when the crime rate is declining nationally should, of course, be a cause for concern.
When Trump blamed the Obama administration for this spike – and positioned himself as the man to fix it – he was drawing on an increasingly popular idea among conservatives in the US: the so-called Ferguson effect. This idea – pushed most prominently and convincingly by Heather Mac Donald in her book War on Cops – asserts that rising crime can be attributed to police disengagement.
The argument runs like this: since the protests following the police killing of Michael Brown in Ferguson, Missouri, in 2014, and other similar incidents including the death of Freddie Gray while in Baltimore police custody, police officers have become increasingly concerned about engaging suspects. This phenomenon, called 'de-policing', is blamed on the police's fear that their actions could spark the next national flashpoint, with all the negative media attention that entails. At the end of 2015, FBI director James Comey claimed that a 'chill wind has blown through law enforcement over the past year and that wind is surely changing [police officers'] behaviour'.
Proponents of the Ferguson effect argue, therefore, that police disengagement is to blame for the rising murder rates in some American cities. In the Wall Street Journal, Mac Donald wrote: 'When Baltimore cops virtually stopped making drug arrests last year after the rioting that followed the death of Freddie Gray while in police custody, shootings soared. In Chicago, where pedestrian stops have fallen nearly 90 per cent, homicides this year are up 60 per cent compared with the same period last year. Compared with the first four-and-a-half months of 2014, homicides in Chicago are up 95 per cent, according to the police department.'
As some observers have noted, this police-disengagement thesis is reminiscent of 20th-century historian Eric H Monkkonen's cyclical theory of crime. Having studied the constant fluctuation in crime rates in the US, Monkkonen concluded that crime falls as a result of heavy law enforcement. And because crime rates drop, the need for law enforcement is lessened. As a result, with fewer resources dedicated to fighting crime, law enforcement becomes weaker, and crime starts to rise again. This is what is happening now, according to Trump and other proponents of the Ferguson effect.
It does seem unlikely that the US is really entering a new high-crime era, as it did in the 1970s. But, still, there's no ignoring the fact that violent crime in major cities is on the up. Nor is it possible simply to dismiss the de-policing thesis. Merely citing falling national crime rates, while ignoring rising gun deaths in cities such as Baltimore and Chicago, as many critics of the Ferguson effect seem to do, recalls an earlier, racially inflected attitude towards crime: as long as it stays in the ghetto it isn't important.
Yet the idea of the Ferguson effect is depressingly fatalistic. It suggests that unless pro-active, heavy-handed policing is maintained, then Americans are destined to keep murdering one another in ever increasing numbers. Which sounds more than a little simplistic. There must be something more profoundly wrong within these cities than the mere absence of aggressive policing. That is the problem which both advocates and critics of the Ferguson effect ignore.
Tom Bailey is a writer based in London.
Picture by: Getty Images.
To enquire about republishing spiked's content, a right to reply or to request a correction, please contact the managing editor, Viv Regan.