National Treasure: the showtrial of ageing celebs
This Yewtree-themed drama raises pressing questions about the post-Savile era.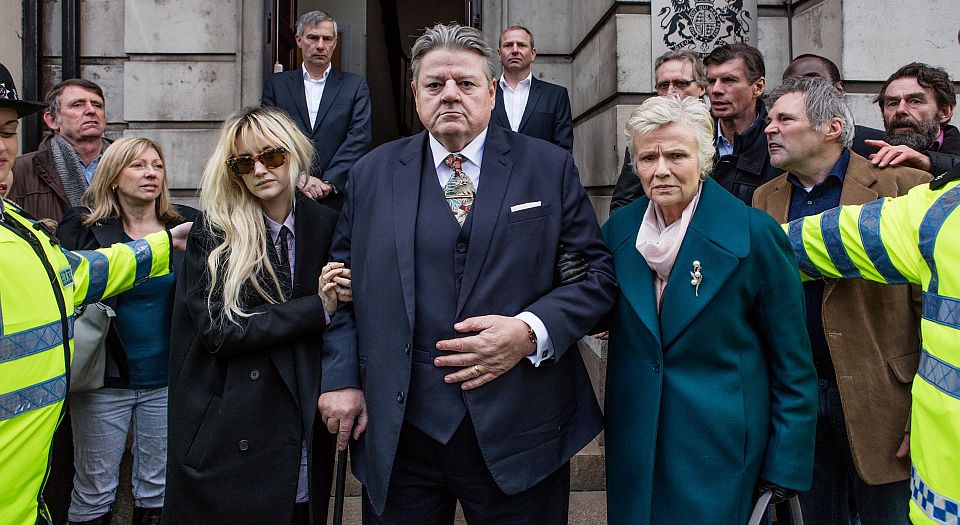 On Tuesday night, Channel 4 aired the first episode of its new drama, National Treasure. Robbie Coltrane plays an ageing comic, Paul Finchley, who is accused of a sexual offence in the midst of the Operation Yewtree madness. His long-suffering wife, played by Julie Walters, remains loyal in spite of his acknowledged infidelities in the past. It's fiction, but it feels very real: four years since the first official Yewtree report, I can't be the only person wondering which real-life 'national treasure' of the 1970s or 80s will be next on the list of celebrity sex-offence suspects.
National Treasure explores such cases well. It is dramatic and well-paced. We are lulled into feeling sympathy for Finchley early on. It opens with him at an award ceremony, where it is implied that he has been passed over for a lifetime achievement award in favour of his long-term collaborator. He feels old and out of place among younger talent. He wonders whether his work is of lasting value. Then the police show up at his home and he is whisked away in the back of a car to be questioned about an alleged rape from 14 years ago. He is taken from his life of respect and relative contentment into a cold and indifferent justice system.
We now know that the prosecutions that followed the cases against Jimmy Savile were a mixed bag. Investigations resulted in six cases that ended with convictions, and 13 that did not. But the Savile scandal nonetheless made significant, and worrying, changes to our criminal-justice system. Giving Victims a Voice, the 2013 report published by the Metropolitan Police and the NSPCC, rode roughshod over the presumption of innocence. It assumed, given Savile was no longer alive to test the evidence, that the allegations were true. Untested testimony was treated as fact. This suspension of the presumption of innocence became a feature of other police investigations post-Savile.
Other changes to the criminal-justice system followed, designed to accommodate allegations of historic sexual abuse. Many of these feature in the narrative of National Treasure. Post-Savile, the police became emboldened to use the media as a way of calling forward new complainants. They justified their widespread publicising of an allegation against a celebrity on the basis that it might bring other cases and complaints to light. And so in National Treasure, Finchley is splashed across the tabloids. His lawyer says the police are 'testing' him out with the public. The real-life relationship between the police and the media with regard to historical sexual-abuse claims hit a new low with the televised raid of Cliff Richard's home while he was on holiday in 2015; Richards has since been cleared of any wrongdoing.
National Treasure raises questions about the evidential difficulties in dealing with historic allegations. At the end of the first police interview with Finchley, we are left with the impression that this will amount to one person's word against another. When the police raid Finchley's house, they show his wife that he has been looking at pornography on his phone. The real police would be unlikely to do that; but this drama is nonetheless right to portray these cases as battles over credibility and character. There is no shying away from the moral complexity of cases that hinge on historic claims, and which lead to people being robustly judged by both the justice system and the media.
This is a TV drama that explores, not simply an individual case, but society's shift in the way it deals with historic sexual-abuse claims. Aspects of this shift in recent years were probably necessary and welcome. But other aspects raise important moral questions. Perhaps the key message of National Treasure is that, irrespective of his guilt or innocence, a defendant can now have his life all but destroyed simply through someone making an allegation against him. This drama reminds us of the need for calm heads and serious investigation, and for due respect for the presumption of innocence.
Luke Gittos is law editor at spiked, a solicitor practising criminal law and convenor of the London Legal Salon. He is the author of Why Rape Culture is a Dangerous Myth: From Steubenville to Ched Evans. (Buy this book from Amazon(UK).)
To enquire about republishing spiked's content, a right to reply or to request a correction, please contact the managing editor, Viv Regan.