Paralympians' job is to be the best, not 'raise awareness'
Let's stop expecting Paralympians to make society a better place.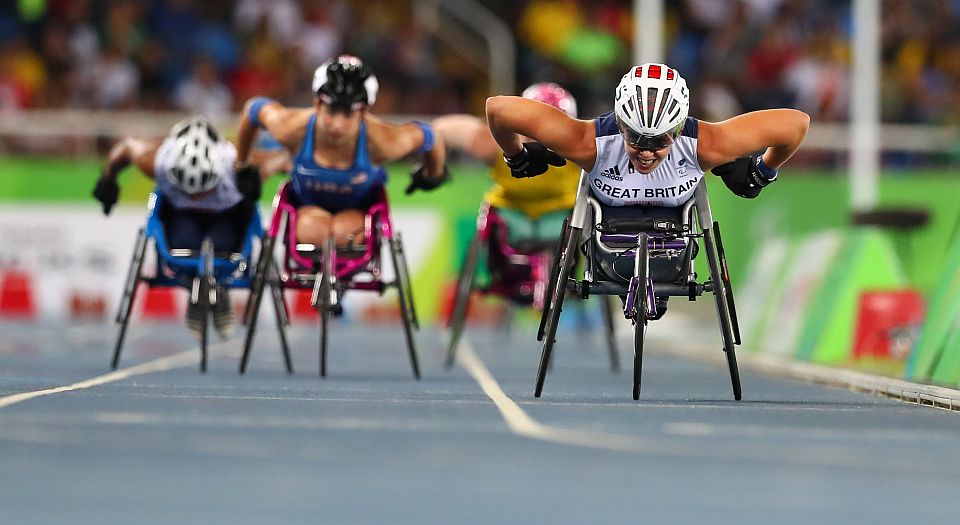 So, the Paralympics are over for another four years. London was always going to be a very tough act to follow — how did the Rio Games fare by comparison? Was it a festival of sporting excellence or, as some critics claim, merely an exercise in 'inspiration porn'?
London 2012 was an extraordinary popular success; the benchmark against which all future Paralympic tournaments will be judged. Disabled athletes like Ellie Simmonds, David Weir and Jonnie Peacock became household names. 'It just took it to a whole new level', said former wheelchair racer Tanni Grey-Thompson. 'I think the public accepted Paralympians as athletes.'
Rio was certainly a big success for Paralympics GB, who finished second in the medals table and surpassed its 2012 medal tally. But, removing our red, white and blue spectacles for a moment, how did the Games rate overall? Despite doom-mongering scare stories over funding and empty stadiums, the tournament exceeded expectations. Although the stadiums weren't sold out, they weren't empty either, and the Rio public, taking advantage of affordable ticket prices, enthusiastically embraced the Games.
From a sporting perspective, the Paralympics were a mixed bag. Of course there were moments of great sporting drama to thrill us. But too many events failed to ignite as sporting contests. Wheelchair sprinter Hannah Cockcroft completely annihilated the field in all three of her events. But although we can admire her incredible bicep power, the lack of serious competition invariably diminished the drama. Of course, the shallowness of the talent pool in too many classifications isn't the fault of the International Paralympic Committee (IPC). Disability sport is still relatively in its infancy and it will take years to develop a high standard of competition in every discipline and impairment category.
A thornier problem is that, despite the best intentions of the IPC, it's hard to see how disabled athletes will ever be judged by sporting criteria alone. Not only are they competing at the highest level in their impairment classifications, they also have to shoulder what academics have termed the 'burden of representation'. They aren't just battling for a place on the podium — they're also expected to change public attitudes towards disability. 'Exposure to high performance Paralympic sport leads to seismic shifts in attitudes and perceptions', says Sir Philip Craven, IPC president.
Of course, the tournament offers a rare opportunity to focus on the Paralympians' sporting abilities rather than their physical or mental impairments. But I'm not sure we can ever entirely forget the back stories. It's impossible to watch the Egyptian table tennis player, Ibrahim Hamato, who manipulates the bat with his mouth, without marvelling at how he has overcome the loss of both arms. Is this such a bad thing? We're fascinated by the back stories of able-bodied sports stars who have overcome adversity to achieve sporting success. It's the redemption template for practically every American sports movie. So it's inevitable that we can't entirely decouple sporting heroism from the resilience and determination of Paralympians to overcome physical and mental impairments.
The Paralympics might make us rethink the conventional myth that disabled people are pathetic victims. But have we merely replaced negative stereotypes with positive ones? Are broadcasters and sponsors guilty of peddling 'inspiration porn', a phrase coined by Australian disability activist Stella Young? Some critics took issue with the 'Yes I can' message of Channel 4's 'We're the superhumans' trailer for the Games. One complained that 'the trailer reproduces a common, misrepresentative and oppressive trope: the inspirational "supercrip"'. Similarly, a Guardian editorial protested that: 'Positive stereotypes are still stereotypes; they can make others less accepting of impairments.' It warned that 'the message "Yes I can" drifts too easily towards "No such thing as can't"'. In other words: bah humbug.
Disability-rights campaigners argue that the heroic portrayal of Paralympians airbrushes over the harsh reality of life for most disabled people who are facing cuts to benefits and care services. 'The hyping of disabled athletes into superhuman status by Channel 4 only deepens our wounds, inflicted by continual assaults on our daily lives', wrote one. The group Disabled People Against Cuts launched a week of action during the Paralympics, under the slogan 'Rights not Games', to highlight the social injustices that many disabled people face. See what I mean about the burden of representation? It's hard to envisage how Paralympians will ever be taken seriously as athletes if they are also thrust into the role of ambassadors for the entire disabled population.
As someone who has worked in the disability sector for many years, I'm all too familiar with the etiquette minefield we have to tiptoe our way through. As with race or gender politics, there is a preoccupation with language and cultural representation; a belief that attitudes and discourse are at the root of the disadvantage suffered by disabled people. At its worst, this creates a stifling and intolerant 'You Can't Say That' culture which makes it impossible for all but a handful of 'in the know' equalities experts to talk publicly about disability. It's no wonder Paralympics get caught in the cultural crossfire. But I fail to see how media representation of disabled athletes has any material bearing on political decisions about funding for social care or cuts to disability benefits.
Campaigners should stop treating the Paralaympics as a legitimate battleground for disability rights and focus their efforts on the political sphere. Only when the burden of representation has been lifted from the Games will Paralympians be viewed as athletes rather than unwitting role models and agents of social change.
Duleep Allirajah is spiked's sports columnist. Follow him on Twitter: @DuleepOffside
To enquire about republishing spiked's content, a right to reply or to request a correction, please contact the managing editor, Viv Regan.