Why Big Sam shouldn't have been sacked
The loose-lipped England manager is the latest casualty in the war on privacy.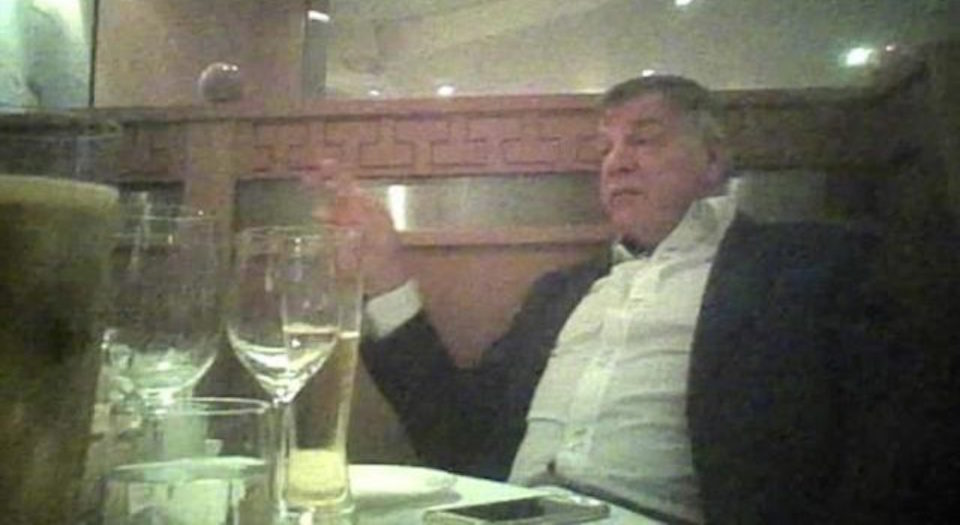 It's not easy to feel sorry for Sam Allardyce, the England manager of just 67 days who was sacked last week following a newspaper investigation into football corruption. He is still tainted by the allegation, made in a 2006 BBC Panorama programme, that he trousered illegal 'bungs' from agents. His style of football is derided as prehistoric. Despite being an early adopter of performance analytics, he is regarded as part of a dying breed of old-school, wheeler-dealer, tactically limited English managers. Few England fans were rejoicing when Allardyce was announced as Roy Hodgson's successor. Likewise, few will have shed tears over his dramatic fall from grace. But, while Big Sam might not have been the saviour of English football, his treatment should concern everyone who values the principle of privacy.
Yes, Allardyce made a colossal error of judgement – no doubt fuelled by the pint of wine he appeared to be necking at the time. Yes, he came across on the Telegraph's footage as arrogant, boastful and full of himself. And yes, of course, he should have known that England managers are no longer judged purely on how the team performs on the pitch. Today, they are expected to be exemplars of moral and fiscal probity off the pitch, too. As Sven-Goran Eriksson found out to his cost after the 'fake sheikh' revelations, football managers are seen as fair game for newspaper sting operations. So, Allardyce was clearly naive. But was what he said a sackable offence? I don't think so.
Despite the Telegraph's sensational 'Football for sale' headline, there was nothing that Allardyce said or did in the secretly filmed meetings, where undercover journalists posed as businessmen, that was remotely corrupt or illegal. He agreed, in principle, to a £400,000 speaking engagement with a fictitious Far Eastern business consortium. But he insisted he would need to seek FA approval first. Now, this might appear greedy in light of his £3million contract to manage England, but it doesn't amount to corruption. Indeed, when asked about financial sweeteners, Allardyce booted the suggestion into Row Z. 'Oh, oh, you're not – do not', he says in the video. 'I haven't heard that. I haven't heard that, you stupid man. What are you talking about? You idiot. You can have that conversation when I'm not here.'
Allardyce was undoubtedly guilty of loose talk. It was unprofessional to mock his predecessor Roy Hodgson's lisp. He should have thought twice before opining that his employers, the English FA, were 'all about making money' and had 'stupidly' spent £870million on rebuilding Wembley Stadium. As for his claim that England players 'can't cope' psychologically, the phrase 'no shit, Sherlock' comes to mind.
What undoubtedly did it for Allardyce's short career as England manager was telling the undercover reporters that it was 'not a problem' to get around the third-party ownership rules. (Third-party ownership is a practice whereby a footballer's economic rights are not owned by the club, which holds his registration, but by a third party, typically football agents, sports management companies or hedge funds.) Third-party ownership was commonplace in South America, but has been outlawed by both the English FA and FIFA, the world governing body. However, it is believed that agents have found ways of circumventing the ban. Allardyce wasn't offering advice on how to set up illicit third-party ownership deals. He was merely explaining it was possible to get around the rules – just as his old club, West Ham, had done when they signed Ecuadorian striker Enner Valencia. 'It's not a problem… we got Valencia in. He was third-party owned when we bought him from Mexico', he told the undercover reporters.
Whether or not Allardyce fell short of the standards of conduct expected of an England manager, there's an important principle at stake here: privacy. Allardyce believed he was speaking off-the-record. And he isn't the first employee to say 'inappropriate' things in private conversations. When 'sexist' emails sent by Premier League chief executive Richard Scudamore – in which he joked about 'female irrationality' and 'big-titted broads' – were made public in 2014, the FA took no disciplinary action. Why? At the time, FA chairman Greg Dyke explained that 'the FA does not, as a matter of policy, consider private communications sent with a legitimate expectation of privacy to amount to professional misconduct'. Similarly, the FA decided not to take action against former Cardiff boss Malky Mackay and his sidekick Iain Moody after revelations that the two men had exchanged sexist and racist text messages. The FA decided against sanctions on the grounds that 'the communications were sent with a legitimate expectation of privacy'.
If privacy was an important principle in those two instances, why not in Sam Allardyce's case? Big Sam wasn't speaking in his official capacity as England manager. It was a private, off-duty conversation over a few drinks in a restaurant. Allardyce, it could be argued, was also entitled to believe that what he was saying wouldn't be splashed over the front pages a few weeks later. Steve McClaren, the former England manager, has voiced his concern that the Telegraph's sting represents a dangerous trend. 'It just shows where sport is, at the elite level, that privacy can only really be found in the four walls of your home', he said.
The Telegraph spent a year undertaking its 'Football for sale' investigation. What exactly has it achieved as a result? It's skewered an England manager, but has unearthed very little evidence of endemic corruption in the game. There is certainly no evidence of the kind of match-rigging that was uncovered in Italy's 'Calciopoli' scandal 10 years ago. The biggest casualty of the Telegraph's sting isn't Allardyce, it's the principle of privacy. Why is privacy important, even for public figures like the England manager? Because, without it, there is no space for any of us to have unguarded, private conversations. We are all condemned to live in a state of perpetual caution, where everything we say in private may later be used as evidence against us. There's more at stake here than the shredded reputation of Sam Allardyce. The erosion of privacy is a matter that should concern us all.
Duleep Allirajah is spiked's sports columnist. Follow him on Twitter: @DuleepOffside
To enquire about republishing spiked's content, a right to reply or to request a correction, please contact the managing editor, Viv Regan.