Wicked: the musical that defined an era
Wicked's success invites cynicism – it deserves admiration.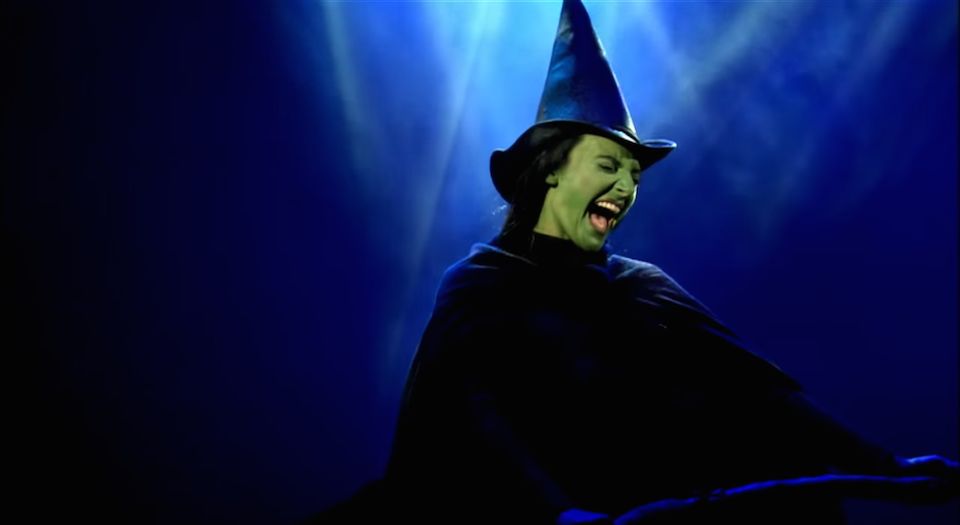 Last week, Wicked celebrated its tenth year on the West End. Arriving from Broadway in a maelstrom of hype, the show, which offers an alternative take on The Wizard of Oz, is the most iconic musical of its era, and perhaps the most popular show among people who usually don't like musicals. Opening to decidedly mixed reviews, the spectacular show quickly amassed a rabid cult following, with the most devoted fans paying outrageous amounts of money to see the show over and over again, at the biggest venue in the West End – the Apollo Victoria Theatre.
Adapted from the 1995 novel of the same name by Gregory Maguire, the show explores the backstory of Elphaba and Glinda, the eventual Wicked Witch of the West and Glinda the Good Witch. It turns out the two met at university and became unlikely friends, and neither is respectively as good nor as wicked as The Wizard of Oz would have us believe. Postmodern retellings of classic fairytales are nothing new, but Wicked fuelled a trend in Hollywood, with such films as Snow White and the Huntsman, Tangled and Oz the Great and Powerful.
Although Wicked is aimed at family audiences, the show truly speaks to preteen and teenage girls. The show follows the two female protagonists' adventures from university and beyond, but really Elphaba's problems are of someone much younger. She worries about being popular, has her first crush, struggles to accept herself and comes to terms with puberty – as represented by her burgeoning magical powers.
The show's score is written by Stephen Schwartz, whose Broadway career has had tremendous highs and lows. In 1974, at the age of 26, he had three hit shows playing on Broadway simultaneously – The Magic Show, Godspell, and his masterwork, Pippin. However, in the 30-plus years between then and Wicked, all of his new musicals either flopped on Broadway or closed before they got there.
In the interim, he found success in Hollywood, writing lyrics for popular animated musicals like Pocahontas, The Hunchback of Notre Dame and The Prince of Egypt. He shared an Academy Award with Alan Menken for penning 'Colours of the Wind' for Pocahontas. This experience in writing songs for a family audience put him in good stead for Wicked, a stark contrast to an adult, experimental show like Pippin.
Though you couldn't call the original Wizard of Oz earnest or simplistic, Wicked poses as a postmodern take on the classic tale, exploring the grey areas of morality. In fact, it is rather pretentious, melodramatic and very heavy-handed in its moralising. The spectacular staging and powerhouse performances needed from its leads are necessary to cover up the material's flaws.
It feels like Schwartz wrote the show more on assignment than out of passion. It's odd he got so many lyricist gigs for Disney in the 1990s – Wicked demonstrates he's a far stronger writer of music than words. What's more, it showed that Schwartz's instinct is more commercial than artistic. He hasn't written a show for Broadway since Wicked, and recently partnered with a cruise-ship company to develop four shows over three years.
Wicked's initial US run was graced by two tremendous lead performances. And though Kristin Chenoweth's Glinda cemented her status as a leading lady of Broadway, Idina Menzel's Elphaba created the biggest Broadway superstar of the modern musical era. In addition to Wicked, Menzel has starred in two other seminal modern musicals – as Maureen in Rent, prior to Wicked, and, more recently, as Elsa in Disney's Frozen – both showcasing her outrageous, belting range. During Menzel's turn as Elphaba in London she induced a Beatlemania-like response from audiences, with fans screaming the moment she stepped on stage.
Though it is easy to be cynical about Wicked, its mega success makes perfect sense in its Act 1 finale, 'Defying Gravity'. This histrionic instant classic, in which Elphaba embraces her unique gifts and flies for the first time, is one of the most adrenaline-fuelled songs in the history of musicals. The supreme difficulty of singing this iconic song – and, in particular, hitting its highest note – was the subject of an entire Glee storyline.
Wicked might lack sophistication. But it's left an indelible mark on a generation. Few musicals today can say that.
Christian Butler is a writer based in London.
Watch the trailer for Wicked, now on at Apollo Victoria Theatre, London:
To enquire about republishing spiked's content, a right to reply or to request a correction, please contact the managing editor, Viv Regan.