I love Bob Dylan. But he shouldn't get the Nobel Prize
Dylan isn't literature: he's for listening to, not reading.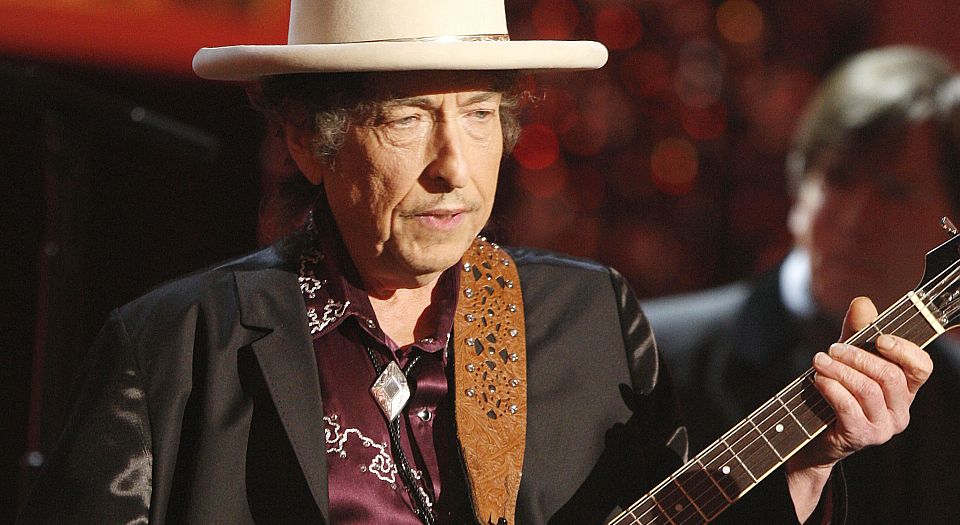 I should be delighted Bob Dylan has won the Nobel Prize for Literature. But I actually feel very ambivalent.
My Dylan moment came in the autumn of 1963. My then girlfriend Helen invited me to a party, which she said would be full of 'beatniks and eggheads'. They were, in fact, the teenagers from the upper stream of my high school, otherwise known as the 'brain class'. I felt ill-at-ease trying to make conversation with my clever peers, and then someone put on Dylan's Freewheelin' album. I was blown away. I was 16 and totally agreed with a self-important kid at the party who declared upon hearing Dylan that 'our lives will never be the same'.
I have never stopped listening to Dylan. For a while, during his Christian phase, when he decided to 'serve the Lord', I was turned off: his music became unremarkable and the lyrics were appalling. But everyone is allowed the occasional lapse in talent. To this day, when I'm running low on inspiration I listen to Nashville Skyline. I still get goosepimples when I hear the line 'It's all over now, Baby Blue'. And at the risk of sounding predictable, and maybe even trite, I can honestly say that no other musician, singer or songwriter has had as big an impact on me, and most of my close friends, as Dylan.
And yet, the Nobel Prize? For literature? There's something wrong here. I thought it was weird when a spokeswoman for the prize committee compared Dylan's 'The Times They are a-Changin' to the works of Homer and Sappho. 'The times' was indeed a powerful and influential song, but to compare Dylan to Homer is wholly anachronistic. Homeric epics served as stories that Greek communities shared with one another and which they communicated to the younger generations – is this true of Dylan's songs?
We don't know very much about Homer. Many experts believe the works attributed to him were in fact written and revised by many different poets. It is likely that The Iliad was a product of Greek culture more broadly, not the work of one individual. Homer was not simply a poet: the works attributed to him were used as standard texts for the education and socialisation of generations of Greeks. A more suitable historical equivalent to Homer's works would be the role played by the Bible in the education of Christian Europe. Not even Dylan would dare claim he had anything like a comparable status.
In any case, Homeric poems were the product of an oral culture; they expressed, and continue to express, a different aesthetic impulse and temperament to the modern written text. Although some people use the term 'oral literature' to characterise the poems and ballads of that older oral culture, it is actually confusing to band the oral and the textual together like this. I have no desire to police the boundary that separates literature from other forms of cultural activity. Rather, my concern is with the growing tendency to devalue the integrity of the written text – an issue I discuss in my book Power of Reading: From Socrates to Twitter. The more that the category of literature is expanded, the less it captures any true literary sensibility and instead becomes something very different.
If there were a Nobel Prize for cultural impact, Dylan would be a most deserving candidate. But for literature? According to rumours, some of the major writers who were also being considered for the prize included Japan's Haruki Murakami, the American Don DeLillo, and the Kenyan Ngugi wa Thion'go. All three are worthy candidates; Ngugi wa Thiong'o has even made serious attempts to incorporate elements of the oral tradition into his texts.
To get the most out of Dylan, you have to listen to his songs, not read his lyrics. He is to be heard, not read. Indeed, if you read his lyrics out loud, rather than sing them, his words lose much of their force. They clearly do not resemble world-class literature. The Nobel Prize for Literature has gone to the wrong person. If they had asked for my input, I would have recommended a writer called Philip Roth.
To enquire about republishing spiked's content, a right to reply or to request a correction, please contact the managing editor, Viv Regan.