'Black Lives Matter has a plantation mentality'
Black Panther Elaine Brown on the degradation of black liberation.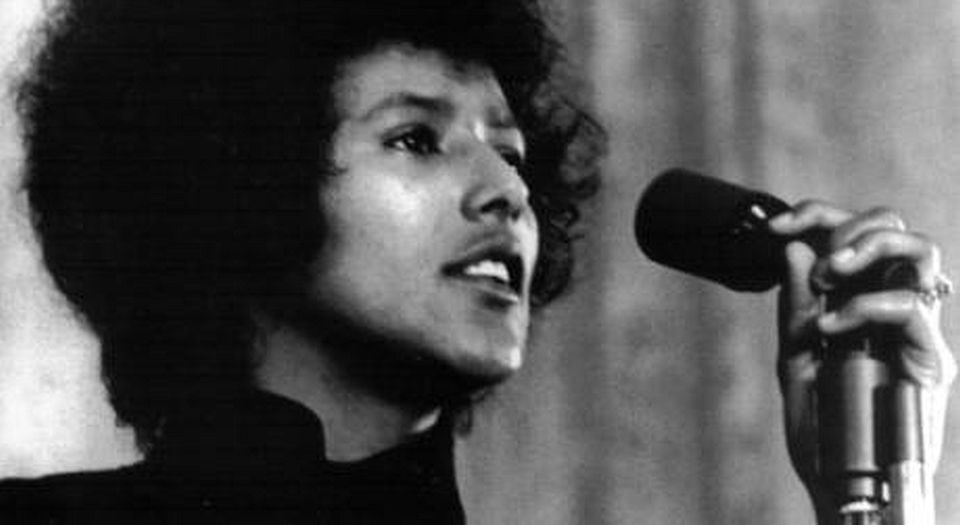 'I don't know what Black Lives Matter does, so I can't tell you how it compares to what the Black Panther Party was. I know what the BPP was. I know the lives we lost, the struggle we put into place, the efforts we made, the assaults on us by the police and government – I know all that. I don't know what Black Lives Matter does. So if you can tell me, I'll give you my thoughts.'
So says Elaine Brown, activist, singer and former chairwoman of the Black Panther Party, talking to me from her home in Oakland, California. She doesn't like my question. This year marks the 50th anniversary of the founding of the Black Panther Party, a revolutionary, socialist, black-power organisation formed in Oakland by then college students Huey Newton and Bobby Seale. And, as journalists scrabble to pen pieces about 'what's changed', cack-handed comparisons abound.
I ask Brown about Black Lives Matter, the movement that erupted in the wake of the shooting of Mike Brown, an unarmed black teenager, in Ferguson, Missouri, in 2014. This nebulous hashtag-come-protest movement has been compared – both by its supporters and detractors – with the BPP; it's either hailed as a continuation of the struggle or slammed as a resurgence in 'divisive', 'militant' black nationalism. Talking to Brown it becomes clear that both sides give BLM too much credit.
'There is no comparison', she says. 'The next wave of young people running out here, who are complaining and protesting about the murders of young black men and women by the police all over the country, they will protest but they will not rise up in an organised fashion, with an agenda, to create revolutionary change… We advocated community self-defence organisations to be formed, so that we would not be assaulted by the police, so that we would bear arms and assume our human rights.'
When it first formed, armed BPP members patrolled Oakland neighbourhoods – in their iconic blue-shirt, leather jacket, black beret combo – to keep an eye on the police. They were caricatured as violent militants, but they were standing up for rights as old as the Constitution itself. Newton, a law student, made himself an expert on gun law. Whenever the cops piped up, he'd blast them with the Second Amendment, Supreme Court judgements, chapter and verse: 'I will observe you carrying out your duties whether you like it or not!'
The party's first members were the sons and daughters of Southern blacks who went to the north to find a better life only to be funnelled into ghettos, plagued by intense poverty and embattled by racist police. But the decision to pick up the gun was not just a last resort, or a bolshie appeal to the 'brothers on the block' Newton dreamed of radicalising. It reflected an insistence on self-determination, as well as self-defence. The Black Panthers didn't just want their communities to be better treated better by the authorities – they wanted to wrest back control of them.
This steely spirit seems lost on the Black Lives Matter agitators of today. BLM, formed by academics Patrisse Cullors, Alicia Garza and Opal Tometi, has little of BPP's assertive spirit. The Movement for Black Lives, a BLM offshoot launched in August this year, posits itself in 'the legacy of our ancestors who pushed for reparations, black self-determination and community control'. But BLM's unofficial slogans – 'hands up, don't shoot', 'stop killing us' – strike a far more defensive, pleading tone.
'This to me is a plantation mentality', says Brown. 'It smacks of "master, if you would just treat me right". And it has nothing to do with self-determination, empowerment and a sense of justice, or anything else.' When, in 1967, the California state legislature was tabling a bill banning the open carry of firearms – in direct response to the Panther patrols – Newton and Seale led an armed delegation to the State Capitol. One need only contrast that to BLM protests in the wake of police shootings – where they host 'die-ins' – to see the chasm between the two movements.
BLM's appeals for sympathy, for protection, have enjoyed a good hearing from the establishment. Through his COINTELPRO programme, then FBI director J Edgar Hoover carried out assassinations of Panther leaders and fomented civil war between Huey Newton loyalists and followers of the party's flash-talking 'minister of information', Eldridge Cleaver. By contrast, BLM leaders have received funding from billionaire Democratic donors and had meetings with Hillary Clinton. 'I was ashamed of them for asking that racist warmonger what she thought of black people', Brown says.
One of those who met with Hillary was DeRay McKesson, a former educational official and prolific tweeter who has become the de facto figurehead of the BLM movement. In April, he became the first BLMer to test his politics at the ballot box, when he ran for mayor Baltimore. (He came sixth in the city's Democratic primary, taking just 2.5 per cent of the vote.) The clean-cut 31-year-old – never seen out of his blue Patagonia vest – tells me that the next stage for BLM is putting its ideas into practice. But it's hard to discern what those ideas are.
Known for composing his speeches in 140-character bullets – for concision and tweet-friendliness – he answers my questions almost entirely in platitudes, replete with sub-sociological jargon. 'We know that there is a system of racism predicated on white being seen as better. We have to understand that and we have to talk about it', he says. He discusses 'white privilege', the 'erasure' of black voices in politics, and the importance of white allies using their privilege to 'disrupt' white supremacy. Though police violence is his core issue, he keeps coming back to an ephemeral lack of 'awareness' and 'conversation'.
I ask if he feels BLM is at risk of languishing in black victimhood, and stirring up white guilt, at the cost of asserting tangible, real-world solutions. 'The reality is that people are killing people, right?', he replies. 'People shouldn't have to protest. People shouldn't have to be in the street. People shouldn't have to be at rallies to be heard. They shouldn't have to do that. It is not a stance of victimhood. Racism has impacted people's lives in the country for as long as the country has existed.'
While, on the whole, police killings of blacks seem to be on the decline, technology has made this enduring problem more and more difficult to ignore. Over the past few years, hours of cellphone and dashcam footage have shown policemen appearing to execute young black men on the street over minor offences and with little real provocation. Black people make up just 13 per cent of the US population, but account for 24 per cent of those killed by the police. And while debate rages about the real scale of the problem and the facts of individual cases, the overall picture remains stark.
With this in mind, it might sound churlish to talk about whether BLM is playing the victim card. But the existence of victims isn't the same as victimhood. Fatalism permeates BLM to such an extent that the movement almost comes to be depoliticised. When asked by an LA Times reporter to outline BLM's aims, protesters were typically defensive and histrionic: 'We're going to keep marching until you stop killing us… At the end of the day, at our core, we are a group of people who came together who were upset by things we saw… Why isn't it enough to just stand for black people?' Politics gives way to pain.
Worse still, BLM's uniquely pessimistic brand of anti-racism rehabilitates racial difference in politically correct form. The constant insistence on black victimhood and white privilege has brought back the old, backward idea that different sections of society are ultimately distinct, alien to one another. Though the Black Panthers held black oppression over and above all others – and their rhetoric struck many as divisive – party members (most notably Chicago Panther Fred Hampton, who was slain by police at the age of 21) worked to forge alliances with all oppressed peoples, including poor whites.
Politics is about seeing the world as it is and how it might be. But BLM's pessimistic, conspiratorial views on 'white supremacy' render it incapable of seeing either. And its chronic lack of vision has brought it into conflict not just with former Panthers, but with the old civil-rights establishment. As the US-based journalist Jenny Jarvie notes, civil-rights veteran and former mayor of Atlanta Andrew Young recently said BLMers were 'unlovable little brats' who lacked 'a clear message'. Atlanta activists responded in an unfortunately bratty fashion: 'It is dismissive and disrespectful to ask black people why they are taking to the streets, affirming their lives and healing.'
BLM's politics didn't spring from nowhere. It owes more to the Safe Space movement than it does to the civil-rights movement. And its idea-lite, leaderless approach comes straight out of Occupy – the post-2008 anti-capitalist movement that soon dissolved into little more than a talking shop. Brown, originally excited by the Occupy movement, is now cutting on its shortcomings. 'It was a moment – and it was a glorious moment', she says, but it quickly turned into a 'floppy little group of people coming to the park where everyone gets time on the mic'. 'There was no serious effort to organise, and without an organisation nothing's going to happen.'
For Brown, the BPP remains unrivalled. 'There is no movement at this point that is anywhere near comparable to getting to the place where we were – talking about serious fundamental change.' While it's common to posit the Black Panthers as a disgruntled response to the defeat of the non-violent civil-rights movement, she insists they were its natural successor. She points to Martin Luther King's Poor People's Campaign, in which he mobilised impoverished people of all backgrounds to march on Washington, set up camp and demand the redistribution of wealth. 'I contend this was why he was assassinated.'
Of course, the BPP's particular brand of Marxism-Leninism – with its heroes including Stalin, Mao and Kim Il-sung – didn't transform into the revolutionary vanguard its members dreamed of. And its short history is not without its controversies. By the mid-Seventies it was a shell of its former self, as Newton was driven further into crack-cocaine addiction and crime. Today, stories abound about political assassinations and torture. But the ideological commitment of its members to revolutionary change, to a future that would transcend both race and poverty, remains a far cry from the low-horizon identity politics of today.
Brown, for one, is not giving up. Carrying on in the tradition of the BPP's 'survival' programmes – which brought free breakfasts for children, free emergency healthcare and free sickle-cell anaemia tests to impoverished black communities – she has set up Oakland and the World, a non-profit creating cooperative businesses for ex-cons and others 'facing extreme barriers to employment'. 'In the absence of a serious people's movement, we have to do something… For now, we must do what we need to do to live, to fight another day.'
Tom Slater is deputy editor of spiked. He is chairing the debate 'From Black Panthers to #BlackLivesMatter: race in America' at the Battle of Ideas festival in London on Saturday 22 October. Get your tickets here.
Picture via: LibCom.
To enquire about republishing spiked's content, a right to reply or to request a correction, please contact the managing editor, Viv Regan.