Scottish independence: the cause of anti-democrats
The SNP's opportunism draws deep on anti-Brexit sentiment.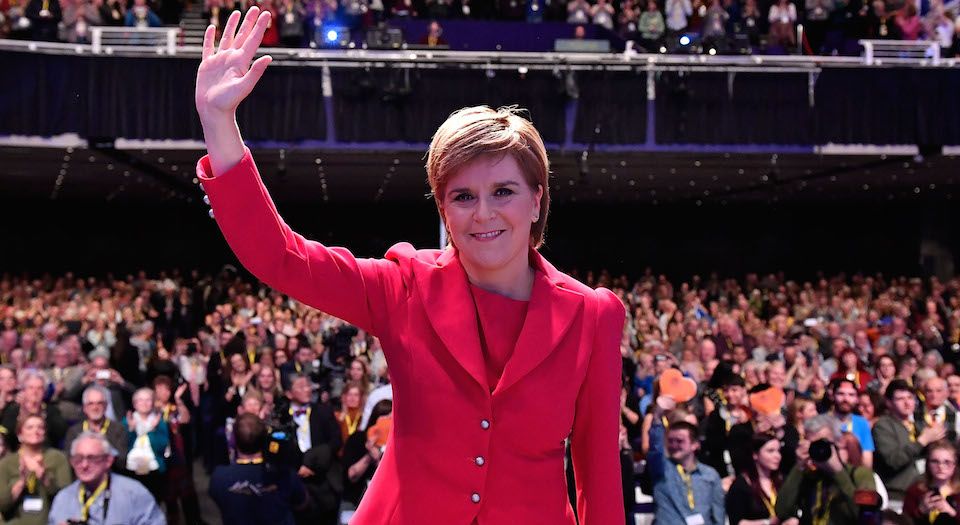 The Scottish National Party appears to be gearing up for another attempted breakaway from the dastardly English and their oppressive union. It's due to publish a bill on a prospective independence referendum this week, and assorted SNP wigs, big and small, have been sounding off about the UK prime minister Theresa May's high-handed approach to Brexit negotiations. Not that things are as clear-cut as all that. SNP leader Nicola Sturgeon, the English liberal-left's political pin-up, has been hedging the SNP's bets somewhat, talking as much of what May needs to undertake to avert another independence referendum as the planning of a referendum itself. Indeed, as many have noted, Sturgeon appears to be using the threat of independence to gain leverage over Brexit negotiations, in particular by demanding that Scotland retain some form of membership of the EU Single Market. Thus far, Downing Street has unequivocally rejected the SNP's threats-cum-pleas.
So what's fuelling this rather fudged, opportunistic bid for independence? The SNP would have you believe it's because 62 per cent of Scots voted to remain in the EU, as opposed to the 52 per cent of English people who voted to leave. It claims, therefore, that it has a mandate to pursue either a relationship with the EU distinct from the rest of the UK, or, failing that, full independence.
But peer a little deeper at the stats, and the SNP's case looks less compelling. Yes, 62 per cent of Scots voted to stay in the EU, which is higher than the 55 per cent of those who voted to remain in the UK in the 2014 independence referendum. But, crucially, far fewer Scots voted in the EU referendum than the independence referendum – the turnout was at 67 per cent compared with 85 per cent two years ago. Which means that while 1.6million Scots voted to stay in the EU, over two million Scots voted to stay in the UK just over two years ago. As the Scottish Tory leader Ruth Davidson put it, 'The 1.6million votes cast in this referendum in favour of Remain do not wipe away the two million votes that we cast [in 2014]'.
All of which probably explains why Sturgeon has been obfuscating, chucking out caveats, 'what if' scenarios, and half-baked threats – she's simply not convinced the SNP can win another independence referendum. Indeed, all polls, despite an initial post-referendum upswing for independence, suggest that the majority of Scots still want to remain in the UK. And if the Nats don't win a second referendum, then that's them done for politically. So instead, Sturgeon is using the possibility of a referendum to try to dilute the Brexit vote, gain a special deal for Scotland, and play the big, strong nationalist – all of which is arrogant, anti-democratic, and looking unlikely to succeed.
But, if nothing else, this all-too-predictable piece of opportunism on the part of the SNP has revealed something of the real nature of the case for Scottish independence. Which is that it derives its impetus not from any popular yearning for self-determination, for Braveheart-suffused sovereignty. No, it comes from, ostensibly, an opposition to all things Westminister, hence the SNP's justice spokeswoman Joanna Cherry recently referred to Scottish Tory leader Ruth Davidson and her 'nasty right-wing colleagues down south'. And, deeper still, it draws on a disdain for English people, those putative racists and xenophobes who have constantly voted in Tory governments, albeit with a New Labour blip, and now have voted to leave the EU. The Scottish nationalists may not have a clear idea of what independence means, but they know what it doesn't mean: backward attitudes, bigotry and 'Proud to be British' sentiment. As one young commentator argued in the Independent: 'If Scotland was to go independent… we'd have a socially liberal utopia just north of Hadrian's Wall to escape to… Compared to my encounters in England, I've always witnessed a far more outwardly respectful attitude towards minority groups, such as immigrants, the poor, the LGBTQ+ community and others, in Scotland.'
Scotland, you see, is everything England is not, especially since the EU referendum. All the negatives and pejoratives foisted on to those who voted to leave the EU find their opposites writ large in rainbow-hued Scotland. This is why there is plenty of support for Scottish independence in England among liberals and lefties – they share the Nats' disdain for England's lower orders, those duped and desperate masses that inhabit the parts of England the righteous elite fly over to catch the Edinburgh Festival. 'I now believe that independence for Scotland is not only desirable but necessary', writes one such English commentator. 'It is necessary in order to lift the banner of progressive politics out of the mud, where it currently lies, and raise it as a beacon of hope across a European continent engulfed by the ugly politics of racial and national exceptionalism to an extent not seen since the 1930s.' Another columnist also coupled disgust with English voters with enthusiasm for Scottish independence: 'Now that England has cruelly imposed [an] embarrassing exercise in self-destruction on the rest of us, a question begs the answer: has Scotland honestly got anything to lose by ditching a xenophobic, cash-poor, post-Brexit Britain?'
What looks like a contradiction – being anti-Brexit, but pro-Sexit – makes perfect sense: underpinning both positions is a loathing of the largely English demos. That's why the cause of Scottish independence feeds into, and reinforces, the anti-democratic tendency of our present moment. Scotland is being turned into a utopia for those seeking refuge from the people.
The irony to all this, of course, is that Scottish independence is itself now being shown to be a misnomer. There is no real talk of going it alone, of ensuring that the Scottish people have control of their own affairs. Because those arguing for freedom from the UK want nothing more than to immerse Scotland in the even greater union of the EU. Which is no kind of independence at all.
Tim Black is a spiked columnist.
Picture by: Getty Images.
To enquire about republishing spiked's content, a right to reply or to request a correction, please contact the managing editor, Viv Regan.