Northern Ireland: Brexit doesn't mean division
Brexit is an opportunity to revive politics across the UK.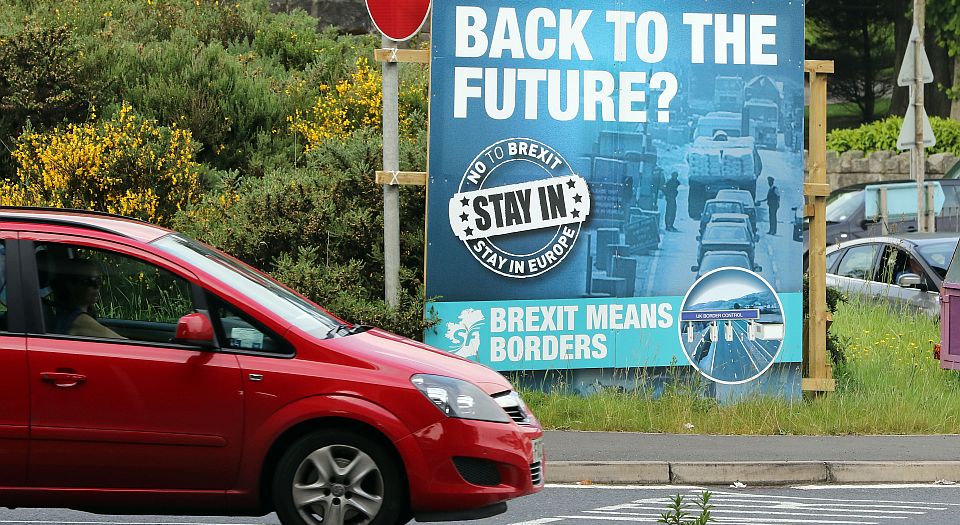 On 23 June, Northern Ireland voted, alongside London and Scotland, for the UK to remain in the EU. The strength of the Leave vote in other regions has often been explained as a combination of political alienation and social and economic deprivation. But, though easily imagined as a place apart, Northern Ireland faces many of the same problems – low economic growth, falling living standards and job insecurity – that confront declining, Leave-voting regions like Wearside, South Yorkshire and South Wales. With so much in common with these other neglected regions, the question arises: why did the people of Northern Ireland vote by a majority of 56 per cent to 44 per cent for Remain, and why is this politically significant?
Breaking down the results by constituency, it appears that nationalist Catholic voters in Northern Ireland overwhelmingly supported Remain, while the majority of unionist Protestants voted Leave. Taking a simple sectarian view, it could be argued that unionists voted Leave to strengthen the union with Britain and consolidate their own position within Northern Ireland. Meanwhile, nationalists voted Remain as a way of furthering their aspirations for Irish unity, and protecting EU support for Irish language and cultural projects. In a region where political allegiance and patterns of living are still strongly determined by religious and community affiliations, these explanations might appear depressingly predictable. However, it would be wrong to dismiss the vote as a simple sectarian headcount.
The largest unionist party, the Democratic Unionists (DUP), campaigned for the UK to leave the EU on the basis of strengthening democratic control over lawmaking, immigration and trade policy. Yet, behind this apparently clear position, many unionists were worried about the economic impact of Brexit, particularly on Northern Ireland's large agricultural sector with its heavy reliance on EU grants and subsidies. Similarly, while the largest nationalist party, Sinn Fein, urged voters to back Remain so as to protect agreements for cross-border cooperation and trade, many party members oppose the harsh austerity measures imposed on the southern Irish state following the 2008 banking crisis.
It would be tempting to interpret these small rumblings of dissent as possible heralds of a new politics, in which 'bread and butter' issues like the economy, employment, social development and democratic accountability will be put back on to the agenda. And, in some respects, the inclination to shake things up in Northern Ireland partly echoes the pre-referendum mood in Britain, where the question of EU membership – once regarded as the nation's top conversation killer – brought politicians out to hustings and made questions of sovereignty, democracy and the economic future of Britain subjects of heated, popular debate.
However, far from seeing Brexit as an opportunity to breathe life back into politics, many people in Northern Ireland are fearful that it will destabilise relationships between Britain and Ireland and undermine the settlement that has delivered relative – if uneven and increasingly unstable – prosperity and peace. It seems that the majority of Northern Irish people, while deeply committed to building a peaceful, shared future, feel unable to embrace the possibility that their political leaders could work together outside the enabling framework of EU membership.
On 19 August, lawyers acting for a group of Northern Irish politicians and community activists issued a legal challenge against the Brexit vote. The group, which includes a former Northern Irish justice minister, a former Progressive Unionist Party leader and a senior Sinn Fein Assembly member, has called on the High Court in Belfast to initiate proceedings against the British government so as to safeguard the 'democratic will of those Northern Ireland people who voted in the European referendum and in the 1998 poll on the Good Friday Agreement'. Putting aside the undemocratic nature of this judicial appeal, is there merit in the claim that Brexit will fatally damage Northern Ireland's peace settlement?
It is true that the European Union played a role in the peace process through funding 'peace and reconciliation' programmes, and underwriting commitments to human rights, equality and justice. But to argue that Brexit could bring political violence back to the streets of Northern Ireland is wide of the mark. It has been argued that a hard border between Northern Ireland (outside of the EU) and the Irish Republic (part of the EU) will have to be reintroduced, and that this will reinforce division and possibly even spark renewed violence. While the Good Friday Agreement initiated a process for removing army watchtowers, checkpoints and paramilitary threats, the border remains intact. Indeed, it is strictly policed by immigration authorities north and south.
However, it is not membership of the EU or even the Good Friday Agreement that guarantees freedom of movement to citizens of the UK and Ireland, but rather the Common Travel Area, which has existed between the two jurisdictions for over 90 years. With annual cross-border trade worth an estimated £65 billion to the Northern Irish economy, everyone appears to agree that reinstating a militarised border would be politically and economically disastrous. In other words, claims that Brexit means an automatic return to the bad old days of army checkpoints on border crossings is akin to a Northern Irish version of 'Project Fear'.
After the Brexit vote, the questions that confront Northern Ireland are shared across the UK; they are about the nature of our democracy and the principles that underpin it. Who do we acknowledge as 'the people' with whom we will work to build a common future? On what basis will we come together to make laws and share resources? How will we co-operate with others? The only way to begin to answer these questions is to start asking them of each other. To turn away from this would not only be a denial of reality, and an abandonment of democratic politics, but an unimaginable betrayal of the future.
Pauline Hadaway is a writer and co-founder of the Liverpool Salon. She is currently undertaking a professional doctorate at the University of Manchester's Institute of Cultural Practices.
This is an edited extract from Labour's Vision of an Independent Britain, published by Labour Leave. Buy it here.
To enquire about republishing spiked's content, a right to reply or to request a correction, please contact the managing editor, Viv Regan.