Let's boot the poppy wars into Row Z
People should be free to decide if they want to don a poppy.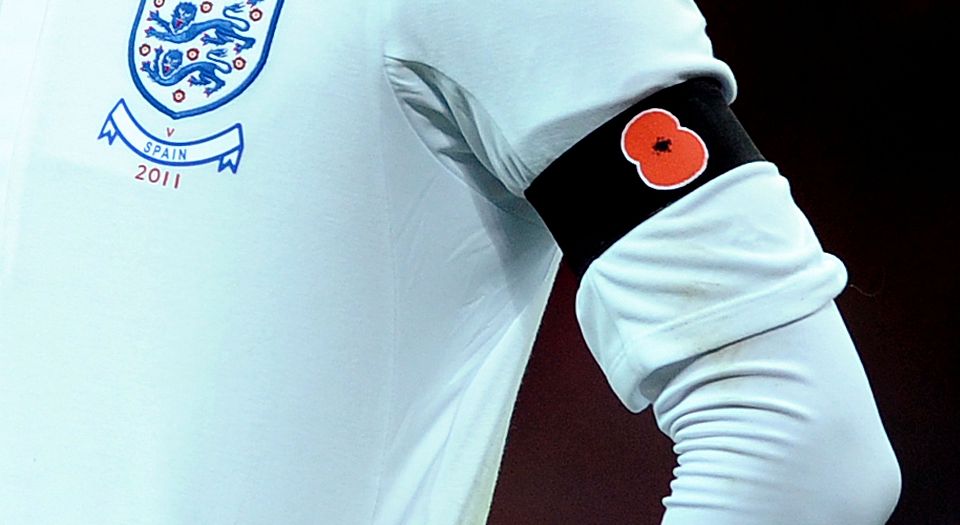 Claude Choules, the last surviving veteran of the First World War, passed away in 2011. However, a war of words over the wearing of the poppy continues to rage. For 95 years, the Royal British Legion has sold millions of artificial poppies in memory of the war dead. But, this week, FIFA, football's world governing body, refused permission for England and Scotland players to wear the poppy at the forthcoming World Cup qualifier, which will be played on Armistice Day. FIFA says the poppy is a political symbol and, as such, is prohibited at football matches. The English and Scottish FAs have pledged to defy the ban, insisting that the poppy isn't a political symbol, and is merely a mark of respect for fallen soldiers. I think footballers should be free to wear the poppy if they so wish, but let's shed the pretence that the little red flower has no political significance.
FIFA is right in one sense. Wearing a poppy is a political gesture. But, arguably, so too is standing for a national anthem. Why is this political act allowed while wearing a poppy is banned? And what about anti-racist campaigns run or endorsed by the football authorities? Are these not political, too? In the 2006 World Cup quarter-finals the captains of each team had to read a declaration against racism before kick-off – a cringeworthy display of political correctness that wouldn't have looked out of place in Chairman Mao's China.
As political symbols go, the poppy isn't exactly the most incendiary or offensive. I don't imagine that people who wear a poppy are intentionally glorifying war. However, although the Royal British Legion insists that 'it is not a political symbol', the poppy has never been entirely free from political controversy. Anti-militarists have, since the 1930s, chosen to wear the white poppies of the Peace Pledge Union as a way of remembering the war dead while also signalling their opposition to war. Irish nationalists, likewise, have refused to wear the poppy, as they regard it as a symbol of British rule.
The poppy controversy has spilled over into football in recent years. In 2010, Celtic's ultra group, the Green Brigade, unfurled a banner proclaiming their opposition to the 'bloodstained poppy', which they saw as an expression of British militarism. James McClean, the West Bromwich Albion winger, who hails from the staunchly nationalist Creggan estate in Derry, has attracted considerable opprobrium and even death threats for refusing to wear the poppy. When he was playing for Wigan Athletic, McClean penned an open letter to fans explaining his reasons. 'For people from the north of Ireland such as myself, and specifically those in Derry, scene of the 1972 Bloody Sunday massacre, the poppy has come to mean something very different', said McClean. 'For me to wear a poppy would be as much a gesture of disrespect for the innocent people who lost their lives in the Troubles – and Bloody Sunday especially.'
While the poppy has, in the past, carried connotations of militarism, the debate over wearing the poppy has evolved in recent years. Today there is a shrill intolerance towards those who don't wear the poppy. Going poppy-less, especially if you're a public figure, is seen as disrespecting the war dead. Last year, actress Sienna Miller and ITV newsreader Charlene White were both heavily criticised for not wearing poppies on television. Channel 4 newscaster Jon Snow has described this phenomenon as 'poppy fascism'. This form of regimented mourning is very much in keeping with the new rituals of public grief, such as makeshift shrines and minutes of silence, which proliferated after the death of Princess Diana. Paying one's respects to the dead, which ought to be a private act, is now both conspicuous and obligatory.
Wearing a seemingly innocuous red flower every November has become a cultural minefield. This is not because of any resurgence of either militarism or anti-war sentiment. The days when hundreds of thousands of protesters thronged the streets of London on 'ban the bomb' marches are long gone. The reason that poppy wearing has become such a charged issue today is because grief itself has become politicised. How we choose to mourn the dead is no longer a question of personal preference. It's something we are all expected to display publicly by wearing a badge or ribbon or else standing for a minute's silence. Failing to observe these new rituals of public mourning inevitably invites a dressing down from the grief police.
If we want to depoliticise the poppy, we need to relocate grief to where it properly belongs: the private sphere. That means poppy wearing at football should be a matter of personal choice; it should be neither prohibited nor obligatory. It means England and Scotland footballers should be free to wear the poppy without fear of FIFA censure. And it means that James McClean's decision not to wear the poppy should also be respected. We need to boot emotional correctness out of football – and out of public life.
Duleep Allirajah is spiked's sports columnist. Follow him on Twitter: @DuleepOffside
To enquire about republishing spiked's content, a right to reply or to request a correction, please contact the managing editor, Viv Regan.