The Paris attacks one year on: celebrate freedom
The worst response to terror is to sacrifice liberty.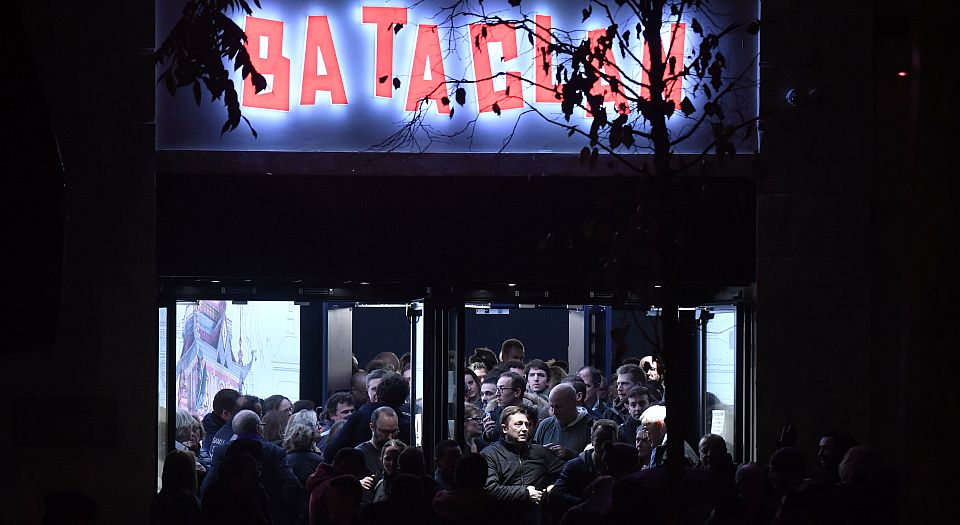 A weekend is something to celebrate. For most, the end of the working week is a small freedom to be cherished. But today marks the one-year anniversary of a weekend that was desecrated not so far from here. On Friday 13 November 2015, terrorists armed with guns and suicide vests attacked bars and restaurants in Paris, as well as the Stade de France football stadium and the Bataclan concert venue. In all, 130 people were killed that night. The Bataclan endured the worst of the carnage. Concert-goers were trapped in the building with four gunmen for hours, and 89 were killed.
As a former Paris resident, news of the attack came as a nasty shock to me. I had been to almost all of the places; friends of mine lived near them. Someone I knew was at the Bataclan that night and survived by crawling out of a skylight. For young Parisians, if you were lucky enough not to have lost a friend on 13 November, you would know someone who was not so lucky.
I visited Paris one month after that murderous rampage, and the change in atmosphere was palpable. Memorials of dying flowers, posters and candles were everywhere, and everything felt subdued. This was a quieter, more nervous Paris. But who could blame Parisians for losing some of their spirit? The reality of France's problem with fanatical Islamists had already been brought into sharp relief in January 2015, when multiple terrorist attacks, most notably at the Charlie Hebdo offices and a kosher supermarket, took the lives of 17, and struck a blow against France's proud value of freedom of speech. Last November was another strike against the way of life that Parisians hold so dear.
One year on, the knock-on effects of the attacks are clear. Recent reports show tourism numbers in France have dipped dramatically, costing the Paris-region tourism sector around £644million. The tourism sector makes up seven per cent of France's GDP, and counts for 500,000 jobs in the Paris region alone. In the first half of 2016, nightly hotel stays in Paris were down 8.5 per cent. British holidaymakers have been avoiding terrorist-hit destinations such as Tunisia, Turkey and France, opting instead for Spain and Greece. This prompted Frederic Valletoux, the head of the Paris-region tourist board, to call for 'a relief plan'. For a country that is proud of its appeal to holidaymakers, being considered an 'unsafe' destination must be a bitter pill to swallow.
But a drop in visitor numbers is a minor detail considering the crisis of identity that France now faces. Sadly, this has not been a year of renewal and recovery. In July, tragedy hit the seaside city of Nice when a terrorist drove a truck into the Bastille Day crowds, killing 86 people.
2016 has been a year of instability and frustration for France. Unemployment hit a record high early in the year; last month, there were police strikes on the Champs Elysees; and in April, and again at the beginning of this month, there were violent clashes on the site of a makeshift refugee camp in the popular Stalingrad area of Paris. But it is not only on the streets that this instability plays out. Over the past two years the Enlightenment values that lie at the heart of the French republic have come under assault. After the Charlie Hebdo attack, there was a solidarity march in support of freedom of speech. But since then, France has moved towards increased censorship. Controversial French comedian Dieudonné was arrested for a Facebook post considered to be sympathetic to the Charlie Hebdo killers.
In a move that triggered mass protests, President Francois Hollande, the least popular French president of modern times, undermined democratic processes when he pushed through labour-law reforms, invoking a rarely used constitutional decree that allowed him to avoid a parliamentary vote.
Over the summer, a string of burkini bans in Cannes and other French Riviera towns encapsulated France's inner turmoil. Having taken such a battering, French people are now living with an underlying, deep-rooted fear that the country they know and love is slipping away from them. In the absence of any real solutions from France's leaders, people are grasping at one of their remaining republican values: laicité (secularism). Sadly, they are forgetting liberté in the process.
Marine Le Pen, leader of the far-right Front National, is benefiting from the current political vacuum and a sense of social unrest. In the latest presidential polls, Le Pen is receiving twice as much support as Hollande, 28 per cent to his 14 per cent. Jonathan Fenby noted in the Spectator that, 'tellingly, during the regional polls, middle-class people were ready to tell television reporters they had voted for the Front in a way that they would not have done in Jean-Marie's day'. Le Pen's surge in popularity is not surprising: France is bleeding self-confidence, and the mood is bleak.
And what of Paris, one year after a crippling blow was dealt to its freedom-loving lifestyle? Happily, there are pockets of hope. In September, Paris mayor Anne Hidalgo released a rather bland tourist video, titled 'Paris, je t'aime' ('Paris, I love you'), in an effort to boost visitor numbers. In response, a group of Parisians created an alternative, edgier version called 'Paris, on t'aime aussi' ('Paris, we love you too'), celebrating the colour and life of the city.

One week ago, an AFP report, widely circulated in the French press, interviewed Parisians on the terraces of the bars that were attacked last year. Strikingly, those who were interviewed spoke mostly of 'returning to normal' and 'moving forward'.
The Bataclan reopened its doors last night, almost one year to the day after the attack. Journalist Bertrand Dicale wrote a moving article for the Bataclan website announcing the reopening of the historic, 150-year-old venue.
Dicale writes: 'Just as Paris was able to overcome its sorrow, its anger and its fear, the Bataclan didn't want to die. It rises, therefore, with more fervour and humility than ever: to welcome concerts and shows, to give pleasure, to share the party. It's not a big thing, but we all know it is one of the freedoms that guarantees us of the fact that we live in a democracy… It is unconscionable that it dies. We must not believe that, on top of the 90 deaths of 13 November, we could add the name of a concert venue that has traversed 150 years of history. Defeat must not be added to our grief.'
Yesterday, Paris marked the anniversary with memorial ceremonies. 'Paris Résiste', a campaign group set up after the attacks last year, is calling on Parisians to place a candle in their windows to remember the victims. It is, of course, right and fitting to remember the innocents who tragically lost their lives. But commemoration alone is not enough. This weekend, Parisians, French people, all of us, must follow the Bataclan's example and celebrate the freedoms that those of us lucky enough to live in a free society enjoy. Head to the bars, the restaurants, the theatres. Drink, eat, celebrate. Be like the Bataclan. Be, as Dicale puts it, 'generous, audacious, eager. Free.'
To enquire about republishing spiked's content, a right to reply or to request a correction, please contact the managing editor, Viv Regan.