Students' temper tantrum over Trump
The Safe Space culture means students can't cope with politics.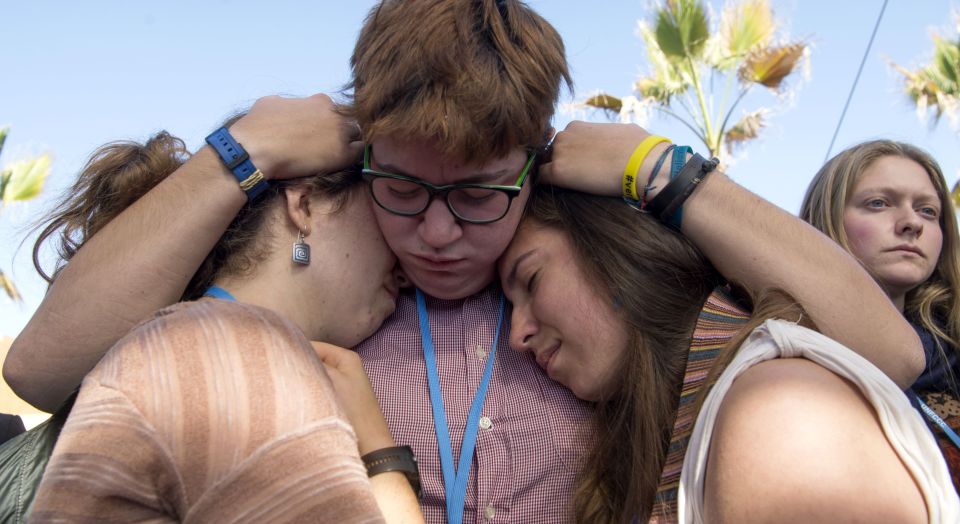 At Cornell, students held a 'cry-in'. At Yale, they gathered for a 'primal scream'. Elsewhere, Safe Spaces have been occupied; play-doh and colouring books brought out and therapy dogs petted. With 'Fuck Donald Trump Rallies', exams postponed and classes cancelled, it's fair to say that American students are not responding well to the election of Donald Trump as president. The shocking news that, off campus, there are people who think differently to them has made students rage and weep.
It's not just students. Administrators and academics have also expressed distress at Trump's victory and rushed to accommodate student demands. At Virginia Commonwealth University, the Office of Multicultural Student Affairs opened a Safe Space for students, while at New York Law School, classes were cancelled so students could 'grieve' and 'vent their feelings'. At the University of Michigan, an exam was postponed after students emailed their tutor to say they were suffering extreme stress over the election result. Likewise at Yale, an exam was made optional following students' emails that they feared for friends and family.
Being passionate about politics and arguing for what you believe in have long been hallmarks of student life and campus culture. But the emotional meltdown that has greeted Trump's success is not straightforward disagreement and protest. It is more akin to a toddler tantrum than a political intervention. Academia's response to Trump illustrates the hollowing-out of politics that helped secure Trump's victory.
Perhaps most notable has been the shock expressed at the election result. It seems that few predicted Trump's success. Even at places such as Monmouth University, with its celebrated Polling Institute, academics were 'blindsided' by Trump's victory. There are times when it is appropriate for scholars to make a virtue of isolating themselves from the rest of society in order to focus single-mindedly on intellectual pursuits. But when it comes to commenting on society, and in particular predicting voting intentions, knowing what people off campus think is important. The shock might also have been lessened if universities were more than a refuge for the likeminded and instead represented a diverse range of political viewpoints.
Beyond expressions of disbelief, students have discussed their feelings towards Trump's victory in the language of psychological harm. One student who organised a campus walkout explains: 'The gathering was intended to provide a space for students to talk or vent, especially for those who feel that their identities and safety are in jeopardy.' The aim of such get-togethers is not political but therapeutic: 'I don't know if there will ever be a way to heal from this, but this is the first step.' Another student describes how on the night of the election she received emails 'from various campus groups, offering Safe Spaces, spots to pray, heal, talk, or decompress'. On social media, students reminded themselves 'how important it is to love each other' and posted phone numbers for suicide-prevention hotlines.
When students receive trigger warnings before lectures on classic works of literature, major historical events and the finer points of the law, they come to see themselves as emotionally fragile and at risk of psychological trauma from words and ideas they find offensive. A campus culture that promotes Safe Spaces and provides protection from speech leaves students incapable of engaging in political debate and not knowing how to confront views they disagree with in any way, other than with a 'primal scream' and a search for emotional safety.
Over the past few years we have seen students confuse political speech with hate speech. The presidential campaign became an issue on campus back in the spring when some students, first at Emory University, chalked 'Trump' on campus footpaths. Rather than sparking debate about the rights and wrongs of Trump's political outlook in comparison to Clinton's, the chalkings prompted handwringing about the limits of free speech. When some students said they had been 'hurt' by the messages, administrators expressed empathy. Labelling political speech offensive and emotionally harmful leads to calls for censorship. In the Safe Space, students do not hear both sides of an argument and instead have their own views reflected back to them. As such, they are left incapacitated when confronted with the political reality of Trump's victory.
Academics and administrators have encouraged students to see ideas they profoundly disagree with as emotionally traumatising. They have enacted their demands for safety and protection from words labelled 'dangerous'. What's more, they have helped create a campus climate where students are unlikely to experience a diverse range of viewpoints in the classroom by placing some ideas and some people – Trump voters – as so beyond the pale, so dangerous, they are not fit to be on campus, let alone taken seriously. In universities that have substituted knowledge for values and politics for emotion, the role of the student is no longer to dissect and analyse new ideas.
The identity politics that has come to dominate academic work in humanities and qualitative social sciences demands that ideas are judged, not on their own terms, but according to the gender and skin colour of their originator. This view has moved off campus and was evident in the frequent statements, made by commentators on the election, that Trump would get support from white working-class men, but Clinton would pick up votes from the 'minorities' (apparently this now includes women). Not only did such identity-based assertions turn out not to be true; they also meant no arguments needed to be made against Trump. The democrats played demographics, not politics.
Beyond gender and skin colour, there was an assumption that Trump's support would come from the uneducated, those voters without a college degree. An individual's level of education was frequently cited as a deciding factor in who they would vote for. But in the end, even this turned out to be wrong and, according to exit polls, Trump was backed by all sections of society, including 54 per cent of male college graduates and 45 per cent of female college graduates. Linking voting to education can lead some academics to conclude that the solution to ideas they disagree with is to get more people inculcated into the liberal values espoused by universities. Not only does this demonstrably not work in practice; worse, it prevents any attempt at winning political arguments.
Universities do not exist in a vacuum. But on both sides of the Atlantic they have played a significant role in creating a climate that substitutes identity and emotion for reasoned political debate. This anti-politics creates a vacuum where the likes of Trump can thrive and neither students nor academics are able to offer coherent political arguments against him, instead reducing their discussions to hurt feelings and a betrayed sense of identity. To challenge Trump in the future, universities need to reinvigorate politics on campus in all its confrontational glory.
To enquire about republishing spiked's content, a right to reply or to request a correction, please contact the managing editor, Viv Regan.