Trump: a threat to the republic
The president-elect is surrounding himself with authoritarians.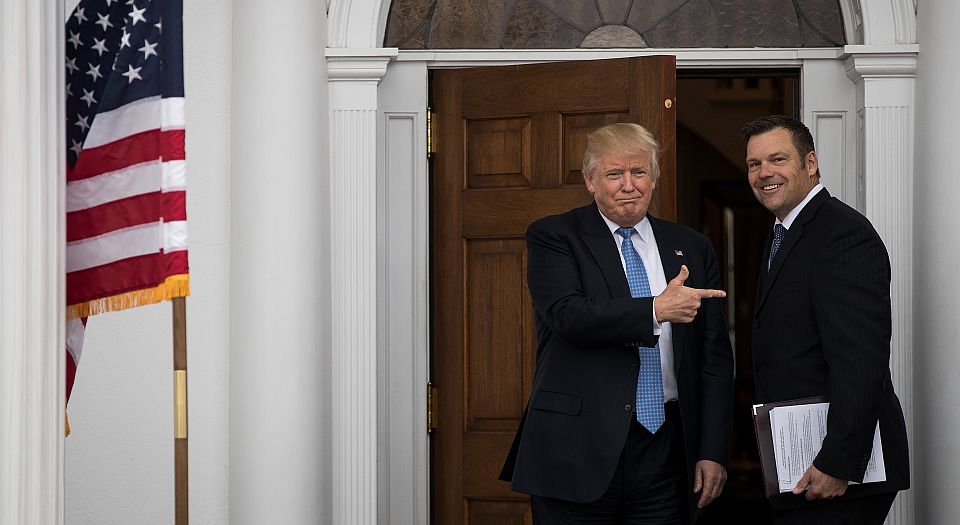 Donald Trump, self-professed foe of political correctness, famously demanded an apology from the cast of the hit Broadway show Hamilton for an alleged offence against vice-president-elect Mike Pence. After a performance attended by Pence, cast members thankfully acknowledged his presence and then, stressing the anxieties of many Americans contemplating the new administration, courteously urged the vice-president-elect to uphold American values and to work on everyone's behalf.
If this was dissent, it was an implicit, excessively civil form of it, couched in an appeal to national unity. Pence said he was not offended. But Trump took umbrage. 'Mike Pence was harassed last night', he tweeted, expressing a sense of entitlement to Safe Spaces that would protect him and his identity group from ideas he finds disagreeable. 'The theatre must always be a safe and special place. The cast of Hamilton was very rude last night to a very good man, Mike Pence. Apologise!'
Trump was triggered, I guess. Some have opined that the Hamilton tweet was strategic, aimed at distracting attention from the $25million Trump agreed to pay to settle a fraud lawsuit against his fake 'university', which preyed on people hoping to learn the secrets of The Donald's success. (They're not all that secret: inherit a real-estate fortune and, when you fail, get the banks to bail you out.) But the notoriously thin-skinned Trump habitually tweets back at critics, no matter how trivial their criticism or how strategic his response. America's tough-talking new president is a snowflake.
Seeking fulsome praise to confirm his self-esteem, Trump will no doubt enjoy entering a room to the strains of 'Hail to the Chief'. He'll preen while rich people line up like children for photo-ops at high-dollar fundraisers. He'll revel in the adoration of crowds when he ventures out of the White House or his Manhattan penthouse to rally his supporters. He'll tweet with newfound power to create alternate realities. Trump is his own fake-news site, as several critics have observed, and by disseminating false reports of his successes and the news media's failures, he undermines the credibility of a free press, without undertaking the more difficult (and riskier) task of expanding libel actions against it.
But will he enjoy governing as much as he relishes tweeting? Will he regularly engage in it? Maybe not. Governing is rife with dilemmas; it often involves balancing bad and less bad options. It's hard work requiring intense concentration, and Trump, reputed to have only a fleeting attention span, seems unlikely to acquire the patience or necessary knowledge of domestic and foreign policy issues that he clearly lacks. He also lacks any consistent, coherent ideology: he was in favour of abortion rights and the Iraq War before he was against them. He liked Hillary Clinton (she was 'a terrific woman', he enthused) before he hated her – and before, as president-elect, he praised the Clintons as 'good people' and sympathised with Hillary's suffering, no doubt considering the political cost of prosecuting her. If Trump had spied an opening for a presidential run in the Democratic Party, he'd be a pro-choice Barack Obama fan today.
But the opening was on the Republican side, and he won the presidency partly by appealing to fierce opposition to immigration and abortion rights, as well as free trade (disdained by populists on both sides), and by declaring strong support for torture, bombing campaigns and 'extreme vetting' of Muslims, while issuing not-so-subtle appeals to an emerging white identity movement. His support for expansive surveillance, combined with his thin skin and petty vindictiveness, has deeply alarmed members of the tech community, who comprehend the potential for unprecedented, covert abuses. Trump may not understand 'the cyber', as he calls it, but it will endow him with extraordinary power to reverse foreign policies and launch cyber attacks, in addition to spying on dissidents and his many domestic opponents.
President-elect Trump's ignorance of policy and his ideological flexibility could conceivably make him a more moderate president than candidate Trump promised to be, depending on whose advice he chooses to heed. He told the New York Times that he was re-thinking his support for torture after hearing from a general who questioned its utility. Is this a clue to how Trump will govern? Who knows? Maybe he was simply seeking praise from the Times; he's a glutton for approval. Maybe he'll re-endorse torture after hearing from another adviser who supports it. Maybe his policy choices will serve his bottom line.
In place of an ideology, Trump has business interests, and his conduct so far has made clear that he has no compunction about profiting off the presidency. 'The law's totally on my side, meaning the president can't have a conflict of interest', Trump declared in an interview with the New York Times. But while conflict-of-interest laws don't apply to the president, legal exemptions don't alter the fact that the president can have conflicts of interest, obviously. As president, Trump could and probably will appoint a sympathetic IRS commissioner, along with other agency heads and judges who may be charged with deciding legal claims against the Trump Organization. He could and probably will advance economic policies and tax-code reforms that enrich his family. He'll have the power of the presidency on hand to promote his brand, which, he observes, is 'hotter than it was before'. Given the opacity of the Trump Organization, the president-elect probably has more conflicts than we'll ever know.
How Trump governs will depend partly on his business interests and partly on the people he chooses to advise and govern for him. So far, he is appointing to key positions people who share the immoderate, authoritarian proposals of candidate Trump, including his call for what may be a disastrous, counter-productive jihad against Muslims. Consider the records of Alabama senator Jeff Sessions, Trump's choice to lead the Justice Department as attorney general; Congressman Mike Pompeo, chosen to head the CIA; retired general Michael Flynn, soon to be Trump's national security adviser; and Kansas secretary of state Kris Kobach, reportedly in line to lead Homeland Security.
Flynn, who does not have to be confirmed by the Senate, is known for his categorical anti-Muslim biases. He 'seems quite comfortable with the prospect of a religious war', the Washington Post observed. 'This kind of war is not at all new', he wrote in a co-authored book. 'It created our world… The world badly needs an Islamic reformation.' Flynn has called Islam a 'cancer', tweeted that 'fear of Muslims is rational', and falsely asserted that Sharia law is spreading nationwide. This future national security adviser has an apparent affinity for fake news: 'NYPD Blows Whistle on New Hillary Emails: Money Laundering, Sex Crimes w Children, etc…MUST READ!', he tweeted shortly before the election.
Mike Pompeo, Trump's choice for CIA director, 'is known as one of the more fanatical purveyors of conspiracy theories about the 2011 terrorist attacks in Benghazi, Libya', the Washington Post notes. He advocates expansive surveillance and opposes incremental reforms intended to curb surveillance-state abuses. He's called for the execution of Edward Snowden. Trump adviser and rumoured candidate for Homeland Security head Kris Kobach is a fierce opponent of immigration. He reports that the transition team is already considering plans to register Muslim immigrants and visitors, which some fear, not unreasonably, is a possible first step toward internment, analogous to the Second World War internment of Japanese-Americans.
Then there's Alabama senator Jeff Sessions, our future attorney general, whose confirmation by the Republican Senate seems assured. Sessions, who supported Trump early on when other Republican leaders shunned him, is an authoritarian with a mid-20th-century perspective on rights and liberties. He endorsed candidate Trump's call for a ban on Muslims entering the US and voted against a Senate resolution affirming the nation's opposition to imposing religious tests on immigrants. He favours the torture and summary detention of terror suspects at Guantanamo. He is an old-fashioned 'law and order' anti-drug warrior, whose appointment dashes any lingering hope of bipartisan criminal-justice reform, which seemed promising only a year ago. He is expected to reverse current Justice Department policies that limit the use of harsh mandatory minimum sentences to extort pleas from low-level, non-violent drug offenders.
He also demonises marijuana use and marijuana users. 'Good people don't smoke marijuana', Sessions has declared, effectively condemning nearly half of all Americans. He's also 'joked' that he thought the Ku Klux Klan was 'okay until I found out they smoked pot'. (Sessions was denied a federal judgeship by a Republican Senate in 1986 because of his history of racist remarks.) Naturally, Sessions opposes marijuana legalisation, which is supported by a majority of Americans. Voters in several states, including my home state of Massachusetts, have passed referenda legalising marijuana use, treating it rationally, like alcohol; and the Obama administration has informally agreed to hold off enforcing harsh federal laws criminalising marijuana in states that have chosen legalisation. As attorney general, Sessions seems likely to reverse that policy. Sessions, soon to become the most powerful prosecutor in the nation, has characterised civil-rights and civil-liberties advocacy as un-American, singling out the NAACP and the ACLU.
These appointments, like the election of Donald Trump, have aroused fierce opposition on the left and will dismay right-leaning libertarians. How will Trump voters respond to the anti-libertarian policies and attitudes of his administration? My guess is that Trump will rise and fall with the economic fortunes of his supporters (unless he entangles us in another disastrous war). But it's worth wondering if his ratings might be depressed, eventually, by a general regard for liberty.
Trump drew significant support from people motivated by economic stress, a desire for change after a two-term Democratic president, anti-abortion passions, and deep disdain if not hatred for Hillary Clinton. For many of them, Trump was not a first choice but a lesser evil, and their votes for him should not be interpreted as votes for autocracy. But will they oppose it? Support for criminal-justice reform, reflected in the Black Lives Matter movement, and general concerns about civil liberty (apart from gun rights and clashes between religious beliefs and gay rights) mainly prevailed on the left. They were not the concerns that got Trump elected and are unlikely to get him un-elected. The continuation of criminal-justice abuses (business as usual), enhanced covert surveillance (which many will not feel or notice), and new restraints on dissent will only cut into Trump's support if they curb the freedoms of his supporters.
I'm not suggesting that Trump voters are less concerned about the public interest than Clinton voters. I'm assuming that on both the right and left, whether they're Clinton supporters or Trump supporters, people tend to vote in terms of their biases and self-interests, often in the belief that these also represent the public interest.
Besides, some Trump voters applauded his strong-man persona. He appealed to anxiety about immigration (especially Muslim immigration), so he'll likely find significant support for stringent new restrictions on immigrants, including, perhaps, extreme provisions like a Muslim registry. He also appealed to and exacerbated mistrust of the mainstream media. According to a Pew Research poll, only 49 per cent of Trump supporters (as opposed to 72 per cent of Clinton supporters) agreed that the freedom of news organisations 'to criticise political leaders' was 'very important to maintaining a strong democracy'. Denying press access to the presidency or attacking press freedoms, rhetorically or practically, will probably please a significant segment of Trump supporters.
Is it wrong to hope that whether motivated by economic stress, abortion opposition, disgust with Hillary Clinton, or a desire for a strong-man president, a wide swath of Trump voters will feel personally constrained by a Trumpian autocracy? Authoritarianism has undeniable appeal during these stressful, violent times, exacerbated by breathtaking technological and demographic change. We will need more than opposition from the left to defeat its promise of safety and order and its perverse vision of liberty. 'Freedom is about authority', according to Trump ally Rudy Giuliani (now said to be in line for director of National Intelligence). 'Freedom is about the willingness of every single human being to cede to lawful authority a great deal of discretion about what you do.' Trump's plan to 'make America great again' requires making America less free. Will he succeed?
'[W]hen you assemble a number of men to have the advantage of their joint wisdom, you inevitably assemble with those men, all their prejudices, their passions, their errors of opinion, their local interests, and their selfish views', Ben Franklin said, in a speech to the Constitutional Convention. When asked what the Founders had created, 'a republic or a monarchy?', Franklin famously replied, 'A republic, if you can keep it'.
Wendy Kaminer is a lawyer and writer, and a former national board member of the American Civil Liberties Union. She is the author of several books, including: A Fearful Freedom: Women's Flight from Equality (1990); I'm Dysfunctional, You're Dysfunctional (1992); and Worst Instincts: Cowardice, Conformity and the ACLU (2009).
Picture by: Getty
To enquire about republishing spiked's content, a right to reply or to request a correction, please contact the managing editor, Viv Regan.