America's imperilled democracy
Trump's own 'identity politics' are damaging democratic rights.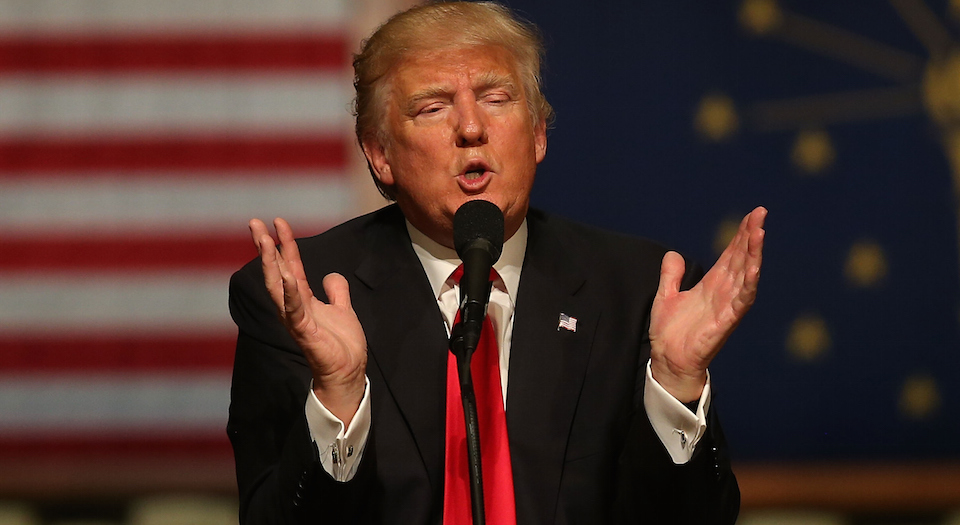 Is democracy resurgent in America? Not exactly. About 25 per cent of eligible voters elected Donald Trump, although about two-thirds of Americans rated him 'unqualified'. A higher percentage voted for losing candidate Hillary Clinton, although about two-thirds rated her untrustworthy. But even if the popular vote mattered, or if Clinton instead of Trump had eked out an electoral-college win by slim margins (below one per cent respectively) in three key, formerly Democratic states, she would have won only a slightly larger and almost equally unimpressive minority of voters.
Close to half of eligible voters didn't vote. Low turnout is a perennial problem in the US, particularly during midterm congressional elections: in 2014 a mere 36 per cent of Americans voted, a 70-year low. In 2016, turnout in the presidential was about 55 per cent, down about 10 points from 2008.
What accounts for such low voter turnout in such a high-stakes election? We can fairly assume that some people stayed home out of disgust with the major party candidates, indifference, or alienation. Some probably couldn't wait for hours on excessively long lines in communities with too few polling places. Some may have been confused about their eligibility or wrongly discouraged from voting by confused officials. And, voters in uncontested states, like reliably Democratic Massachusetts or Republican Oklahoma, may have been disincentivised by the inattention of candidates focused on swing states, or by the knowledge that their votes wouldn't count. Thanks to the electoral-college system, we don't have a national vote for a national president; we have a collection of discreet, winner-take-all statewide votes.
The electoral college was intended to serve as a check on direct democracy, and in 2016, when the losing candidate won at least 2.5million more votes than the winner, it surely did so. The electoral college is 'a disaster for democracy', Donald Trump once tweeted. Then this 'disaster' won him the White House, and he changed his mind, or, at least, his tweets. Now, the electoral college is 'genius', according to Trump, though he remains sensitive to reminders that he lost the popular vote by a substantial margin. That is an inconvenient fact, but on his planet, not an unassailable one. Facts are no longer stubborn things. 'I won the popular vote', sore winner Trump gleefully tweeted, deducting from Clinton's total the imaginary votes of the imaginary 'millions of people who voted illegally'.
Major media outlets quickly denounced Trump's unsubstantiated and entirely implausible assertion. Republican senate majority leader Mitch McConnell politely suggested he shut up, noting that Clinton had conceded and the election was settled. Two or three key electoral states may still conduct recounts, demanded by Green Party perennial Jill Stein and challenged by Trump loyalists (who somehow accommodate opposition to recounts with the claim that Clinton racked up millions of illegal votes). But the recount controversies are sideshows that will not change the outcome of the election, although they may contribute to mistrust of our electoral systems.
Occupying opposite ends of the political spectrum, Stein and Trump share a nihilistic approach to politics, each exacerbating and seeking to benefit from public mistrust. The fiction that millions of people voted illegally is emerging as a talking point for Trump supporters. (They never seem to wonder why, if fraud is rampant, it is rarely if ever prosecuted.) Voting-rights advocates are worried that demonstrably untrue allegations about systematic fraud will lead to systematic efforts to deter presumed fraudsters from voting.
Three years ago, the Supreme Court effectively gutted the 1965 Voting Rights Act, removing federal oversight of election restrictions from states with histories of discrimination, and since then nearly a third of the states have enacted new restrictions on voting, often rationalised by false claims of fraud. As the Brennan Center notes, 'The 2016 presidential election was the first in 50 years without the full protection of the Voting Rights Act, and the first in which 14 states had new voting restrictions… The new laws range from strict photo ID requirements to early voting cutbacks to registration requirements.'
The majority of these states were under Republican control, and it's no coincidence that the burden of their new restrictions tended to fall on Democratic-leaning, non-white voters. Progressives condemn these restrictions as racist, and they clearly had disproportionate racial impacts. But their essential intent was partisan. If African-American voters formed a reliable Republican voting bloc, Republican legislators would be easing voting requirements in African-American communities.
Democrats as well as Republicans have sharply and often rightly criticised the Clinton campaign for practicing progressive identity politics, but Trump's campaign also played to and played up racial and ethnic divisions. It's a sorry spectacle, but the candidates are not entirely to blame.
People are tribal. Identity politics is a natural phenomenon that helped shape the US, this nation of immigrants. Our history of immigration, dating back well over a century, is partly a history of discrimination and self-segregation. Irish, Italian, Eastern-European, Asian and Hispanic immigrants confronted the hostility of native-born citizens, employment and housing discrimination (legal for much of our history) and hostile bureaucracies. They formed their own neighbourhoods and communities and maintained at least parts of their cultural identities, even while striving to assimilate (in periods when assimilation and immersion in a melting pot were considered ideals, not 'microaggressions'). African-Americans, once officially emancipated, endured generations of disenfranchisement, brutal, often officially sanctioned violence, and legally imposed segregation.
When people maintain discrete identity groups, voluntarily, defensively or by force of law, they inevitably develop group interests and needs, in addition to the national interests all groups share. They congeal into particular constituencies, defined partly by identity, and inevitably elicit identity-based, political appeals. In recent years, identity-based politics have also provoked new identity-based voting restrictions. 'Voting in many areas of North Carolina is racially polarised', a federal appeals court observed in a 2016 case striking down onerous voting restrictions enacted by the Republican state legislature that clearly targeted the Democrats' African-American base. '[P]olarisation renders minority voters uniquely vulnerable to the inevitable tendency of elected officials to entrench themselves by targeting groups unlikely to vote for them.'
The court explained how this targeting worked in North Carolina, a hotly contested, battleground state: before enacting a new election law in 2015, soon after the Supreme Court invalidated key sections of the Voting Rights Act, North Carolina legislators 'requested data on the use, by race, of a number of voting practices. Upon receipt of the race data, the general assembly enacted legislation that restricted voting and registration in five different ways, all of which disproportionately affected African Americans… the new provisions targeted African Americans with almost surgical precision.'
The data requested by the legislature indicated that African-Americans disproportionately utilised early voting, same-day registration, pre-registration, and provisional voting, and that they tended to lack certain photo IDs (mainly driver's licenses). So, the new law focused on eliminating or restricting all of these practices and repealed a provision allowing voters to use government-issued IDs other than driver's licenses. Were there any legitimate reasons for these new restrictions that so precisely targeted African Americans? The court found that the restrictions 'constitute inapt remedies for the problems assertedly justifying them and, in fact, impose cures for problems that did not exist'.
A deadlocked Supreme Court declined to reinstate North Carolina's voting law for the 2016 election, but problems in the state persisted. Local Republican officials reduced early voting opportunities along with the number of voting sites, with apparent success. The day before the election, the North Carolina Republican Party issued a cheerful media advisory bragging that 'African-American Early Voting is down 8.5 per cent from this time in 2012. Caucasian voters early voting is up 22.5 per cent from this time in 2012.'
The 'Caucasian' share of the voting populace coveted by North Carolina Republicans is declining nationwide, while racialised voting patterns remain fairly constant. To extend their current, comprehensive hold on power at the state and federal level, Republicans can adopt policies that appeal to non-white voters, or they can erect barriers to non-white voting. So far, federal courts have struck down or modified restrictions disproportionately affecting minority voters in Texas and Wisconsin, in addition to North Carolina, but court-ordered remedies were not effectively implemented. Besides, the judiciary is changing. Trump will have over 100 federal court vacancies to fill, as well at least one vacancy on the Supreme Court. He seems unlikely to appoint judges who don't share his belief that claims of massive voter fraud, however unsubstantiated, justify voting restrictions that just happen to affect demographic groups disinclined to vote Republican.
If Trump and other advocates of voting restrictions are successful, then, in the US, your right to vote will be partly determined by what people in power assume are your voting preferences. Democracy isn't resurgent here. It's imperilled.
Wendy Kaminer is a lawyer and writer, and a former national board member of the American Civil Liberties Union. She is the author of several books, including: A Fearful Freedom: Women's Flight from Equality (1990); I'm Dysfunctional, You're Dysfunctional (1992); and Worst Instincts: Cowardice, Conformity and the ACLU (2009).
Picture by: Joe Raedle / Getty Images.
To enquire about republishing spiked's content, a right to reply or to request a correction, please contact the managing editor, Viv Regan.