We're all haters now
If a middle-of-the-road speech now counts as a 'hate incident', we're all screwed.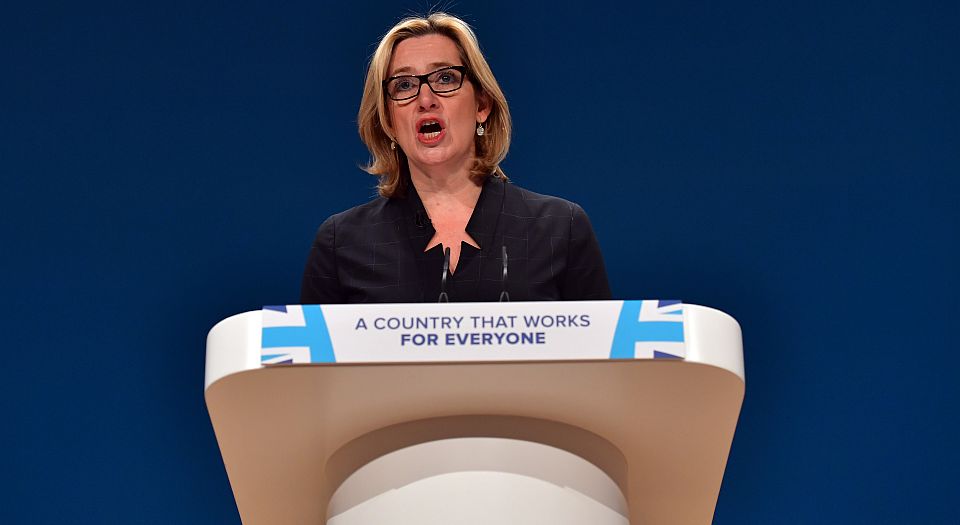 Amber Rudd's notorious party conference speech – in which she floated the idea of employers reporting on the number of foreign and British-born people they employ – has been recorded by the police as a 'hate incident', a new lesser category of hate crime that Rudd herself helped to introduce in July last year. In her desperation to prove she was taking post-Brexit hate crime seriously, she has effectively criminalised herself.
The complaint was made by Joshua Silver, a physics professor at Oxford, who told Andrew Neil in a laugh-a-minute Daily Politics interview that Rudd's speech was 'picking on foreigners' – although he admitted to having only read a draft. Silver's now getting a well-earned rinsing. But he's not alone in seeing Rudd's speech as criminal. At the time, some liberal commentators were literally comparing Rudd's speech to Mein Kampf.
If you care about people's freedom to move, strive and settle wherever they please, Rudd's speech was nothing to celebrate. But it was painfully mainstream, even plagiaristic. As we pointed out on spiked at the time, she stole most of her ideas from Ed Miliband and Gordon Brown. When Brown called for 'British jobs' in 2007, was that a hate incident, too? Did commentators line up to present it as something straight out of Nuremberg? Of course they didn't.
But far more worrying is the legal framework that allowed Silver's complaint to go so far. Rudd's speech will now be recorded in official statistics as a 'non-crime hate incident'. A hate incident is defined as 'any incident which the victim, or anyone else, thinks is based on someone's prejudice towards them' relating to protected characteristics, and must be recorded 'regardless of whether or not they are the victim, and irrespective of whether there is any evidence to identify the hate element'.
Hate crime has always been an Orwellian idea. If someone attacks someone, they shouldn't be criminalised for what they were thinking while they were doing it. It pushes us into the realm of thoughtcrime. But what this case shows is that hate crime has become even more insidious, it has lapsed into policing mere speech, or in this case a speech, that isn't criminal in any real way – even under existing hate-speech law. Though they may never make it to court, any allegation – no matter how specious or ridiculous – must be recorded.
We already live under a tyranny of hate-speech and malicious-communications laws, through which people have been criminalised for wearing offensive t-shirts, getting their dogs to do Nazi salutes and preaching fire and brimstone from their own pulpits. The recording of so-called hate incidents will chill discussion further. It will make politicians watch their words and feed the particularly febrile climate that has been whipped up by reeling Remainers post-Brexit.
The much-quoted police statistics, denoting a 'spike' in hate crime after the vote, conflated both hate crime and hate incidents. This has been cynically exploited to explode the problem of racism, demonise Leave voters and delegitimise the vote. What could, for all we know, be largely uninvestigated 'hate incidents' – like that 'committed' by Rudd – are being used to imply that Brexit triggered a slew of racist attacks. It's horrendous and divisive: migrant communities are being told on a daily basis that their white neighbours are out to get them.
But, again, you have to look at who's really responsible. It wasn't a cabal of Remainer Guardian journalists who laid down the groundwork for this panic, who over decades have sleepwalked into this Salem-like situation, where an allegation is enough and words are equated with actions – it's our own government. It was people like Rudd, who are now themselves being bitten. There's a kind of justice in that. But for those of us who believe in a free society, that's not much comfort.
Tom Slater is deputy editor at spiked. Follow him on Twitter: @Tom_Slater_
To enquire about republishing spiked's content, a right to reply or to request a correction, please contact the managing editor, Viv Regan.