Brexit: the wheel upon which Labour will be broken?
Labour is terrified of working people 'taking back control'.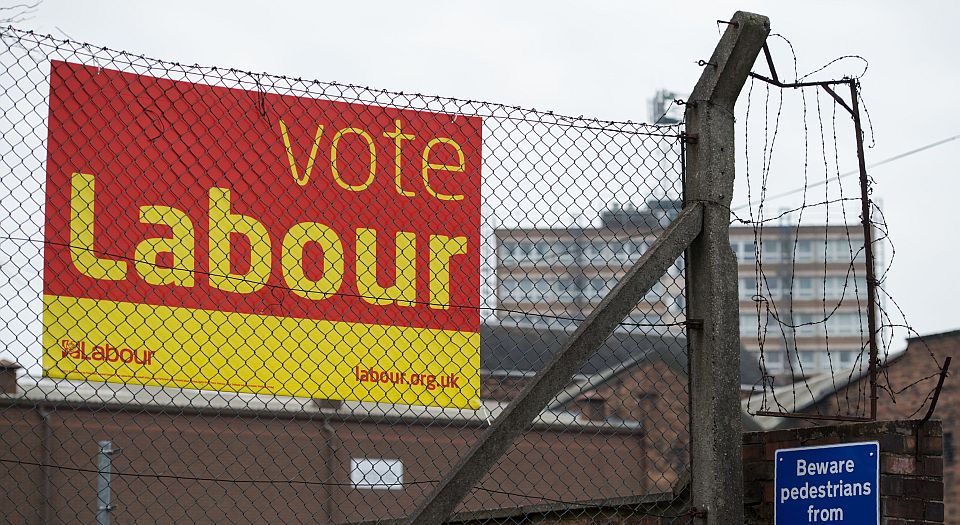 If you needed more proof that Labour is no longer the party of those who labour, the latest polls should set you straight. According to a YouGov poll for The Times, Labour is now down to 24 per cent nationally, 16 points behind the Conservatives. Most striking of all, it has just 20 per cent of working-class support. Even with a healthy dose of scepticism about the pollsters – who, at the last election, were accused of exaggerating Labour support – this makes for stark reading. Labour is now third among working people, with UKIP edging into second place.
With two decisive by-elections next week, this is bad news for Jeremy Corbyn's party. The Copeland and Stoke Central by-elections were sparked when their respective MPs, Jamie Reed and Tristram Hunt, stepped down because they'd found something better to do with their time – Reed has a new job at the nearby Sellafield nuclear plant and Hunt has become director of the V&A museum in London. Both constituencies have been Labour strongholds since 1935, sources of old-fashioned blue-collar support, rich in the sort of traditional Labour voters the party is desperate to reconnect with. But both are vulnerable.
In Copeland, Labour has a majority of a few thousand. The Conservatives are now the bookies' favourites, and Theresa May is even going up to campaign in the Cumbrian seat, knowing that the Tories might just do the unthinkable and become the first party to gain a seat while in government for 35 years. With Sellafield a huge local employer, Corbyn's anti-nuclear stance isn't going down well on the doorstep. And while Sellafield workers were recently in conflict with the government over cuts to their pension scheme, strikes have been called off after talks, putting the wind at the Tories' backs.
Stoke, meanwhile, was held by Hunt at the 2015 General Election with the lowest turnout in the country – his piddly mandate the epitome of Labour's safe-seat complacency. UKIP edged into second in 2015 and the constituency backed Brexit by a huge margin. Now that Stoke's only resident called Tristram has departed, UKIP could cause an upset. Putting aside UKIP leader Paul Nuttall's gaffes over whether or not he's ever been to his Stoke residence and whether or not he was actually at the Hillsborough disaster, as his website claims, Labour's pick, in the form of sneering, Remain-backing tweeter Gareth Snell, could prove even more suicidal.
The blame for Labour's woes has been laid solely at the sandals of Corbyn. Battered by his MPs' revolt on Article 50 and charged with either being a 1970s dinosaur, an Islington elitist, or both, Corbyn is now incapable of holding the support of his own party allies, let alone Labour's old working-class base. The PLP is not so much plotting a coup as 'succession planning' in plain sight. Over the weekend, Labour's new campaign chief casually told the BBC there were plenty of leaders ready to replace Jezza when he decides to step down. And the party is focus-grouping potential left-wing successors.
To say this is short-sighted is a profound understatement. The idea that the downbeat Corbyn has single-handedly brought down this historic party gives him too much credit. The idea that there are two Labour parties – those wedded to the workers of old and a new metropolitan set, completely cut off from ordinary people's interests – has become a political cliché. But Labour is better understood as one metropolitan elitist party, fighting with itself as it desperately tries to cling on to its old support. For all the inter-faction spats about Trident, Syria and after-work drinks, Labour has long become a middle-class party united by its fear and loathing of the masses.
Brexit has made this brutally clear. Support for the EU cuts across the party. And whether or not the seasoned Eurosceptic Corbyn actually voted Leave on 23 June, his decision to plug Remain, while refusing to budge on other decades-old positions, tells us something about his attitude towards what Brexit really means. From Corbyn down, the Labour Party is profoundly suspicious of ordinary people. That's why Brexit so sticks in its craw. The one thing the Vote Leave campaign got right was its slogan, 'Take back control'. That's what Brexit meant to the working people who voted for it, and that's what Labourites so fear.
For all the talk about the Brexit vote being a howl of the 'left behind', the demand for self-determination was always clear. As the Ashcroft polls pointed out the day after the referendum, the No1 reason people voted Brexit was 'the principle that decisions about the UK should be taken in the UK'. The idea that working-class voters were duped by Leave campaigners peddling utopia also doesn't stack up. Labour MP Lisa Nandy says she had a 'Brexit epiphany' when voters at a meeting in Sunderland told her, 'We know that [voting Leave] might cost us… and we're going to do it anyway'.
Labour's drift away from Euroscepticism and into the cool embrace of Brussels was an expression of its own distance from voters. At a time when the EU promised social reform, Labourites began to see it as a path to change without having to bother with the fickle, selfish electorate. And the growing distance between Labour and ordinary people meant it clung on to the EU even as it betrayed the principles it had ascribed to it, symbolised most powerfully in its crushing of the Greek working class. But their attachment to Brussels, and their rage against Brexit, also expresses a sentiment among Labourites more deeply felt, more profound, that unites the entire party.
Labour has never been as radical as people make out. Even Attlee's vaunted postwar government, which founded the welfare state, was an explicit attempt to rehabilitate capitalism and stave off class conflict. But over the past 30 years the party has turned its attention from intervening in the economy to intervening in our private lives. The New Labour years entrenched welfarism and the nanny state. Working people were treated not like thinking, self-determining beings but blobs to be shaped, hectored about health, and plied with parenting classes. And for all Corybn's Commons rebellions, on these issues he was singing from the same hymn sheet.
That Labour's only response to the Tories today is to harp on about 'our NHS' also speaks to its hostility to working-class autonomy. The 'cradle to grave' welfare state remains so important because Labourites today think of the public as charges rather than citizens. And when you think of the public as either children or rubes you inevitably end up talking to them as such. Whether its shadow foreign secretary Emily Thornberry telling Brexit voters they didn't know what they were voting for or Corbyn cheerleader Paul Mason calling UKIP voters 'toe rags' who would 'nick your bike', they now barely try to hide their fear and loathing of ordinary people.
Brexit just might be the wheel on which Labour is broken, and not just because the party took a different view. Corbyn's decision not to block Brexit was the right one, morally and pragmatically, but his commitment to defend the public from the excesses of a 'Tory Brexit' shows he still doesn't understand the meaning of Brexit. The Brexit vote was a blow for autonomy, for self-determination, a decision to strike out for popular sovereignty, even if it meant job losses in Sunderland and political chaos in the meantime. Even if Labour had a pro-Brexit rebrand, it can't handle that steely, self-confident sentiment.
Let's see whether Labour can hold on to Copeland and Stoke. But whatever way the votes go next week, Labour is no longer the party of working people. No one can save it. And that's a good thing. It's high time the party snuffed it for good, so that something truly progressive, something that gives expression to the will of ordinary people, might emerge in its place. Don't mourn when it dies.
Tom Slater is deputy editor at spiked. Follow him on Twitter: @Tom_Slater_
Picture by: Getty
To enquire about republishing spiked's content, a right to reply or to request a correction, please contact the managing editor, Viv Regan.