Return to The Cherry Orchard
Chekhov's play on the 100th anniversary of the Russian Revolution.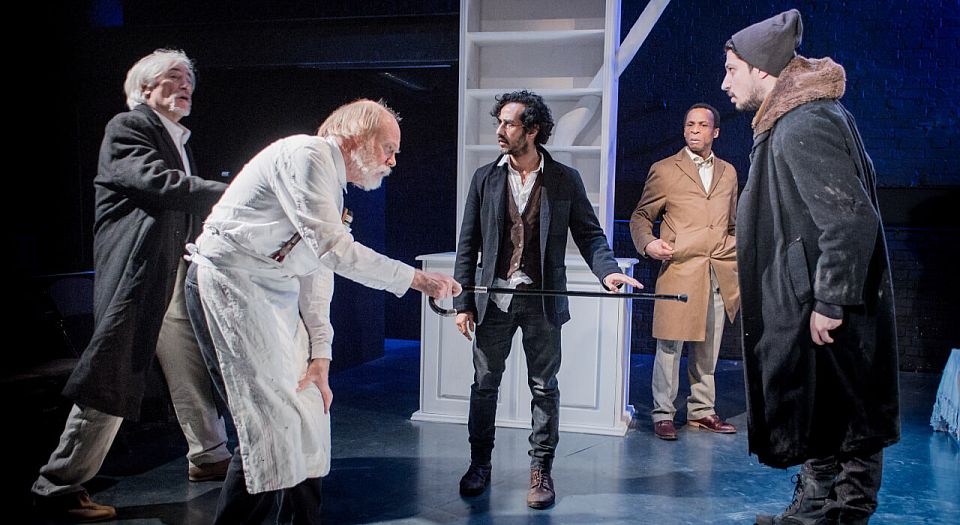 Revolution is as much in the mind as it is on the streets. That was the great (albeit unconscious) insight of Anton Chekhov's last play, The Cherry Orchard, about a family of Russian aristocrats displaced from their beloved country home. It's also why the play makes a fine centrepiece in the season of plays at Dalston's Arcola Theatre commemorating the centenary of the Russian Revolution.
Although the play was first performed in 1904, social and political pressure had been building long before the big revolution of 1917. The failed revolution of 1905, a year after the play premiered, was a bloody and pyrrhic victory for the tsar. The writing was on the wall and left most Russians in a chronic state of insecurity.
The orchard in Chekhov's play represented Russia in its idealised form. Its fate was for it to be hacked down and leased out. The spendthrift owners of the orchard have been resident in Paris and are bought out by one of their freed serfs who has gone on to become a businessman. The substance of the play is therefore changing social mores, class struggle and intergenerational conflict. But at the very centre of the play Chekhov identifies the pain of all the characters' attachment to their old way of being.
The beauty of Mehmet Ergen's bold and direct new production, using playwright Trevor Griffith's lean, idiomatic version from 1978, is that it captures the comedy and tragedy of the characters and their acute sense of dislocation. Performed with pace and pathos, it offers a portrait of a society united by the self-estrangement of its people, chiming subtly with today's changing world.
Often presented as a deeply nostalgic drama yearning to recover how things once were, it is clear from Iona McLeish's Spartan design that this is not an option. With a metal floor and sparse ghostly white furniture under a leafless white tree, the house is already a lost memory. This is not a place where it's possible to remain.
The show's greatest strength, however, is its acting. Casting a black actor, Jude Akuwudike, as the businessman Lopakhin who buys the estate for development is a canny move. Not only does it connect Russian serfdom to the Western slave trade – it also heightens the conflict between Lopakhin and his former white masters, at the same time keying into the social mobility of a globalised world. Cut off from the airs and graces of his former masters, this Lopakhin is also estranged from their classical couture by his Oswald Boateng tailoring. In his triumph taking over the estate, he's as lost as the aristocrats he has supplanted.
The play's centre of gravity is the fabulous Sian Thomas as the high-maintenance Madame Ranevsky. She is the joint owner of the house who some years before lost her six-year-old son in the river. She identifies a surprising resilience in a character often presented as unstable and delusional. She provides a still centre to the play and scythes down anyone who dares challenge her grief, interfere with her fantasies, or scoff at her status.
It's a performance that also frees those around her to dig into their own solitude. Jack Klaff as her nervy, haunted brother Leon is a big endangered Russian bear holding himself together by forever taking shots in an imaginary billiard game. And as Madame Ranevsky's daughters, Pernille Borch is a sweet, idealistic 17-year-old virgin not yet crushed by experience, while Jade Williams as her nunnish sister is a never-to-be-plucked virgin maddened by unrequited love for Akuwudike's tongue-tied Lopakhin.
Abhin Galeya as the former tutor and eternal student makes virtue of his sense of alienation through sneering disavowals of their historical significance. Yorkshireman Jim Bywater, meanwhile, gives a Vaudevillian turn as an elderly local landowner in need of a loan to pay off another loan. In his harmless eccentricity we see something that is true of all the other characters, too: it's all just an act, a means of clinging on to what shreds of sanity you can find in a disintegrating world. Revolutions are never pain-free.
Patrick Marmion is a playwright, journalist and associate lecturer at the University of Kent. He is currently adapting Will Self's Great Apes for the stage.
The Cherry Orchard is at the Arcola Theatre in Dalston, London, until 25 March.
To enquire about republishing spiked's content, a right to reply or to request a correction, please contact the managing editor, Viv Regan.