Maybe we should scrap the NHS and start again
Our healthcare system isn't working – we need new ideas.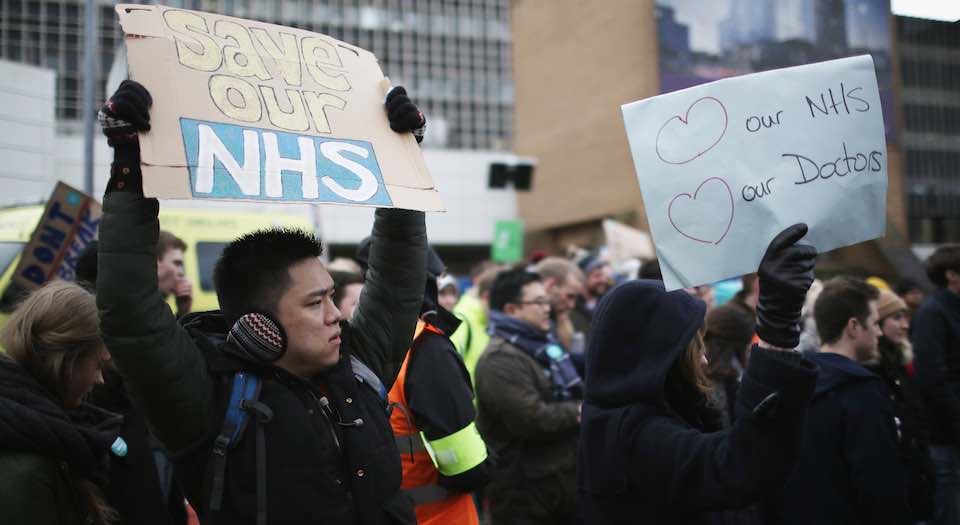 When the Leave campaign backpedalled on claims it made during the EU referendum, particularly the claim that leaving the EU would free up £350million a week for the NHS, there was outrage. As accident and emergency (A&E) services struggled once more to cope with demand this winter, there was even more controversy: the Red Cross declared the state of Britain's health service a 'humanitarian crisis'.
The NHS is seemingly in constant crisis. Patients are left on trolleys to massage waiting times. Hospitals are dangerously overcrowded. Trusts are running up deficits approaching a billion pounds this year. Then there's the crises in recruiting nurses and paramedics, the problem of burnt-out anaesthetists, overburdened GPs and striking junior doctors.
Why is the NHS crisis, much like the housing crisis, so apparently intractable? Part of the problem is that, for all the hot air, the debate rarely moves beyond funding. Funding is not unimportant. Crisis or no crisis, paying for a healthcare system is always going to be expensive. This is not primarily because the NHS is badly run (although that is true), or even because of the demands of an ageing population (though that also has a part to play). As national prosperity rises, and as new, life-saving treatments and technologies are made available, costs inevitably rise. It should go without saying that this is no bad thing. If we want to live longer, healthier lives, our healthcare cannot be bought on the cheap. However, we must recognise that there's more going on here than funding problems.
Unfortunately, the health secretary, Jeremy Hunt, is avoiding the bigger issues. His battle against 'health tourism' is a case in point. Requiring GPs to inquire into the residency status of their patients (a move initially described by the British Medical Association as an attempt to turn GPs into 'border guards') is counter to the ethics of good health practice. It doesn't even make financial sense. The amount that could be potentially recovered is trivial – no more than hundreds of millions, compared with the billions the health service needs to get back on its feet. Then there's the adult social-care crisis, which is also the responsibility of the Department of Health. Local authorities have faced large cuts to their budgets in recent years, and are now struggling to provide even the most basic care to their older populations.
The chair of the Health Select Committee, Sarah Wollaston, recently called for an all-party group to review how tax and national insurance could be used to raise funds. She wants us to move closer to what our European neighbours pay for their health services as a proportion of GDP. But should we really just be throwing more money at an evidently failing system? If we can land a satellite on a comet, surely it's not beyond the wit of man to do something about the relatively mundane problem of bed-blocking?
Clearly, money isn't everything. The National Audit Office reported this month that the Better Care Fund, a pot of government money (£5.3 billion in 2015-16) aimed at solving problems like bed-blocking, has made little difference. A lack of policy direction from government, the pressures placed on the system and the squeeze on funding are proving too much of a distraction for local services. Attempts to join up provision have largely failed. While there has been some success in keeping older people out of hospital and residential care for longer, the Better Care Fund hasn't stemmed the flow of patients into the system.
Emergency admissions into, and delayed discharge out of, hospitals have actually gone up. A combination of 'misaligned financial incentives, workforce challenges and reticence over information sharing' has got in the way of progress. Older people, who are medically fit to go home, are unable to do so and are instead stuck for hours, days and even weeks in desperately needed beds. This is not the fault of under-funding. There is no correlation between the two, according to health think-tank the King's Fund. It points to historic under-investment in community-based care, leading to an overreliance on hospitals and a lack of support at home that could prevent or delay people needing acute care in the first place.
The political elite, having divested itself of any responsibility for delivering a decent health service, has instead busied itself with turning the NHS into a vehicle for its moralising and therapeutic tendencies. A recent study based on interviews with GPs, funded by Cancer Research UK, concludes that people (particularly young people) need to be frightened into changing their lifestyles. They should be engaged in schools and supermarkets and enticed into 'cancer booths'. Then there are the high-profile mental-health campaigns (backed by the prime minister and the young royals), telling a large minority of us that we're probably mentally ill. But is any of this 'awareness-raising' really going to save money, lives or the NHS? A much more likely outcome is that it will further clog up GP waiting rooms and put even more pressure on A&E services.
We need a more wide-ranging discussion about the NHS – one which moves beyond money. But in order to do that we need to jettison the officially cherished status of the NHS, which was so underlined by the significance attached to it by both sides during the EU referendum. Failing to do this will make it more difficult to have a rational debate about what should be done. Despite the establishment love-in for it, it should be clear by now that the NHS and the wider health and social-care system is hopelessly complex and dysfunctional. Tory peer Lord Saatchi called for a royal commission to avoid having a political debate about it, so 'toxic' is the mere suggestion that the NHS (which turns 70 next year) be given what he calls a 'full body check-up'.
The Guardian's 'health network', in a recent, somewhat presumptive Valentines-themed address to its readers, asked: 'Why do you love the NHS?' And, in case readers were in any doubt, they were reminded: 'For all its problems – an overstretched workforce, increasing waiting times, bureaucracy, poor IT – the health service remains a national treasure.' In an Ipsos MORI poll last month, 49 per cent of respondents described the NHS as a big issue, more than any other – with Brexit coming second at 41 per cent. Whether or not Brits are fond of the NHS, we're certainly worried about the state of it.
Can the NHS be reformed? Or is major surgery required if it is to make a full recovery? We need to come up with much more radical reform than is currently being proposed. And if that doesn't work, instead of accepting the somewhat back-to-front NHS version of TINA – in which we are told that there is no alternative to a welfare-state-era model of provision frankly unfit for the 21st century – we need to replace the NHS with something better.
According to Benedict Spence, writing in the Independent, 'pretty much all of our European counterparts have a universal and in many cases much better healthcare system than the UK – and, horror of horrors, most European healthcare is what we would call "privatised"'. The UK is unusual among developing nations, he says, whose often social-insurance-based systems often perform better than ours (for example, in cancer survival rates). And yet, the defenders of the NHS remain 'aggressively insular'.
Whether or not we think healthcare is better on the continent, and whether or not we think the NHS should be privatised, is one matter. I myself would favour a fully integrated state-led system of health and social-care provision, rather than fragmenting it further. But Spence is right about the prevailing defensiveness about even having a debate about how the NHS compares to the health services of other countries. This is ironic, when you consider that the most forthright, inward-looking defenders of the NHS against foreign ways have spent the past six months abusing 'Little Englanders' for their supposed anti-Europeanism.
We need to move beyond this sentimental attachment to the NHS. Only then can we have an open debate about building a public service that can meet our collective health and social-care needs – and about how much we are willing to invest in it. The critics are not wrong to demand more money, but if we are to avoid perpetually wasting it on a model of provision that is no longer fit for purpose, we must embrace change.
Dave Clements is a writer, public servant and convenor of the Institute of Ideas Social Policy Forum
Picture by: Getty Images.
To enquire about republishing spiked's content, a right to reply or to request a correction, please contact the managing editor, Viv Regan.