We need big, bold economic thinking in the Brexit era
People want change, but politicians are wedded to the status quo.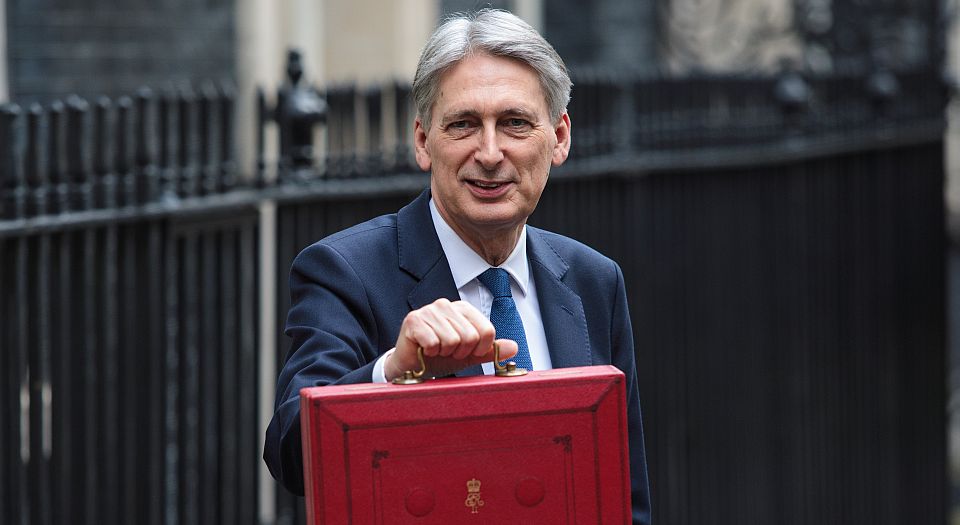 It was predicted that UK chancellor Philip Hammond's final spring Budget would be low-key and short on exciting announcements. Cautious and careful was the expectation. Leaving aside for a moment the row over tax increases for the self-employed, these expectations were broadly met. But that doesn't mean the Budget was an insignificant event.
The Budget provided a revealing insight into the current state of politics. There has been much talk from government figures of boldness and 'doing things differently' since last year's Brexit vote. However, the content and approach of Hammond's Budget showed how difficult it is for politicians schooled in our technocratic age to make a break from its pro-status-quo, change-resistant mode.
The people's vote against the European Union last June signified a popular desire for change and a break from the past. Since then, Hammond and other members of Theresa May's government have been claiming that they will respond to the public's voice and will operate in new ways. Hence the mantra of 'working for the many and not the few', and the promise of a 'modern' industrial strategy to build a stronger economy that works for everyone.
The spring Budget showed how hollow those sentiments still are. In his statement, Hammond recognised that productivity, the amount produced by workers over a period of time, is 'stubbornly low'. Yet no new funds were committed to addressing this problem. Even when the Office for Budget Responsibility forecast unanticipated extra resources this year, with over £13 billion less borrowing in the coming year than previously anticipated, caution and risk-aversion reigned. In this respect, little has changed from the time before the 23 June vote.
This spare borrowing could have been an easy way to undertake some extra government-funded activity that would at least start to make a positive difference to productivity growth. Hammond could have announced an expansion in areas like research and development, government-financed venture capital, and other financial support for business investment in new technologies. That would have had a semblance of the boldness he invoked in his pre-Budget Sunday Times article. Instead 'Spreadsheet Phil' parked the money in a reserve fund for extra 'headroom' in case of troubles ahead.
The failure to commit more to promoting economic growth was made more poignant by the fact that Hammond made at least three sensible points in the run-up to the Budget. In his Sunday Times piece he warned correctly that recent economic growth was no grounds for 'complacency' about the strength of the underlying economy. Illustrating this truth, he went on to identify that 'tackling Britain's productivity challenge' is key to creating a better society. And thirdly, he said leaving the EU is an opportunity to do something about these economic weaknesses and embark on 'a new chapter in our history'. Unfortunately, all these valid statements fell on deaf ears: his own deaf ears.
When it comes to the state of the economy, Hammond is the complacent one. In the Budget statement he talked about the economy's 'strong base'. He highlighted that 'employment is at a record high', with unemployment at an 11-year low. No mention was made of the fact that much recent employment growth has been in low-paid, insecure jobs: a jobs-rich, pay-poor recovery. No mention that under-employment – people who want to work longer but are unable to find those jobs – has been expanding faster than unemployment has fallen.
Hammond also reported that 'real wages have grown for 27 straight months'. That's about two years in old currency, not unusual by previous standards. More significantly, no mention was made of the fact that, despite this, most households have seen little material recovery in their real incomes since before the financial crash. No mention that the respected Institute for Fiscal Studies last week claimed Britain is in the midst of the weakest growth in living standards in at least 60 years, and that incomes for the average family are not expected to grow at all over the next two years.
Hammond boasted that, last year, 'the British economy grew faster than the United States, faster than Japan, faster than France'. No mention that this far-from-stellar 1.8 per cent expansion in economic output in 2016 was driven primarily by debt-funded consumption, which cannot be relied on forever, or even for much longer. No mention that business investment – the necessary underpinning of any durable economic growth – contracted last year. In fact, UK business investment fell for each of the last four quarters compared with the same quarter a year earlier.
The annual decrease last year totalled 1.5 per cent, caused, according to the Office for National Statistics, by across-the-board weakness in buildings and structures, in information and communication technology equipment, and in other machinery and equipment. Overall, gross UK investment – adding government investment and housing construction to business investment – had its slowest increase last year of any year since 2009. The result is that total investment spending over the year remained lower in real terms than it had been in 2007. Ignoring a decade of investment going nowhere as being consistent with 'keeping Britain at the cutting edge of the global economy' stretches complacency into delusion.
If you accept, as Hammond says he does, that productivity growth is vital for delivering prosperity for all, and that there is a need to revive productivity growth, why delay? Hammond's explanation brings out the continued dominance of his inner technocrat, and the inner technocrats of the rest of the cabinet who endorsed this Budget. In the technocratic imagination, eliminating the budget deficit remains paramount.
When government economic policies become all about managing the economy for stability, while balancing the Treasury's books, then caution will always trump a pro-expansionary set of economic and industrial policies.
Adhering to the self-imposed book-balancing guideline that all additional spending decisions will have to be funded by additional revenues, as reiterated by Hammond in his statement, is a recipe for continued restraint. Those 'bold' policies to 'focus relentlessly' on Britain's productivity shortfall will always recede into the distant future. The former mandarin, Nicholas Macpherson, permanent secretary to the Treasury from 2005 until last year, admitted as much last week. This experienced civil servant who served chancellors Gordon Brown, Alistair Darling and George Osborne declared that 'in the end there is only one certainty about Budgets': 'The promised land is always four years away.'
Following the rules of managerial bean-counting also gets you into the sort of mess Hammond is now experiencing over his tax rises on the self-employed. Such Budget rows are not new of course. We saw them under Osborne and other chancellors. If one's key focus is to eliminate the deficit, or at the very least not to let it grow, then extra spending in one area necessitates cuts or revenue increases somewhere else. Such awkward dilemmas are not an inevitability of government – they are an inevitability of the technocratic form of governance that has expanded over the past 30 years. Such governance fatalistically accepts the size of the economic cake as being determined for you, rather than being something you can help to expand.
Rather than acting to grow the economy to justify further necessary or useful spending decisions, the Budget process has become a zero sum game. More here means less there. In this instance, a bit more spending on business-rates relief and social care means less take-home income for almost two million of the self-employed. Many of these are hard-pressed members of the new gig economy.
The Budget has also exposed the conflicts between promises made in technocratic election manifestos. Politicians should not be casual or dismissive when they break manifesto promises, as Hammond and his team have been. Sometimes, of course, circumstances change and governments must respond accordingly. If this leads to reneging on a manifesto pledge, then our leaders should openly explain this. Then people can include this information in their judgement at the next election.
The problem for Hammond is that the only changed circumstance he could reasonably appeal to is that the economy isn't growing as fast as they complacently assumed it would back in 2015. But pointing this out risks opening up a much bigger public discussion about the underlying state of the economy, and having such a discussion is anathema to governments in our technocratic age. It suggests the potential of there being some better alternative, which government should help to bring about.
We're back with the government's core dilemma. How can it respond to people's aspirations for something different, signified by the referendum vote, when it remains attached to the fatalism of our post-political age of TINA: 'There Is No Alternative'? This tension will not go away, not least while Brexit remains at the top of the political agenda.
Some commentators were surprised that Hammond did not talk more in the Budget statement about his fears of Brexit uncertainties. He did not need to. He and his colleagues have done enough of this already since last June. Brexit loomed large over this Budget as the main justification for caution. Our technocratic politicians now use Brexit as an excuse for caution and inactivity.
Brexit's direct economic consequences have been exaggerated. But when the government fails to take seriously Britain's appalling levels of productivity, and to do something about them, then the misconception that Brexit is the cause of economic problems can become a self-fulfilling prophecy. Without a serious government-led shake-up, the economy is more likely than not to continue bumping along in low-growth mode. This would happen regardless of what kind of economic and trading arrangements spring from exiting the EU. Hammond's third correct pre-Budget insight – that leaving the EU could be an economic opportunity for positive change – is so far being clouded by his risk-averse, safety-first approach.
Phil Mullan's new book, Creative Destruction: How to Start an Economic Renaissance, will be published by Policy Press on 29 March 2017.
Picture by: Getty Images.
To enquire about republishing spiked's content, a right to reply or to request a correction, please contact the managing editor, Viv Regan.