Blaming Turkey for Germany's problems
The bans on Turkish politicians reveal the illiberalism of the German state.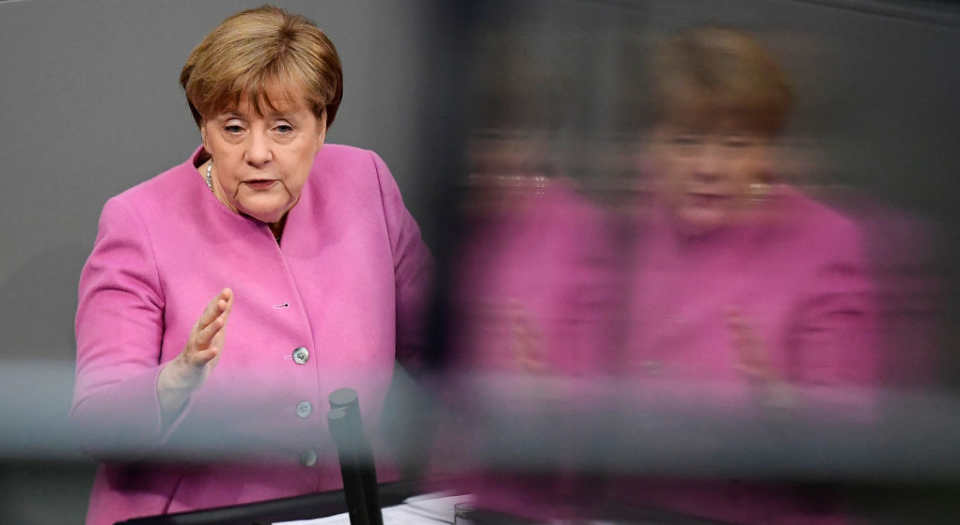 German-Turkish relations have soured over the past few weeks, after several Turkish politicians were banned from speaking in Germany. First, Turkey's justice minister, Bekir Bozdag, was prevented from speaking in the small southern town of Gaggenau. A day later, Turkey's economy minister, Nihat Zeybekci, was stopped from speaking at two events near Cologne. And, last week, Turkey's foreign minister, Mevlut Cavusoglu, was stopped from speaking at a meeting in Hamburg. The aborted events were part of a campaign organised by the Union of European-Turkish Democrats, a pro-Justice and Development Party (AKP) pressure group, to win support for Turkish president Recep Tayyip Erdogan's constitutional reforms, which will be put to a referendum this April. In response, Erdogan has protested the bans, likening the German state's actions to those of the Nazis.
The bans may have been imposed by local municipalities, ostensibly on technical grounds such as a lack of parking spaces, but it has quickly become clear that they were politically motivated. The bans also indicate the German government's difficult relationship with Erdogan's Turkey. On the one hand, the German chancellor Angela Merkel is combative: before the Bozdag ban, she demanded the release of the German-Turkish Die Welt journalist, Deniz Yücel, who was arrested in February as part of Turkey's clampdown on the press. Yet, on the other hand, Merkel is reluctant to embroil the government in a diplomatic conflict with Turkey. Hence she claimed that the speaking bans were implemented at a local, rather than central-government, level.
This is hardly convincing. What would people have said if in 2008 then US presidential candidate Barack Obama had been stopped from speaking at the Brandenburg Gate because of possible security risks? They would have been incredulous. Merkel's attempt to blame the local judiciary for the Turkish-minister bans was a desperate exercise in avoiding responsibility.
Erdogan's decision to compare Germany's actions to those of the Nazis merely inflamed matters. Aftewards, Dietmar Bartsch, head of the left-wing party Die Linke, even demanded joint EU action against Turkey.
But all this only proved a further distraction from the real issues at play, issues that go much deeper than the current contretemps. And these issues pertain to the state of politics in Germany, not Turkey.
For a start, the banning of political events organised by immigrant groups is not new. Last summer, after the failed coup in Turkey, a German court stopped Erdogan from addressing supporters via video link at a rally in Cologne. Then as now, the decision was motivated by officialdom's fear that tensions in Turkey might spread to Germany.
But what is more worrying for Germany's rulers is the fact that many German Turks are still very sympathetic to Erdogan and the Turkish government. German liberal commentators are disturbed and perplexed. How can so many of Germany's 1.4million Turks support Erdogan? Why do German Turks, who were born and raised here, wave the red flag with the white star and crescent at AKP rallies? Why is it that hundreds of young headscarf-wearing German-Turkish women attend these events?
But rather than confront these difficult questions, Germany's political and cultural elite is far happier to blame Turkey. According to this narrative, it is Erdogan and the ruling AKP who are stirring up Germany's Turkish community. 'This is about disturbing the democratic consensus in Germany', writes Brigitte Fehrle in the Berliner Zeitung.
But blaming Erdogan and Turkey for Germany's restive Turkish population is too simple. German state policies have played a far more important role in the relative isolation of Turks from mainstream German society. The reasons for this are many, from Germany's strict citizenship laws (which were only relaxed in the early 2000s) to the multiculturalist promotion of diversity and difference, which has divided, rather than united, German society. This is why it's disingenuous to blame Erdogan for estranging Turks from the German mainstream. The German state has done a good job of that by itself.
Moreover, bans have long been the German government's default policy for dealing with immigrant communities, and the supposed 'extremist threat' they pose. Take, for example, the most common target of government prohibition: Germany's one million Kurds. In the late-1980s to mid-1990s, after a series of attacks against Turkish institutions, German police arrested, tried and convicted Kurdish activists. For many Kurds, this was 'the first sign that Germany would ally with Turkey on this matter and they had to struggle with both states on German soil', one report states. Since the 1990s, the PKK (Kurdish Workers' Party) has been banned and officially listed as a terrorist group.
As a result, when Turkish politicians complained last autumn that Germany wasn't doing enough to fight Kurdish terrorism, German interior minister Thomas de Maizière went out of his way to reassure them: 'We are open and ready to cooperate with Turkey on this issue.' Indeed, as Der Tagesspiegel reports, nowhere in Western Europe are Kurds as repressed as in Germany. And it's not just the PKK that's banned; the logo of the YPG (the Syrian-Kurdish organisation currently fighting ISIS) is banned, too. In November last year, police arrested protesters at an anti-Erdogan rally in Cologne for displaying forbidden symbols. Other opposition groups, such as Turkish Alevis, have also felt the wrath of the German state.
Some newspapers have rightly criticised the authoritarian and evasive nature of Germany's bans on Turkish ministers, which, if anything, have benefitted Erdogan. But, sadly, the bans on countless other organisations, which are not backed by the powerful Turkish state, have gone unnoticed for far too long.
The problem for the German government is that it likes to present itself as open and tolerant, yet it resorts to illiberal measures when it wishes to avoid conflict. Some Germans even seem to agree with the speech bans, as a way of showing their virtue. Green Party leader Cem Özdemir, for example, has consistently demanded bans on Erdogan's ministers because of the intolerance of the Turkish state. Others support the bans as a way of stopping foreign struggles being fought within Germany. Yet, while no one wants street fighting, banning community political groups will only intensify immigrants' feelings of estrangement, anger and cynicism.
The German authorities are clearly afraid of their own citizens. They fear both unrest among immigrant groups and the backlash this might provoke from anti-immigrant groups such as PEGIDA. But authoritarian bans only create the illusion of security – and they compromise our most important liberal values.
Merkel may have said that, in principle, Turkish politicians have the right to speak. But by not acting on these principles, she appears hypocritical. All of which allows Erdogan to take the moral high ground. 'You will lecture us about democracy', he said last week, 'and then you will not let this country's ministers speak there'. That the leader of a state as repressive as Turkey's can strike this pose shows the mess in which the German state now finds itself.
Sabine Beppler-Spahl is head of the board of the liberal thinktank Freiblickinstitut e.V., which has published the Freedom Manifesto. She is also the organiser of the Berlin Salon.
Picture by: Getty Images.
To enquire about republishing spiked's content, a right to reply or to request a correction, please contact the managing editor, Viv Regan.