Cries of 'victim-blaming' are silencing debate
There is a difference between blame and responsibility.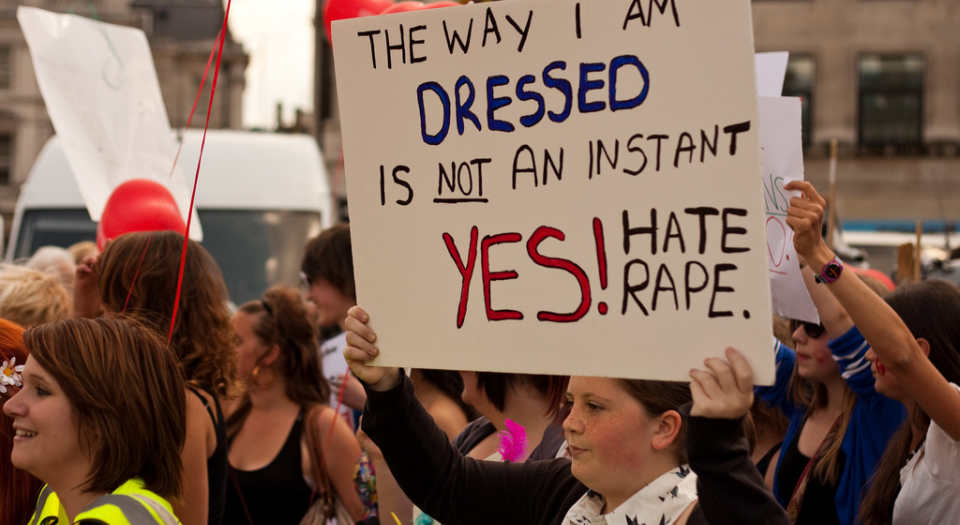 A UK judge has been criticised for comments she made about rape. Lindsey Kushner QC said women were entitled to 'drink themselves into the ground', but that their 'disinhibited behaviour' could put them at greater risk of being attacked.
Kushner's comments were met with a sharp response from Vera Baird, the Northumbria Police and Crime Commissioner, who said that the remarks would stop victims from speaking out. Baird told BBC Radio 4's Today programme that victims of rape 'feel guilt and shame and… find it very hard to report [a rape]'. Baird said that Kushner's remarks 'looked a lot like victim-blaming'.
Some will rightly criticise Kushner for making the remarks when she did – while sentencing a man for what appeared to be a horrendous rape on a canal path, in which the complainant was heard screaming for her attacker to stop. It was not the time to lecture a young woman on her drinking habits.
But Kushner is not the only one to have been accused of victim-blaming in recent weeks. Journalist Angela Epstein caused outrage by arguing that women should help prevent rape by 'thinking about what they wear'. 'Blame is a difficult word', Epstein said during a TV interview, but 'one [holds] a level of personal responsibility if you put yourself in a situation where that element of vulnerability might be heightened'.
Neither Kushner's nor Epstein's comments are especially enlightening. Evidence shows that what you wear or how drunk you are makes little or no difference to your chances of being raped. We also know that approximately 90 per cent of sex attacks are committed by people known to the complainant.
However, it is not helpful to slam individuals just for expressing an opinion, no matter how ill-informed, on the issue of rape. And it is not right to suggest that these statements are making women think twice about coming forward.
For a start, we should remember that the reporting rate for rape and sexual offences more than doubled between 2012 and 2016, from 10,160 reported incidents in 2011/12 to 23,851 in 2015/16. Of course, sex attacks still go unreported, but more and more women are coming forward. There is little evidence to suggest that comments about personal responsibility are putting people off reporting rapes.
The criminal justice system is also more aware of the risks of victim-blaming than ever before. Judges now deliver a tailored direction to juries that encourages jurors to ignore certain 'rape myths' about how victims behave after an attack. And the Crown Prosecution Service (CPS) has issued guidelines instructing its lawyers to ignore factors like inebriation when considering whether or not to charge a defendant. This has led to more people being charged by the CPS in the past two years than ever before.
There is also no evidence that victim-blaming attitudes exist among the general public. Are Juries Fair?, a 2010 Ministry of Justice report by Cheryl Thomas, a leading law academic, showed that juries are more likely to convict rape defendants than they are to acquit them. Thomas also found that there was no evidence to suggest that a victim being drunk at the time of her attack had any impact on a jury's judgement.
In fact, the law requires people to ascertain whether or not someone is too drunk to consent before having sex. If the defendant failed to take sufficient steps to establish that the complainant was able to give consent in spite of her intoxication, he can be prosecuted.
We must draw a distinction between responsibility and blame. Blame for sex attacks always resides with the attacker. He is morally culpable for his actions, no ifs and no buts. But we should also be able to say that both men and women bear responsibility for how they behave in certain situations – especially in cases that hinge on ascertaining whether consent was given during a drunken encounter.
Of course, young women should be able to go out and get blind drunk. But being blind drunk may make a sexual encounter less vivid, and more open to misinterpretation. In an age when more people are being convicted for rape than ever before, it falls on both men and women to ensure that the dividing line between drunk sex and rape remains clear.
Rape victims are never blameworthy, but both men and women should bear responsibility for their sexual relationships. Hooking up can be a risky business. Getting blind drunk before you hook up makes it even more risky. That doesn't mean it's a bad idea, but we have to be able to talk about responsibility without confusing it with ascribing blame.
Yes, Kushner's intervention was mistimed, but we should be able to discuss these issues frankly without being accused of victim-blaming.
Luke Gittos is law editor at spiked and author of Why Rape Culture is a Dangerous Myth: From Steubenville to Ched Evans. (Buy this book from Amazon(UK).)
Picture by: Garry Knight, published under a creative commons licence.
To enquire about republishing spiked's content, a right to reply or to request a correction, please contact the managing editor, Viv Regan.