Remainers: skulking off to their echo chambers
Calls for a pro-EU independent London are snobbish and undemocratic.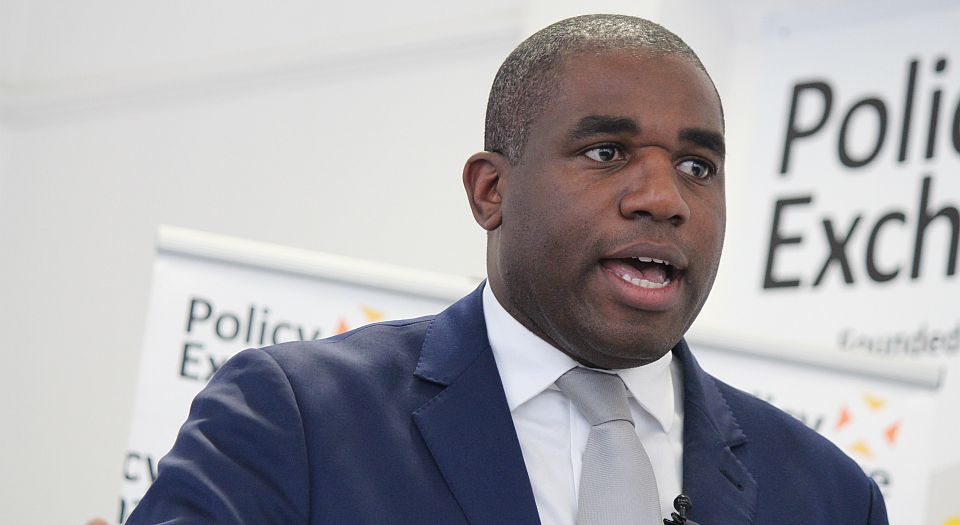 President Trump's call to 'build a wall' might be facing opposition in the US and criticism from liberals across the world, but support for isolationism is all the rage in London.
Terrified by the prospect of leaving the European Union, Labour MP David Lammy, the Baron of Brexit Bashing, has suggested that London should sever ties with the rest of the UK. In an article for the Evening Standard, he said 'the case for a London city-state has never been stronger'. He failed to elaborate on the minutiae of his proposal. Presumably the plan is to construct a giant wall around the M25 and make Mexico pay for it.
Some people are backing Lammy's idea, such as Labour's Lord Livermore. A petition for an independent London suggests the city-state could be linked to an independent Scotland, if one were to come about. Whether these two entities would be connected by an underground tunnel or by other means isn't made clear – although I'm sure they could be linked by hot air.
In a nutshell, Lammy is worried that once Britain leaves the EU, London will be plunged into economic apocalypse. But given that 'London's economy is double the size of Scotland's', he reckons that if London abandoned the rest of Britain and stayed in the EU, it could prosper.
The case for 'Londependence' seems shaky even when assessed on these grounds. Since Britons voted to leave the EU, Apple, Nissan and Google have all confirmed their intention to extend operations here. And despite the constant Brexit-bashing from ardent Remainers, the FTSE 100 closed at an all-time high last week.
Of course, the idea of an independent London doesn't have any real public support. The capital is painted as the land of the kale-eating Remainer, but let's not forget that 40 per cent of its population voted for Brexit. Indeed, Londoners' support for Brexit vastly outweighs their enthusiasm for City Hall: around a third more Londoners voted to leave the EU than voted for Khan in the mayoral election last year.
Lammy's call for Londependence confirms that the politicians most perplexed by the Brexit result have still not learned any lessons from it. Parliament's nauseous shock at people's decision to leave the EU demonstrated just how detached it was from ordinary Britons. That Lammy and others want to shut themselves away in a city-state shows that, if anything, they think this detachment hasn't gone far enough. They want to cut themselves off from people who disagree with them.
The snobbery behind calls for Londependence is the most striking thing. Lammy's plan is less about independence for London than it is about independence for a political class seeking to escape pesky plebs who voted Leave. From his misanthropic perspective, the Brexit vote represented 'a victory of smalltown conservatism, resurgent nationalism and anti-immigrant sentiment'. He envisions Brexit Britain as having 'needles strewn across our public parks; our schools falling apart; the National Front marching on our streets; political paralysis, civil unrest and economic turbulence'. Bleak stuff.
How amusing it is to see the very people who labelled Brexiteers divisive and nationalistic now attempting to isolate themselves within a city-state. They forget that the decision to leave the EU was a cosmopolitan call for the UK to become a truly internationalist nation; their desire to cocoon themselves within a city-state echo chamber reveals that it is they who are the insular and narrow-minded ones.
With the invocation of Article 50 looming, one would hope that these impassioned Remainers would be interested in contributing to a dialogue about how Brexit can be a progressive force for change. Instead, they insist on demonising Leave voters, preferring to make bedfellows with an unaccountable institution like the EU rather than with their fellow citizens and voters. Proposals for London's independence are laughable; not so funny is the inability of leading Remainers to remove their blinkers, and overcome their contempt for the electorate.
Jacob Furedi is a spiked columnist. Follow him on Twitter: @jacobfuredi
To enquire about republishing spiked's content, a right to reply or to request a correction, please contact the managing editor, Viv Regan.