Don't look to Theresa May to defend freedom
After Westminster: May and her officials have liberty in their crosshairs.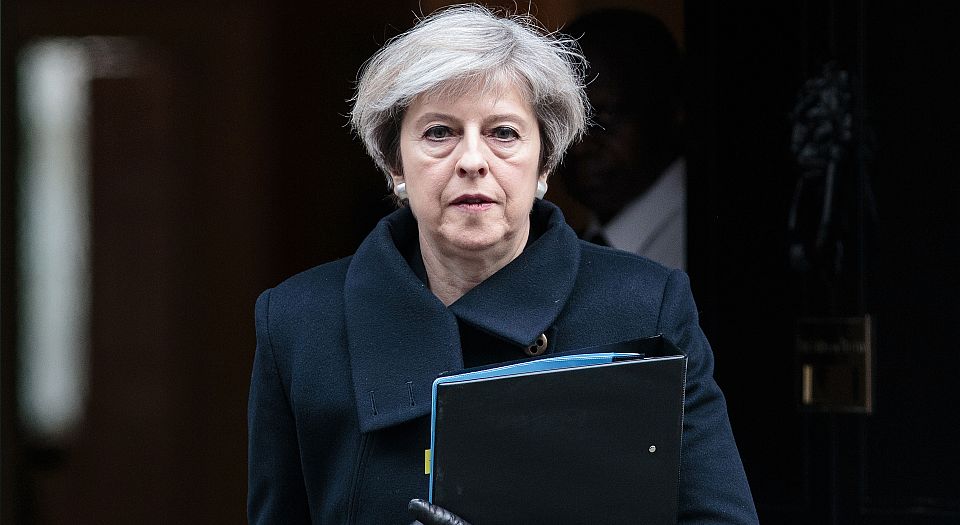 Last week, Khalid Masood drove a car through pedestrians on Westminster Bridge before crashing into the gates of the Houses of Parliament and stabbing a policeman to death. Four people were killed, five if you include Masood. Prime minister Theresa May issued a statement shortly after the attack which many described as 'defiant'. She said the streets of Westminster were 'ingrained with a spirit of freedom that echoes in some of the furthest corners of the globe', and she said this spirit would stay strong after the attack. But her words ring hollow.
The problem with celebrating May's 'defiant' speech is that May actually has an appalling record on civil liberties. She has proven herself terrible at protecting freedom. Her record, primarily as home secretary prior to becoming PM, is all the more galling given that in 2010 the Tories came to power, along with the Lib Dems, on a platform of 'restoring ancient civil liberties' and 'rolling back the excesses' of state intrusion established under New Labour.
The rhetoric around civil liberties provided a common cause for the Liberal Democrats and the Tories in the early days of their coalition government. In a speech titled 'Restoring British Liberties', delivered in 2011, the coalition's deputy prime minister, Nick Clegg, said: 'Our Labour predecessors will be remembered as the government who took your freedoms away. We want to be remembered as the ones who gave them back.' David Cameron said of the Tories and the Lib Dems: 'We share a common commitment to civil liberties.' These promises made many think we were entering a new age for freedom.
This new age never arrived, of course. Since 2012, various versions of the snooper's charter have come before parliament. It was heavily criticised time and again because it gave huge power to the government to compel internet service providers to store the communications data of web users. It was briefly shelved in the face of Lib Dem opposition, but it was eventually made law in 2016, in the form of the Investigatory Powers Act, after the Tories formed a majority government following the 2015 General Election.
May, then home secretary, was responsible for the draconian Counter-Terrorism and Security Act 2015. This introduced a 'general duty on specified authorities' to prevent people from being drawn into extremism. These people included anyone who expressed 'active opposition to fundamental British values', a ludicrously broad definition of extremism. As a result, more and more innocent people found themselves suspected of having 'terrorist intent'. One person was Staffordshire postgraduate student Umar Farooq, who was interviewed by the university authorities after he was seen reading a book about terrorism – it was later confirmed that the book was required reading on his course.
May's 2015 act also introduced broad new powers against those suspected of involvement in terrorism. Individuals' passports could be seized if they were suspected of travelling abroad to join terrorist groups. Suspects could be made subject to 'temporary exclusion orders', preventing them from returning to the UK while they were under investigation.
Anti-terror laws in Britain have been encroaching ever further on civil liberties since 9/11. The New Labour government introduced indefinite detention without charge for terror suspects under the Anti-Terrorism, Crime and Security Act 2001. This law was repealed, only to be replaced by the similarly draconian 'control order' regime, which allows people to be placed under effective house arrest for years without ever being charged with a crime. Those suspected of involvement in terror are still detained for lengthy periods without charge: over Christmas, Munir Hassan Mohammed and Rowaida El-Hassan were detained for 12 days before they were charged. Before 2001, this would have been considered an affront to longstanding principles of English law.
These anti-terror laws did nothing to prevent the attack on Westminster. Nor would they have prevented the attack on Lee Rigby in Woolwich in 2013, London's most recent so-called terrorist incident before last week's. And yet, successive governments have restricted liberty in favour of what they describe as increased security.
Now, in the immediate aftermath of the Westminster attack, No10 is seeking once again to restrict freedom. A spokesperson said on Friday that social-media companies 'have a responsibility when it comes to making sure [extremist] material is not disseminated… we are always talking with them on how they are to achieve that'. Then, rather menacingly, he said 'the ball is in their court'. In short: take action or we will. Meanwhile, home secretary Amber Rudd said at the weekend that communication apps should make people's conversations available to the authorities in an emergency, after it was confirmed that Masood had used WhatsApp, on which messages are encrypted.
No sooner had May proclaimed a commitment to the spirit of freedom than her officials were hinting at increased state control of the internet and new forms of spying on citizens' conversations. After last week's attack we should reclaim freedom from those who seek to erode it – and that includes May's government.
Luke Gittos is law editor at spiked and author of Why Rape Culture is a Dangerous Myth: From Steubenville to Ched Evans. (Buy this book from Amazon(UK).)
To enquire about republishing spiked's content, a right to reply or to request a correction, please contact the managing editor, Viv Regan.