Turkey: a dangerous place to dissent
Erdogan's crackdown on free expression should worry us all.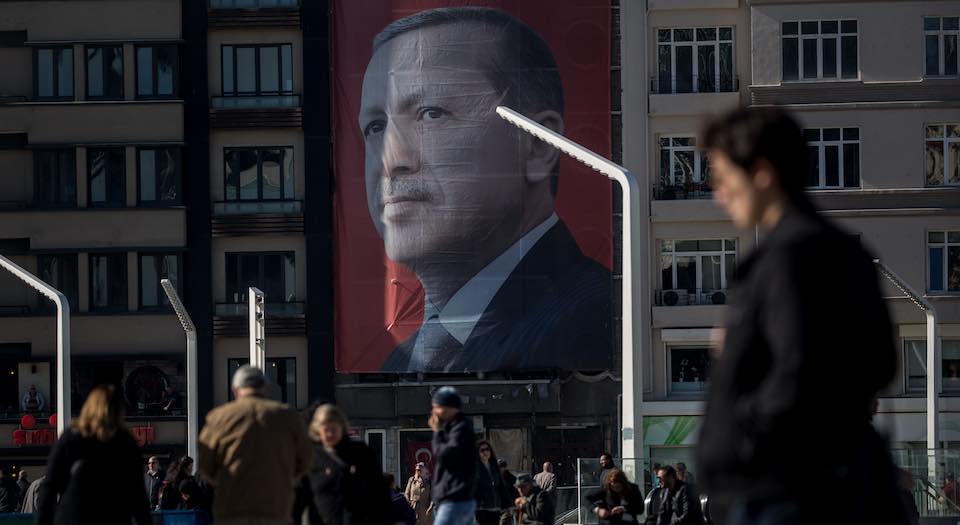 'Any journalist who directs criticism at President Recep Tayyip Erdogan or his ruling Justice and Development Party is taking a high risk', wrote Ahmet Sik, an investigative journalist at Turkish daily Cumhuriyet, in March 2016. In the same month, Turkey's largest newspaper, Zaman, was brutally shut down by police, who barged into its offices with bolt cutters and tear gas. The newspaper, which was fiercely critical of Erdogan, has since been reopened with new, government-sourced owners. Its anti-Erdogan stance has been reversed.
Sik himself has now fallen foul of Turkey's draconian restrictions on free speech. In December last year, he was jailed after tweeting about the government's crusade against the Kurdistan Workers' Party (PKK). The government conflated reporting on the PKK, which is designated a terrorist group, with terrorist activity, and consequently labelled his comments 'terrorist propaganda'. Sik was placed in solitary confinement and wasn't given water for three days. He is yet to be released.
When it comes to press censorship, Turkey is fast becoming a world leader. According to figures compiled by the Stockholm Centre for Freedom, 228 journalists are currently imprisoned in Turkey – twice that of any other nation. Of those in jail, 194 are still awaiting trial, and most of them haven't even been charged with a crime.
Last month, many thought Turkey's descent into the depths of censorship had finally relented when 21 journalists were suddenly released from custody. Unfortunately, they were re-arrested just hours later. Turkey's criminal-justice bureaucracy seems to be both deeply authoritarian and utterly chaotic. The government has now stopped publishing data on prison figures. Write one suspect article in Turkey and you could find yourself locked up.
After the failed coup against President Erdogan's government last July, Erdogan declared a state of emergency and closed down thousands of organisations for their alleged links to US-based cleric Muhammed Fethullah Gulen, the political opponent whom Erdogan blamed for the coup. As a result, 12 columnists, cartoonists and reporters from the centre-left Cumhuriyet are currently in prison. According to the paper, they are no longer allowed to receive letters from the outside world.
A court ruling last year decreed that Cumhuriyet's former editor-in-chief, Can Dundar, and head of its Ankara bureau, Erdem Gul, will be tried behind closed doors. They were charged with 'revealing state secrets' in a report claiming that Erdogan's government attempted to ship arms to Islamists in Syria. Most disturbingly, Cumhuriyet reported that the investigation was not launched by the police, but by a government tip-off.
The tactics used to silence journalists are becoming increasingly absurd. In a Kafka-esque turn of events, prison officials recently denied Hidayet Karaca – a journalist at the Samanyolu TV network, which was shut down by the government after it criticised an al-Qaida-affiliated Turkish group in a soap opera – access to important legal papers. The reason? They were concerned about saving trees. 'Preserving the nature, preventing littering and the risk of fire' were deemed more important than due process.
These trumped-up prosecutions are having a pernicious effect on the wider press: many outlets now resort to self-censorship. Most recently, the Hürriyet, Turkey's most popular newspaper, refused to publish an interview with Turkish Nobel laureate Orhan Pamuk because he openly objected to Erdogan's attempted seizure of executive power in the country's upcoming referendum. According to the Unity for Democracy Initiative, Erdogan's AKP receives five times more airtime than the opposition Republican People's Party (CHP), and 151 times more exposure than the pro-Kurdish Peoples' Democratic Party (HDP). In the run-up to the referendum, political debate is severely limited.
These restrictions don't just apply to the press, either. Turkish-Kurdish painter Zehra Dogan has been sentenced to two years, nine months and 22 days in jail for daring to depict in her artwork the devastation caused by the Turkish military in a predominantly Kurdish region. Since the attempted coup, 4,000 academics have been purged from the country's universities for alleged links to Gulen. And two canteen workers at a university in Izmir were fired for posting on their Facebook pages photos of posters advocating a No vote in the upcoming referendum.
Understandably, the implications of a Yes vote in April's referendum have sparked concern across Europe. It would create an executive presidency and hand an intolerant authoritarian the power to appoint cabinet ministers and two thirds of senior judges. Recent polls put the Yes vote at anything from 52 to 60 per cent, making the prospect of Turkey becoming an even more authoritarian state very likely.
But Erdogan's ruthless clampdown on press freedom already deserves huge condemnation. While a No vote would certainly be a victory for Turkish liberty, freedom of expression would still be in a perilous state. 'It is not possible to speak of true democracy without speaking of freedom of speech and freedom of the press', Sik wrote, before his imprisonment. He is absolutely right. Whatever the result of the upcoming referendum, the prevailing state of free speech in Turkey should worry us all.
Jacob Furedi is a spiked columnist. Follow him on Twitter: @jacobfuredi
Picture by: Getty
To enquire about republishing spiked's content, a right to reply or to request a correction, please contact the managing editor, Viv Regan.