How Prince Harry is failing the mentally ill
Treating everyday strife as mental illness does a disservice to the truly ill.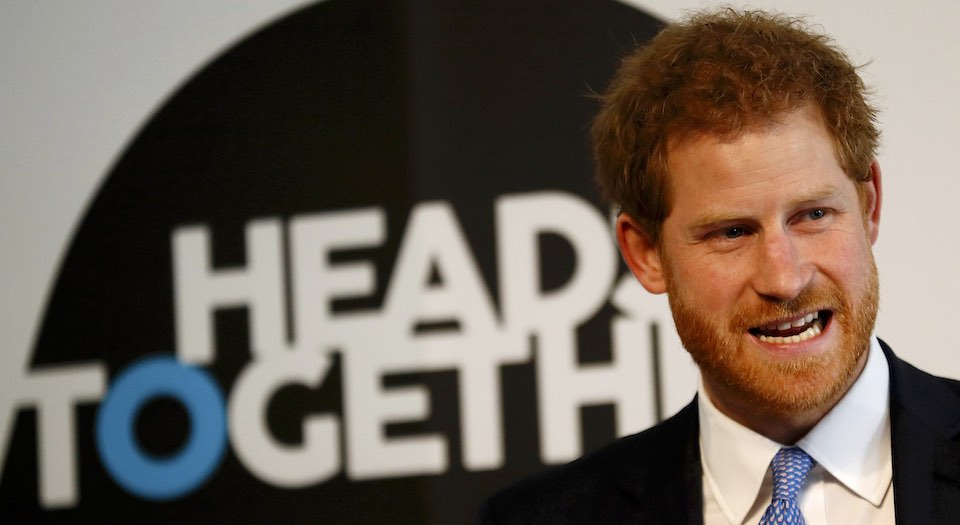 You might not have noticed, but 'Prince Harry just redefined strength and dignity for a new generation'. This is according to Telegraph columnist Bryony Gordon, who interviewed Harry about his mental health as part of the promotion of his Heads Together campaign, a charity he has spearheaded with Prince William and the Duchess of Cambridge to end stigma around mental health. It was 'the day Prince Harry showed the world how to talk about our problems'. According to Gordon, since the charity was created last year, it has 'created a conversation about mental health, one in which everyone from footballers to new mums has found themselves publicly talking about the stuff in their heads'.
Among all the tributes to 'brave' Harry, the most telling came from Sue Baker, director of Time to Change, another mental-health charity: 'It was a dream of mine 20 years ago that we'd see the royal family join sportspeople, music stars, politicians and business leaders as well as everyday people in sharing their mental-health experiences in all sorts of communities.'
Exactly. This has been done a million times before. The claims that Harry is breaking through a stigma surrounding mental health is nonsense. Apparently his intervention is more significant, though, because where previously we had heard about mental health from people who became famous through achieving success in their careers, we're now hearing about it from the darling grandson of our unelected monarch. The establishment, such as Theresa May, wouldn't have been so quick to congratulate Harry for talking about mental illness if there was anything remotely controversial about it. This hysterical overreaction in the media to individuals stating the most basic facts of their lives overlooks that this kind of thing is old hat now.
Reported depression and anxiety has risen among teenagers by 70 per cent in 25 years. This is no doubt partly down to the fact that young people are constantly encouraged to talk about having mental issues. In the Telegraph interview, Gordon and Prince Harry talk about the problem of the 'stiff upper lip'. But that old value of stoicism has no bearing on the younger generation. They are more than willing to talk about their feelings and to splash them across social media. The Heads Together campaign plays into the inherent narcissism of this social-media chatter with its Twitter hashtags #ThereForMe and #OKtoSay.
There was a disturbing strain of anti-science in the Harry interview. He didn't even use generic terms like depression or anxiety, but instead spoke of broader human experiences such as dealing with grief or 'having a shit day'. He recommends addressing these 'mental health' problems by exercising and getting in touch with nature. He encourages people to get their problems 'off their chests'. Apparently, 'ending the stigma around mental health' equates merely to talking about your problems.
By creating a 'conversation' in which we're encouraged to see everyday problems as signs of mental illness, there is a danger that campaigns like Prince Harry's will dilute the experience of the genuinely mentally disabled. We need more awareness and funding for those with debilitating mental disorders, not solipsistic media campaigns that tell everyone they have a mental disorder of some kind. The NHS is woefully inadequate at dealing with genuine mental illness — raising a fuss about that would be far more beneficial than getting tweeters to talk about the time they were down for a few days.
As part of the campaign, Prince William this week released a video of him and Lady Gaga having an incredibly stilted FaceTime conversion about mental illness. Were they nervous because they thought talking about mental problems would destroy their careers? Of course not. They knew it would be lapped up by the mainstream media. The royals are now up to date with the new identity politics, which places emotion above reason, and where you gain legitimacy through being vulnerable. The danger of this approach to mental illness is that it encourages a kind of self-pitying virtue-signalling at the expense of looking at where society is genuinely failing people who have actual illnesses.
Christian Butler is a spiked columnist. Follow him on Twitter: @CPAButler
Picture by: Getty
To enquire about republishing spiked's content, a right to reply or to request a correction, please contact the managing editor, Viv Regan.