Cressida Dick is no hero
So what if she's the first female Met boss? Judge her record.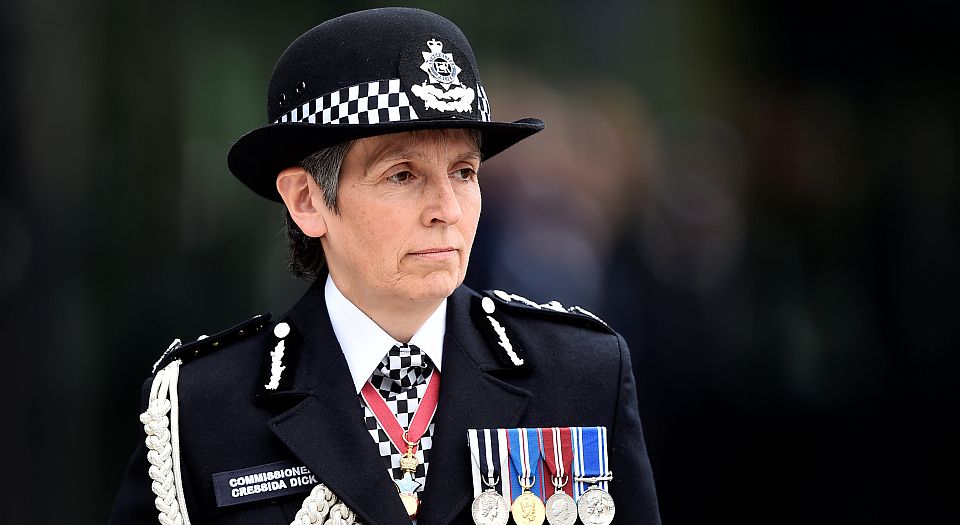 Cressida Dick was appointed Metropolitan Police commissioner last week. She had previously held senior roles in the Met's anti-terror division and had headed up Operation Trident, established to investigate 'black-on-black gun crime'. Her new role is the most senior position in London's police force, and was previously held by Sir Bernard Hogan-Howe, who retired earlier this year after being in the job since 2011.
Commentary on Dick's appointment has focused either on her gender or her sexuality – or both. Dick is the first woman to head the 'macho' Scotland Yard, the Daily Mail says. The Telegraph celebrated her for the same reason. Mayor of London Sadiq Kahn described her appointment as a 'historic day for London'. One media profile discussed her same-sex relationship with an officer called Helen, arguing that 'diversity [is] at the heart of her role' as Met commissioner.
A great day for London? Please. Dick's history in the force leaves much to be desired. In a clear case of protesting too much, one Metropolitan Police source told the Telegraph that Dick had 'not been appointed because she was a woman but because she was the best candidate'. This claim rings hollow, given Dick' s record has been far from distinguished.
Most obviously, Dick narrowly avoided blame for the botched anti-terror operation that led to the shooting of Jean Charles de Menezes at Stockwell tube station in 2005, in the heated anti-terror climate after the 7/7 attacks. Dick held overall responsibility for the officers who mistook the 27-year-old Brazilian electrician for a suicide bomber. Apparently, one of the officers under Dick's command nipped away for a toilet break when he was supposed to be videotaping Menezes. It was this pressing toilet engagement that apparently led to Menezes being misidentified.
The inquest into Menezes' killing found that senior officers in the investigation had received wrong information about his identity, which meant they avoided personal culpability. The jury at the inquest recorded an open verdict, leading Menezes' family to complain about a whitewash that had benefited Dick. In November 2007, in perhaps the most euphemistic prosecution in history, the Met was convicted of criminal 'violation of health-and-safety regulations' for shooting Menezes to death, with Dick again absolved of personal responsibility.
Menezes' family did not consider Dick to be blameless, however. In a letter published following her appointment last week, they said: 'We cannot be expected to accept that the most senior police officer in the country, a post that is expected to uphold the highest standards of professionalism, to command public confidence and ultimately be responsible for ensuring that no police officer acts with impunity, be filled by someone that is clearly tainted by her failure to live up to any of those requirements.'
Of course, Menezes' family are still angry, and with good reason. But the question for the British establishment is why the death of an innocent man on Dick's watch had so little impact on her career prospects. It appears that being a woman is enough to win the Met's forgiveness. Dick's gender overrides her less-than-brilliant oversight of certain operations.
Dick hit the headlines for all the wrong reasons again in 2009, just four years after the Menezes killing. This time she came in for criticism over the arrest of Tory MP Damian Green. Green was arrested and held for nine hours over alleged leaks from the Home Office. She apparently played a 'vital role' in his arrest and defended it to then Tory leader David Cameron. A subsequent report found that the arrest was 'disproportionate and ill-advised'.
Dick then headed up investigations into the MPs' expenses scandal. There had been claims about widespread fraud, but in fact the investigation ended with only four MPs serving short prison sentences for false accounting. And it was largely dependent on evidence supplied by the Telegraph. It was a damp squib.
So why should we welcome the 'first woman' to take charge of the Met? Why should we care about having a diverse police force? I would rather our police officers were competent. Competent enough not to oversee operations that lead to the killing of innocent people or the arrest of politicians on overblown claims. Dick has done little to warrant the top job. It was not a great day for London.
Luke Gittos is law editor at spiked and author of Why Rape Culture is a Dangerous Myth: From Steubenville to Ched Evans. (Buy this book from Amazon(UK).)
To enquire about republishing spiked's content, a right to reply or to request a correction, please contact the managing editor, Viv Regan.